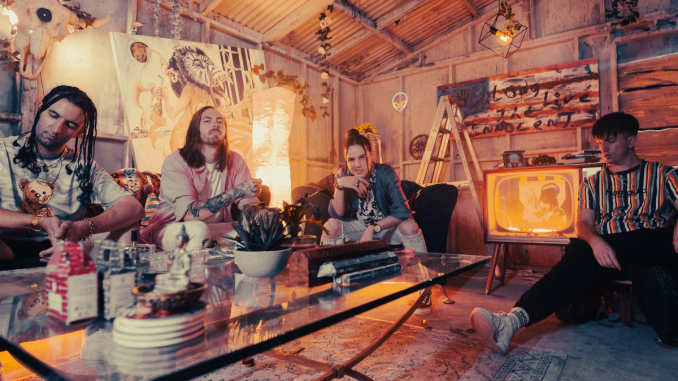 DEBUT ALBUM LOVE LANGUAGE OUT MAY 6 ON FEARLESS RECORDS
Australia's WINDWAKER, newly signed to Fearless Records, will drop their debut album Love Language on May 6. Pre-order it here.
Today, Windwaker have shared the video for the new track "Lucy." Watch it here.
The song recounts vocalist Will King's first psychedelic experience, which occurred on January 1, 2019. The song, both musically and lyrically, is built on the interplay of light and dark.
With most people having spent much of the past to years consuming a multitude of various media sources, from posts to articles to news and television, "Lucy" gives the listener the opportunity to detach from — and perhaps even "clean off" — some of the more cynical, fearful ideologies captured in the previously released song "Beautiful," and come back to the feeling of being human.
"We are alive, we are breathing, and we are all very lucky to have been gifted the unique opportunity to be conscious, and so we have been gifted perspective. For this, we have the ability to manifest a bright future for ourselves, if we want one," the band says.
Overall, Love Language marries a multitude of tones and textures. It throws listeners into the dynamic deep end, chaotically dancing across a wide spectrum of sound. With intense moments of fire and ice, it's delightfully edgy.

"The record sees themes of adolescence, identity, belonging, nostalgia, mindfulness, death, altered consciousness; displays typical traits of a concept album, but is left very much open-ended lyrically in its ambiguous, open-book type format," the band explains. "Love Language defines fear and love as fleeting moments, encouraging listeners to take an intuitive leap in all situations, confront themselves and their surroundings, never taking a moment presented for granted. In a balance of chaos vs. control, we manifest, and must take all things as they come, operating with the best intent. We are alive. We are breathing. We are fear and we are love."
LOVE LANGUAGE TRACK LISTING:
"Beautiful"
"Lucy"
"Nighthawk"
"Dopamine Freestyle"
"Me + You, But Mostly Me"
"Glow"
"Trenches"
"Superstitious Fantasy"
"Silver Linings"
"Love Language"
"Hide & Seek"
"The Rain"
WINDWAKER ARE:
Will King — Vocals
Jesse Crofts — Lead Guitar
Indey Salvestro — Bass
Chris Lalic — Drums