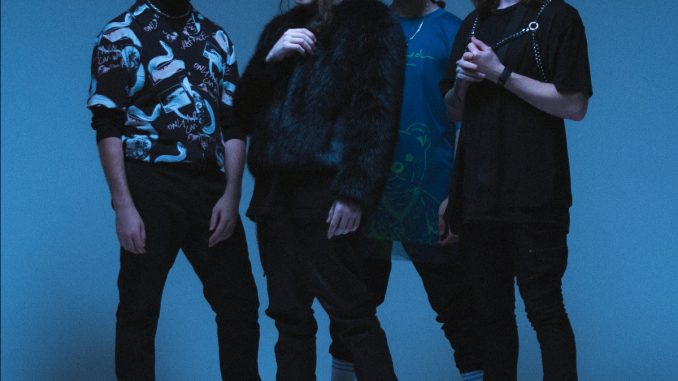 DEBUT ALBUM LOVE LANGUAGE OUT MAY 6 ON FEARLESS RECORDS
Australia's WINDWAKER, newly signed to Fearless Records, will drop their debut album Love Language on May 6. Pre-order it here.
Today, Windwaker have shared the video for "Superstitious Fantasy." Watch it here.

Opening on a striking spaghetti western chord, "Superstitious Fantasy" is the most genre-bending song on the record. You get blast beats, boy band-inspired falsettos, and EDM — all under one roof. The mish-mash of styles suits the overarching lyrical concept.
"As conscious beings, it is an inherent trait to feel needed, wanted, desired, for we all wish to belong," the band shares. "One path our ego takes in achieving this is drawing close comparisons, often welcoming intrusive thoughts, toxicity, curiosity, judgement, jealousy, insecurity, etc. We are constantly absorbing the information around us to approximate where to go next in order to feel good about ourselves. We are intuitive beings — though heavily influenced."
The band continues, "On top of our susceptibility to be influenced, major platforms and corporations infiltrate our grandest desires, displayed elegantly in the form of icons, fueling our appetites, dictating what we should need and want to feel empowered. 'Superstitious Fantasy' indulges the part of your brain that fantasizes living a different life in a different body, with different mindsets, a different set of morals/beliefs, a different way of being. What would you be if you weren't you?"
The band finishes, "Lyrically, it re-packages 'Dopamine' and 'Trenches' in a way that feels enticing. The Tarintino-esque vibe to the track is a subtle nod to the lyrical concept, as that sound obviously being referenced hints to listeners that our ideas stem from the art that inspires us — and when one is feeling inspired, something new is able to spawn from that intuition."
Overall, Love Language marries a multitude of tones and textures. It throws listeners into the dynamic deep end, chaotically dancing across a wide spectrum of sound. With intense moments of fire and ice, it's delightfully edgy.

"The record sees themes of adolescence, identity, belonging, nostalgia, mindfulness, death, altered consciousness; displays typical traits of a concept album, but is left very much open-ended lyrically in its ambiguous, open-book type format," the band explains. "Love Language defines fear and love as fleeting moments, encouraging listeners to take an intuitive leap in all situations, confront themselves and their surroundings, never taking a moment presented for granted. In a balance of chaos vs. control, we manifest, and must take all things as they come, operating with the best intent. We are alive. We are breathing. We are fear and we are love."
LOVE LANGUAGE TRACK LISTING:
"Beautiful"
"Lucy"
"Nighthawk"
"Dopamine Freestyle"
"Me + You, But Mostly Me"
"Glow"
"Trenches"
"Superstitious Fantasy"
"Silver Linings"
"Love Language"
"Hide & Seek"
"The Rain"
WINDWAKER ARE:
Will King — Vocals
Jesse Crofts — Lead Guitar
Indey Salvestro — Bass
Chris Lalic — Drums