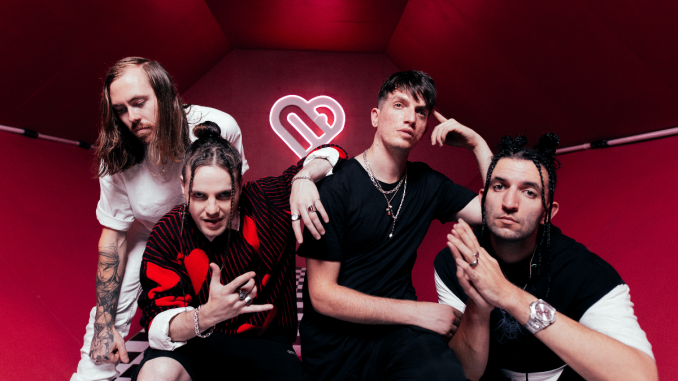 ALBUM OUT MAY 6 ON FEARLESS RECORDS
Fearless Records announced that it welcomed Australia's WINDWAKER to the global roster late last year. The quartet heralded the news with their thoroughly rock 'n' roll cover of Britney Spears' iconic anthem "Toxic." Rare is the song that makes you want to shake your thang and mosh, but Windwaker's take on "Toxic" did just that. With synths, riffs, and swaggy vocals, it served as a killer intro to the band.
Today, the band has announced its debut album Love Language, out May 6. Pre-order it here.
Windwaker have shared the brand new original song "Beautiful." Watch the video here.
Born of the streaming era, "Beautiful" kicks Love Language off in digital fashion — meshing fuzzy electronic tones with heavily distorted guitars. Through the use of samples and loops, "Beautiful" projects a non-purist sound and pushes us into the new age.

"'Beautiful' paints an outline of the modern world," the band shares. "The good, the bad, the ugly. The left, the right. The saints, the criminals. The systematic zombies, the fearless. The overall subject of the song allows listeners to level shortly, before digesting the rest of the album, to consider how it would feel to be someone or something else in what is obviously very much a chaotic world to exist in right now. 'Beautiful' boldly juxtaposes the reality of those of different socio-economic backgrounds based on circumstances relating to trauma, addiction, crime, and beyond."
Overall, Love Language marries a multitude of tones and textures. It throws listeners into the dynamic deep end, chaotically dancing across a wide spectrum of sound. With intense moments of fire and ice, it's delightfully edgy.

"The record sees themes of adolescence, identity, belonging, nostalgia, mindfulness, death, altered consciousness; displays typical traits of a concept album, but is left very much open-ended lyrically in its ambiguous, open-book type format," the band explains. "Love Language defines fear and love as fleeting moments, encouraging listeners to take an intuitive leap in all situations, confront themselves and their surroundings, never taking a moment presented for granted. In a balance of chaos vs. control, we manifest, and must take all things as they come, operating with the best intent. We are alive. We are breathing. We are fear and we are love."
LOVE LANGUAGE TRACK LISTING:
"Beautiful"
"Lucy"
"Nighthawk"
"Dopamine Freestyle"
"Me + You, But Mostly Me"
"Glow"
"Trenches"
"Superstitious Fantasy"
"Silver Linings"
"Love Language"
"Hide & Seek"
"The Rain"
WINDWAKER ARE:
Will King — Vocals
Jesse Crofts — Lead Guitar
Indey Salvestro — Bass
Chris Lalic — Drums