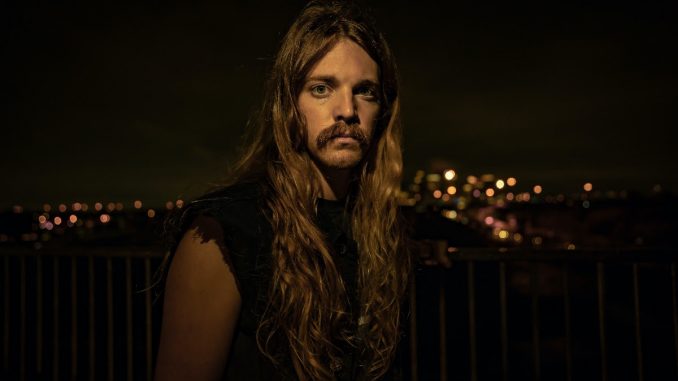 VIDEO CAPTURES THE LIFE ON THE ROAD OF A CONSTANTLY ON-TOUR ARTIST
Singer, songwriter, and guitarist Austin Meade, who is a little bit country, a little bit rock, and a whole lotta heart, has released the slightly NSFW video for "Dopamine Drop." Watch it here.
The video captures life on the road and the tour grind. There's plenty of backstage antics and hijinks, tattoo sessions, truck stops, blowup dolls, the partying, the good times, and of course, lots and lots of performances.

"This year, we have been crazy busy, in new areas all over the country," Meade reflects about the video, which offers a slice of road life. "It's hard to look back and remember all the new things happening at once, so I wanted to document some of the 2021 tour and give everyone a raw look at the road. The only way to keep a band together after months of overnight drives, and limited personal space, is by loosening up and enjoying the small stuff. 'Dopamine Drop' was written about that exact feeling, so it was the right song for the footage. A huge thanks to my crew for sticking out the long hours and thanks to all of our new road family for making this year a big milestone for us."
The song appears on the artist's Snakefarm Records' debut Black Sheep, which is out now. Get it here.
The video arrives at the perfect time, as Meade is currently on tour, with additional dates booked into 2022. All confirmed dates are below.
TOUR DATES:
12/4: Manhattan, KS @ The Hat
12/10: Terrell, TX @ Silver Saloon
12/15: San Antonio, TX @ Sam's Burger Joint*
12/16: Austin, TX @ Spider House Ballroom*
12/17: Fort Worth, TX @ Lola's Outdoor Stage*
12/18: Altus, OK @ Red River Music Hall
12/31: Lakeview, TX @ The Lakeview Grill
1/10: South Salt Lake City, UT @ Commonwealth Room#
1/11: Boise, ID @ The Olympic Venue#
1/12: Seattle, WA @ El Corazon#
1/13: Portland, OR @ Hawthorne Theatre#
1/14: Bend, OR @ Domino Room#
1/15: Reno, NV @ Virginia Street Brewhouse#
1/16: Sacramento, CA @ Goldfield Trading Post#
1/17: Bakersfield, CA @ Temblor Brew#
1/19: West Hollywood, CA @ The Peppermint Club#
1/20: Santa Ana, CA @ Constellation Room#
1/21: Fresno, CA @ Strummers#
1/22: Las Vegas, NV @ Backstage Bar#
1/23: San Diego, CA @ Soda Bar#
1/25: Phoenix, AZ @ Valley Bar#
2/5: McKinney, TX @ Hank's Texas
2/11: Helotes, TX @ Floore's Country Store
2/16-2/21: Miami, FL @ Voragos Cruise
2/26: Wharton, TX @ Washfest
*With Kolton Moore
#With Kody West
PREVIOUS AUSTIN MEADE RELEASES:
"Lying to Myself"
"Happier Alone"
"Déjà vu"
ABOUT AUSTIN MEADE:
Austin Meade's songs and stories are contradictory yet cohesive. On his Snakefarm Records debut, Black Sheep, his influences — musical and otherwise — are as varied and rich as the small-town Texas soil that nurtured his talent and yielded these 12 stellar songs ranging from multi-layered musicality and storytelling to dark alt-pop to new age and Sabbath-inspired. Thanks to his metal-and classic-rock loving dad, Meade got to see bands like Judas Priest and worshipped Whitesnake at a young age. In junior high, he related to the intense emo-rock of Paramore and Fall Out Boy, as well as the power of songwriters like John Mayer. Yet, thanks to plainspoken but deep heartland songwriters like Tom Petty, and cutting his teeth touring in the Texas and Oklahoma Red Dirt scene, Meade's music overflows with wide-open soulfulness. He was a drummer for years, even teaching to pay the bills. Meade eventually found his true voice when he began playing guitar as a teen in his pastor father's church. Those experiences lend both a gravitas and rebelliousness to Meade's songs and self.