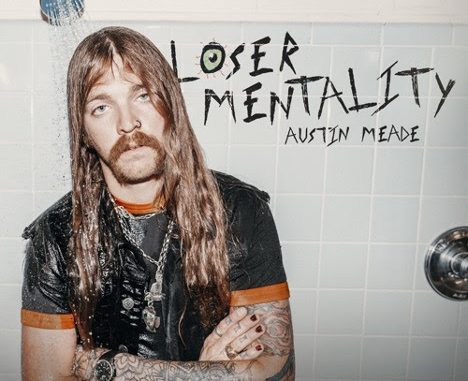 Austin Meade has a loser mentality!
The gifted singer, songwriter, and guitarist has shared the brand new song "Loser Mentality," and it's a contemplative ballad that showcases his gift for relatable lyrics and wordplay, as well as the thoughtful side of his musical personality.
"Loser Mentality" examines the cyclical nature of culture and how what was once uncool will eventually become exactly the opposite. Meade even welcomes the return of the '90s in the catchy chorus, since what's old is always new again.
The song is a one-off release, as Meade is putting the finishing touches on a new album due out next year.
"'Loser Mentality' is a personal reminder to stop giving a shit about what all the cool kids are doing," Meade affirms. "You can't make something new and different by copying the cool kids; then it all looks and sounds the same. Go against the trends and be a loser for a while; they'll eventually look back and start copying you."
Meade is currently on tour and will remain on the road through Winter 2022. All dates are below.
TOUR DATES:
12/4: Manhattan, KS @ The Hat
12/10: Terrell, TX @ Silver Saloon
12/15: San Antonio, TX @ Sam's Burger Joint*
12/16: Austin, TX @ Spider House Ballroom*
12/17: Fort Worth, TX @ Lola's Outdoor Stage*
12/18: Altus, OK @ Red River Music Hall
12/31: Lakeview, TX @ The Lakeview Grill
1/10: South Salt Lake City, UT @ Commonwealth Room#
1/11: Boise, ID @ The Olympic Venue#
1/12: Seattle, WA @ El Corazon#
1/13: Portland, OR @ Hawthorne Theatre#
1/14: Bend, OR @ Domino Room#
1/15: Reno, NV @ Virginia Street Brewhouse#
1/16: Sacramento, CA @ Goldfield Trading Post#
1/17: Bakersfield, CA @ Temblor Brew#
1/19: West Hollywood, CA @ The Peppermint Club#
1/20: Santa Ana, CA @ Constellation Room#
1/21: Fresno, CA @ Strummers#
1/22: Las Vegas, NV @ Backstage Bar#
1/23: San Diego, CA @ Soda Bar#
1/25: Phoenix, AZ @ Valley Bar#
2/5: McKinney, TX @ Hank's Texas
2/11: Helotes, TX @ Floore's Country Store
2/16-2/21: Miami, FL @ Voragos Cruise
2/26: Wharton, TX @ Washfest
*With Kolton Moore
#With Kody West
PREVIOUS AUSTIN MEADE RELEASES:
AUSTIN MEADE SOCIAL MEDIA: