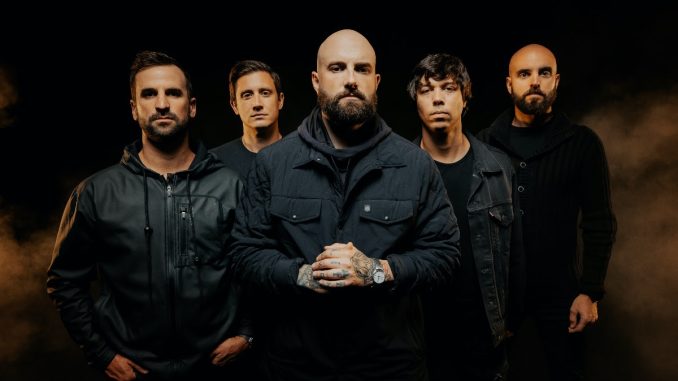 Grammy-nominated Lancaster five-piece AUGUST BURNS RED — JB Brubaker [lead guitar], Brent Rambler [rhythm guitar], Matt Greiner [drums], Jake Luhrs [vocals], and Dustin Davidson [bass] — have a big year in front of them.
The band will drop its new album Death Below on March 24 via SharpTone Records.
Pre-order it here.
"'Backfire' is a song that musically is a punch in the face, and we wrote the lyrics to follow suit," says ABR. "The song is about choosing who you follow wisely, and not allowing people you've never met to influence the decisions you make in life. 'Backfire' ticks all the boxes for an ABR song."
The album features guest spots from guitarist Jason Richardson, Jesse Leach of Killswitch Engage, JT Cavey of ERRA, and Spencer Chamberlain of Underoath.
DEATH BELOW TRACK LISTING:
"Premonition"
"The Cleansing"
"Ancestry" (Feat. Jesse Leach)
"Tightrope" (Feat. Jason Richardson)
"Fool's Gold in the Bear Trap"
"Backfire"
"Revival"
"Sevink"
"Dark Divide"
"Deadbolt"
"The Abyss" (Feat. JT Cavey)
"Reckoning" (Feat. Spencer Chamberlain)
ABR will also embark on the 20-Year Anniversary Tour, during which they will play material off all nine of their albums as they hit North America.
The tour's first leg kicks off on February 15 in Silver Spring, MD, and runs through March 14 in Charlotte, NC. The second leg launches on April 13 in Philadelphia, PA, and wraps on May 12 in Quebec in Canada. The tour marks the first time the band has played in Canada since 2019.

The support acts are The Devil Wears Prada, and the Scottish band Bleed From Within, who is touring the U.S. for the first time. The bands will appear on both legs of the tour.
VIP packages are on sale right now at this location and include an exclusive, 200+ page photo book that spans each year of ABR's entire career.
AUGUST BURNS RED ON TOUR:
WITH THE DEVIL WEARS PRADA + BLEED FROM WITHIN:
2/15 — Silver Spring, MD — The Fillmore Silver Spring
2/16 — Raleigh, NC — The Ritz
2/17 — Atlanta, GA — Heaven at The Masquerade
2/18 — Orlando, FL — Heart Support Festival*
2/20 — Fort Lauderdale, FL — Revolution Live
2/21 — Pensacola, FL — Vinyl Music Hall
2/23 — Houston, TX — House of Blues
2/24 — Dallas, TX — South Side Ballroom
2/25 — San Antonio, TX — Vibes Event Center
2/27 — Tempe, AZ — The Marquee
2/28 — San Diego, CA — Soma
3/1 — Anaheim, CA — House of Blues
3/2 — Sacramento, CA — Ace Of Spades
3/4 — Portland, OR — Roseland Theater
3/5 — Seattle, WA — Showbox Sodo
3/7 — Salt Lake City, UT — The Complex
3/8 — Las Vegas, NV — House of Blues
3/10 — Denver, CO — Fillmore Auditorium
3/12 — Little Rock, AR — The Hall
3/13 — Nashville, TN — Marathon Music Works
3/14 — Charlotte, NC — The Fillmore Charlotte
4/13 — Philadelphia, PA — The Fillmore Philadelphia
4/14 — New York, NY — Palladium Times Square
4/15 — Albany, NY — Empire Live
4/16 — Worcester, MA — The Palladium
4/18 — Niagara Falls, NY — Rapids Theater
4/19 — Royal Oak, MI — Royal Oak Music Theatre
4/21 — Grand Rapids, MI — The Intersection
4/22 — St. Louis, MO — Red Flag
4/23 — Kansas City, MO — The Truman
4/24 — Wichita — Wave Outdoors
4/25 — Oklahoma City, OK — Diamond Ballroom
4/26 — Omaha, NE — Slowdown
4/28 — Minneapolis, MN — The Fillmore Minneapolis
4/29 — Chicago, IL — Concord Music Hall
4/30 — Cincinnati, OH — Bogarts
5/2 — Cleveland, OH — House of Blues
5/3 — Pittsburgh, PA — Stage AE
5/5 — North Myrtle Beach, SC — House of Blues
5/6 — Richmond, VA — The National
5/7 — Sayreville, NJ — Starland Ballroom
5/9 — Toronto, ON — Danforth Music Hall
5/10 — Toronto, ON — Danforth Music Hall
5/11 — Montreal, QC — MTelus
5/12 — Quebec, QC — Theatre Capitole
5/13 — Montreal — MTelus
*Festival Date