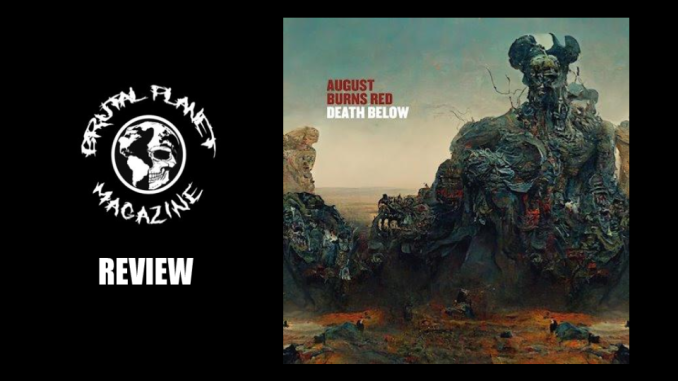 August Burns Red has been a driving force of American metalcore since its inception in 2003. Now, the two-time Grammy Award nominees are delivering their tenth studio album, "Death Below" through SharpTone Records on March 24th.
The opening track, "Premonition," features a beautiful guitar intro and builds into what I would describe as an intense poetry reading. The song is short and quickly transitions into "The Cleansing." As the guttural growl of Jake Luhrs emerges and the torrent of metal comes from the band, I am reassured that this is once again August Burns Red at its finest. This track is incredibly long– and that's not a complaint! I would describe the first part of the song as five and a half minutes of great metal, then the second part of the song transitions into a groovy band jam, and lastly, the third part switches back to metal again, but has a more-uplifting feel to it. You'll love it, I promise.

The first single, "Ancestry" stunned everyone when it was released last November. Unless you've been living under a rock, you already know that this song is one of the most intense songs the band was ever written. It also features guest vocals by metalcore veteran, Jesse Leach. The accompanying music video already has nearly a half-million views on YouTube. The next track, "Tightrope," is everything you'd expect from ABR and more. It features an absolutely insane guitar solo by Jason Richardson (Born of Osiris, Chelsea Grin, All That Remains) that you won't want to miss!

"Fools Gold in the Bear Trap" features nearly two minutes of jamming similar vibes that were found in "The Cleansing." Personally, I love hearing the light guitar picking in the background with the bass lines having more attention. The song ends with super intense riffs and screaming. Now that I think about it, I would describe the song musically the same way its title suggests– the first part is light and alluring, like seeing gold and being tempted by it; and then the last part is extreme, realizing you've just been both tricked and trapped. "Backfire" was the band's second single and is very aggressive.

Every song on this album stands out. The opening riffs on "Rival" slither back and forth and it boasts killer breakdowns. "Dark Divide" is so beautifully heavy that it nearly chokes me up. It features a great solo and I seriously hope they play this one live. One great thing to note about "Deadbolt" is the use of clean vocals. It is much easier to sing along in those moments than with Jake. Lol. When you get toward the end of metal albums, the songs can often get stale. That's not the case here. These final songs hit just as hard. "The Abyss" starts out with a slower tempo but picks up quickly and features ERRA vocalist, JT Cavey. The album ends with "Reckoning." This epic song comes in at just under eight minutes long, features Spencer Chamberlain of Underoath, and was just released as the band's latest single.
I have listened to this album many times over the last month and found something new to appreciate with each spin.  My love for August Burns Red runs deep and I have loved each album in its own unique way.  Due to nostalgia, "Constellations" will always be my favorite, but with that said, "Death Below" is a close second. ABR's musicianship, lyrical quality, and longevity have all managed to win over admirers, and this most recent album is unquestionably one of their best.