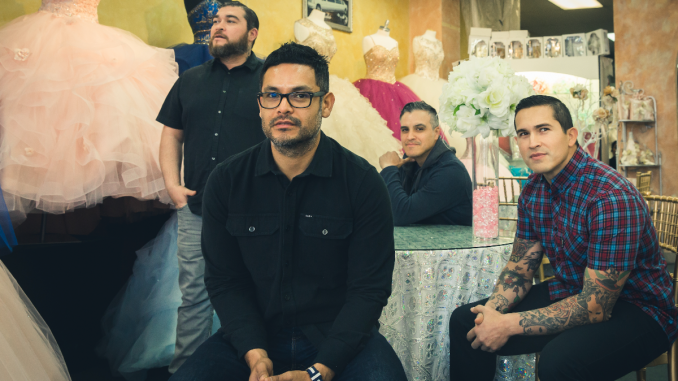 ALBUM FEATURES RARE AND UNRELEASED SONGS NEVER BEFORE PRESSED ON VINYL + NEW ARTWORK
BAND SHARES "LOVELY RESIDENCE" — LISTEN
From the suburbs of East Los Angeles, CA, four Mexican American kids came together in 2001 to form Audio Karate.
Audio Karate developed a unique sound that drew from their many influences such as Descendents and Jawbreaker. Their mix of melodic and emotional punk rock helped them develop a big fan base and quickly caught the attention of Kung Fu records, which signed them in 2001 alongside bands like Blink-182 and Tsunami Bomb. Audio Karate were far from being "just another punk band," and their blend of melodies and hooks set them apart, making it difficult to place them in any one genre. The band has mastered the art of writing infectiously catchy songs with deeply personal lyrics, while still remaining upbeat and fun.
Audio Karate spent the early 2000s touring heavily and sharing stages with bands like Blink-182, NOFX, The Ataris, Face to Face, and appeared at many Vans Warped Tours. Their first studio album Space Camp was met with much acclaim from critics and fans, and the band was often featured on MTV and Fuse TV. Their follow up album Lady Melody was produced by Bill Stevenson of the Descendents. The record straddled pop punk convention and technical oddity, with unusual key changes and riffs that seemed to be "wrong" — all the while sounding gloriously right. Even Stevenson wondered how they did it, marveling at times during their recording sessions and thinking, "Technically, this should't work." But it did.
Audio Karate went on an extended hiatus in 2006 and returned in 2018 to record their third album Malo for Wiretap Records and support their idols, The Descendents, on a U.S. tour. Shortly after, the band began working with Iodine Recordings for another release. ¡OTRA! is a collection of their rare and unreleased material that spans the history of the band and feature works produced by Bill Stevenson (Descendents/ALL) and Trever Keith (Face to Face). Featuring guest vocals by Agent M/Emily Whitehurst of Tsunami Bomb and new original artwork by Chris Shary (The Descendents/Teenage Bottlerocket), ¡OTRA! contains some of Audio Karate's best songs that have never been released on vinyl.
It is a soon-to-be-essential volume for the collections of pop-punk and emo fans. Pre-order it here.
Today, the band has shared "Lovely Residence." Listen here. [[ADD LINK]]
¡OTRA! TRACK LISTING:
"Lovely Residence"
"Segway"
"Care Carelessly"
"Black Covering"
"End Won't Justify the Means"
"She Looks Good"
"Do You Miss Meaning Everything to Me"
"Betrayed"