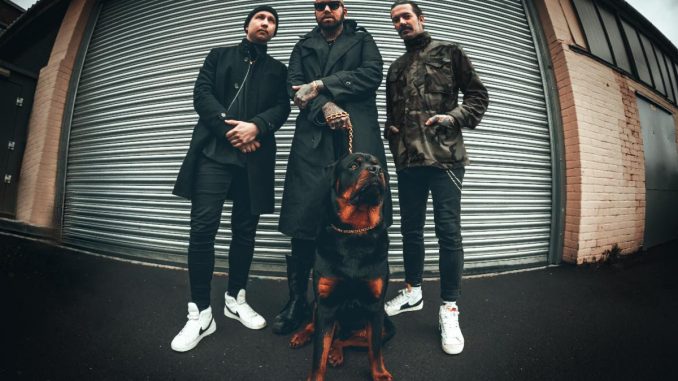 Attila L- R – Chris Linck, Chris 'Fronz' Fronzak, Kalan Adam | Photo Credit Lauren Robey | Download HERE
Thursday, April 27th, 2023 – ATTILA, Atlanta's most notorious dealers of metalcore brutality have announced the release of their brand new single "Bite Your Tongue" today. In what will be an exciting surprise for fans, a large portion of the the new single features clean vocals from frontman, Chris 'Fronz' Fronzak for the first time on an ATTILA release.
Whilst pushing the boundaries of what has come before, the new song is still an undeniable ATTILA-level banger, maintaining their unique brand of powerful, intricate riffing, driving, ten-ton-heavy drumming and of course, it's fair share of Fronz's signature screaming.
Stream "Bite Your Tongue" HERE and watch the accompanying visualizer HERE or by clicking the image below.
Speaking on the new track, Chris 'Fronz' Fronzak shares:
"Bite Your Tongue is about standing up for yourself and standing up for what you believe in. People will try to push you around but we will never back down. There are some people in this world that spew bullshit and say things that aren't true to please others. Not me though. If I say it, I mean it."
ATTILA will be hitting the road for a series of tour dates, including shows at Bamboozle, Welcome To Rockville, Sonic Temple and Blue Ridge Festivals this year. Full dates below. For Tickets and info visit Attilaband.com
5/4- Chapel Hill, NC @ Local 506
5/5- Atlantic City, NJ @ Bamboozle
5/6- Huntington, WV @ The Loud
5/7- West Columbia, SC @ New Brooklyn Tavern
5/21 – Welcome To Rockville, Daytona, FL
5/27 – Sonic Temple, Columbus OH
9/7 – 9/10 – Blue Ridge Rock Festival
"Bite Your Tongue" heralds the dawning of a whole new chapter for ATTILA and their multitude of fans. Keep it locked for more exciting announcements coming from the band soon!
ABOUT ATTILA
Chris Fronzak (vocals), Chris Linck (guitar), and Kalan Adam (bass) aka ATTILA have been churning out metalcore anthems for nearly two decades, shaping and defining the genre as they go.
Formed in Atlanta, Georgia in 2005, ATTILA has released eight studio albums, including their infamous 2013 smash hit, "About That Life" which debuted on the Billboard Top 200 at #22. The band are best known for their uniquely aggressive heaviness, their incendiary, high-energy live shows and their tongue-in-cheek attitude. Their music has amassed over 265 million streams and nearly 600k monthly listeners on Spotify alone.
ATTILA has continued to thrive and evolve over the years, cementing their status as one of the most influential bands in the modern metalcore genre. The release of "Bite Your Tongue" is just another step in their evolution, with plenty more to come, including a few surprises.