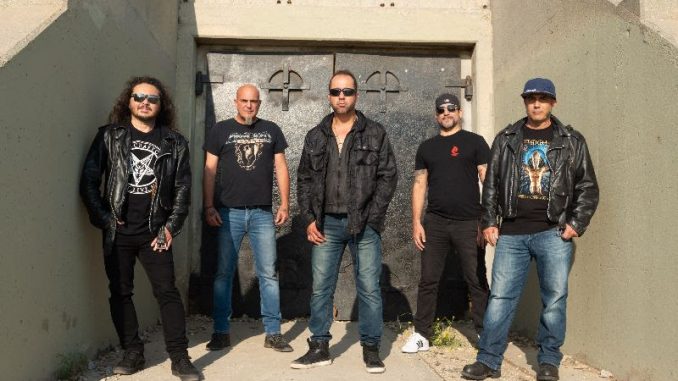 Los Angeles' hottest new metal act, ATTACK OF THE RISING has teamed up with leading Canadian website Metal Rules to premiere a Covid mini-Concert recorded at their rehearsal studio over the summer. Intercut with short interview segments, the show runs half an hour long and features songs from their debut album,
Game Changer
out now on Weapon Records / Vanity Music Group. The concert can be viewed
here.
"Rob Hill came to us with the idea of filming a live stream in a format similar to an unnamed famous TV show at his studio (X-Music Studios), and as we were all familiar with that show, we loved the idea and agreed to do it," recalls guitarist, Billy Sablan. "It was a cool way to get in some time to play, to tell the story of the band's origins and how this lineup came together,"
Tony Lepre, ATTACK OF THE RISING's co-founder and the band's other guitarist says, "this is still a challenging time. We're looking at what we can do to stay somewhat active and since we can't play live, a 'Covid Concert' and other content is one way to get your name out in the public."
Game Changer
is ATTACK OF THE RISING's debut full length album, released this past summer and produced and engineered by Bill Metoyer (Slayer, Flotsam & Jetsam, Trouble, Armored Saint, etc). It reflects the band's collective musical influences, which range from NWOBHM to the NY / NJ early 80s metal scene, across the country to the legendary Bay Area thrash heroes of the time.
Purchase
Game Changer
right here
. and it can also
streamed on Spotify.