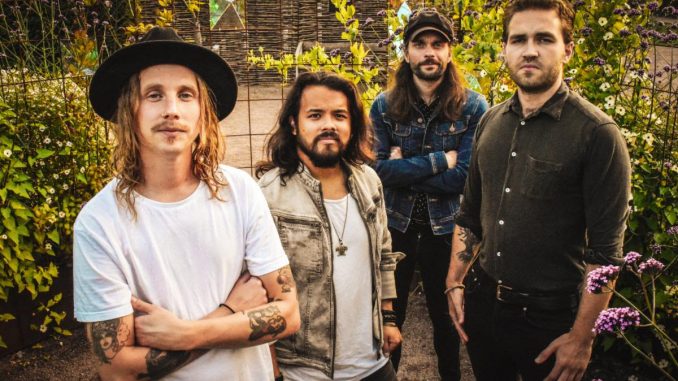 Sophomore Album, 'Fenix', Coming Spring 2022!
Swedish rockers Åskväder have returned with the electrifying track "Claptrap". A thunderstorm of energetic, '90s inspired garage rock, bluesy guitar licks, and standout choruses. The single is the second one leading up to Åskväder's sophomore album 'Fenix', which is set for release in Spring 2022 via The Sign Records.
Martin Gut from the band comments:
"The concept of this specific song was to start it right away with the chorus. Our very wise mentor and the tycoon of our record label Kaj Sivervik once told us that this concept is the way to reach the top. Ironically the lyrics of the song are describing someone who really wants to be a rock star and unfortunately fails big time. The 1000-dollar question remains, will we succeed?"
Åskväder – "Claptrap" (Official Video)
About Åskväder:
Electrifying Swedish rockers Åskväder make thunder and lightning through music. Well-balanced seasoning to the sound of the 90s Scandinavian rock scene mixed up with smoking hot riffs drenched in bluesy licks and catchy refrains. Adding thundering drum and bass groove with a topping consisting of elaborate vocal harmonies Åskväder is Swedish and can be translated into 'Thunderstorm'. That says it all. No fuss, just straight Rock N Roll.
Hailing from the west coast of Sweden, Åskväder released their debut EP "Quick Fixes" in 2018. In 2020 the band joined forces with The Sign Records for the release of their debut, self-titled studio album. In 2022 Åskväder returned with their second full-length effort, "Fenix". The new album takes the Åskväder sound heard on the debut album to a new level. Mixed by Kalle Lilja & Per Stålberg (Welfare Sounds), which truly put an intense vibe to the album.
Åskväder was formed in 2018 and consists today of Kammo Olayvar with his lightning speed bass grooves, August Waernelius on drumrolls, Albin Sörensson on lead vocals, and Martin Gut bending guitar strings and singing harmonies. Look out for the band's sophomore album, 'Fenix', which will be released via The Sign Records in March 2022.