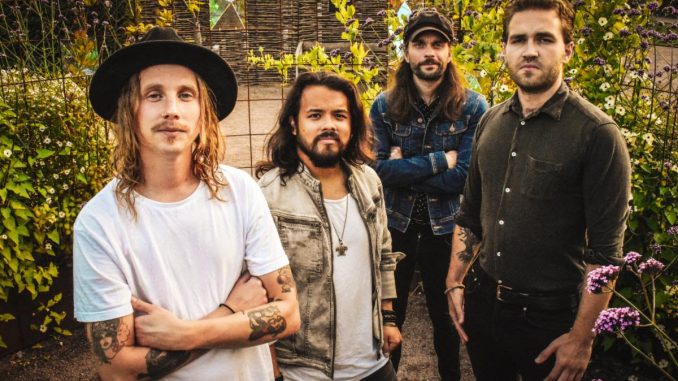 New Album, 'Fenix', Out March 25th!
Sweden's Åskväder have released the fourth and final single from their upcoming sophomore album 'Fenix'. The new song, titled "Zealot", is a punchy and direct track with a driving drum beat and electrifying melodies. The single is a true outburst of garage rock energy, recorded live in the studio.
Martin Gut from the band comments on the single:
"Zealot was a really tough one to record, definitely the song that took the most amount of takes to get right. The inspiration for writing the track came from listening to a podcast about the band Enforcer. To put it short, this track is Åskväder's take on speed metal. The lyrics describe how life can change quickly for the little man depending on circumstances that are bigger than ourselves, and how we have to follow the rules of the system fanatically."
Åskväder's sophomore studio album 'Fenix' will see a March 25th, 2022 release via The Sign Records.
Åskväder – "Zealot" (Audio)
About Åskväder:
Electrifying Swedish rockers Åskväder make thunder and lightning through music. Well-balanced seasoning to the sound of the 90s Scandinavian rock scene mixed up with smoking hot riffs drenched in bluesy licks and catchy refrains. Adding thundering drum and bass groove with a topping consisting of elaborate vocal harmonies Åskväder is Swedish and can be translated into 'Thunderstorm'. That says it all. No fuss, just straight Rock N Roll.
Hailing from the west coast of Sweden, Åskväder released their debut EP "Quick Fixes" in 2018. In 2020 the band joined forces with The Sign Records for the release of their debut, self-titled studio album. In 2022 Åskväder returned with their second full-length effort, "Fenix". The new album takes the Åskväder sound heard on the debut album to a new level. Mixed by Kalle Lilja & Per Stålberg (Welfare Sounds), which truly put an intense vibe to the album.
Åskväder was formed in 2018 and consists today of Kammo Olayvar with his lightning speed bass grooves, August Waernelius on drumrolls, Albin Sörensson on lead vocals, and Martin Gut bending guitar strings and singing harmonies. Look out for the band's sophomore album, 'Fenix', which will be released via The Sign Records in March 2022.