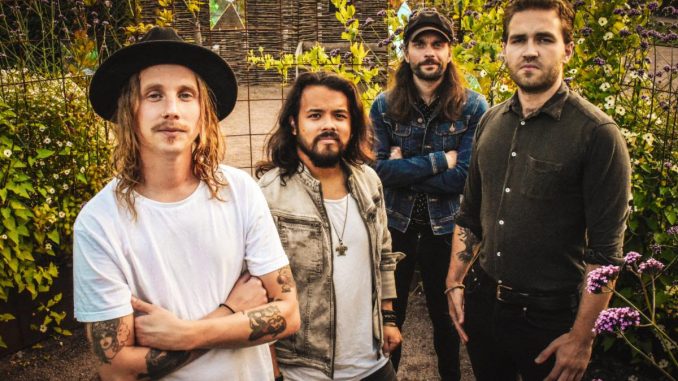 New Album 'Fenix' Coming In 2022
Åskväder are back with the first new music since their 2020 self-titled debut album. The electrifying Swedish band combines the sound of the 90s Scandinavian rock scene with a classic blues-rock approach on their brand new single "When We Fall", which is out now on all streaming platforms. The track is the first taste of Åskväder's new album, 'Fenix', which is set for worldwide release on The Sign Records in early 2022.
Martin Gut from the band comments:
The lyrics of the song are describing the inevitable ruin of mankind. To be stuck in apathy facing the abyss. The song was named after a band that our old bass player Staffan Persson had in his 20's as a tribute to him. The awesome riff that gets the song started is something we are especially proud of.
Stream The New Single "When We Fall":
Åskväder – "When We Fall" (Official Audio)
Åskväder Biography:
Electrifying Swedish rockers Åskväder makes thunder and lightning through music. Well-balanced seasoning to the sound of the 90s Scandinavian rock scene mixed up with smoking hot riffs drenched in bluesy licks and catchy refrains. Adding thundering drum and bass groove with a topping consisting of elaborate vocal harmonies Åskväder is Swedish and can be translated into 'Thunderstorm'. That says it all. No fuss, just straight Rock N Roll.
While capturing some of the influences from the legends of our time such as The Hellacopters and Turbonegro Åskväder manages to stay in their own lane, creating their own style of rock for a new decade.
Hailing from the west coast of Sweden, Åskväder released their debut EP "Quick Fixes" in 2018. In 2020 the band joined forces with The Sign Records for the release of their debut, self-titled studio album. In 2022 Åskväder returned with their second full-length effort, "Fenix". The new album takes the Åskväder sound heard on the debut album to a new level. Mixed by Kalle Lilja & Per Stålberg (Welfare Sounds), which truly put an intense vibe to the album.
Åskväder was formed in 2018 and consist today of Kammo Olayvar with his lightning speed bass grooves, August Waernelius on drumrolls, Albin Sörensson on lead vocals and Martin Gut bending guitar strings and singing harmonies. Look out for Åskväder who will release their second album through The Sign Records in March 2022.