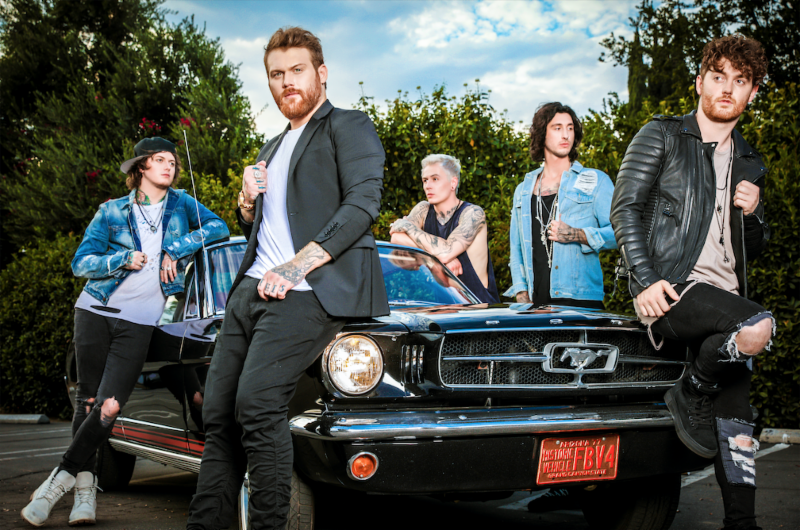 WATCH: Asking Alexandria x BLAST Pro Series Los Angeles Teaser Video
Wednesday May 1st 2019 – Asking Alexandria have today announced a boundary pushing collaboration with world leading Counter-Strike esports tournament BLAST Pro Series. Asking Alexandria will be the official music partner for BLAST Pro Series Los Angeles taking place on July 13th 2019 at the Galen Centre in Downtown Los Angeles. Tickets go on general sale May 8th at 10am PSD, fans can sign up for pre-sale tickets
here
The partnership will include Asking Alexandria's take on the BLAST Pro Series signature theme music, special event merchandise, Asking Alexandria's track 'When The Lights Come On' as the official theme tune of the event and more activations to be announced in the coming weeks.
"I think [esports is] an exciting new platform. If you look at these esports events, there is huge production and even just the energy from the spectators—it's like an NFL game. And that's where rock 'n' roll is most at home, in a live atmosphere where people are already energized. The marriage of the two is going to be quite magical."
Going on to talk about the use of 'When The Lights Come On' as the official track of BLAST Pro Series Los Angeles, Ben adds
"When we wrote that song, we wrote it specifically with arena crowds in mind. The whole song itself is about that feeling and about that moment when those lights come on and the show starts. It only exists there and then. That's the kind of energy that these esports events are capturing and creating now."
Asking Alexandria have earned a place among the most streamed, downloaded, watched and altogether listened to bands in a generation, combining the innovation of modern active rock with the traditional attitude of the culture's trailblazers. They've shared the stage with Guns N Roses, Green Day, Alice In Chains, Avenged Sevenfold and Slipknot. They've been on Warped Tour and Rockstar Mayhem Tour, played every major rock festival and headlined sold out theater tours around the world.
They recently celebrated their 8th consecutive Top Twenty hit at US radio with track 'Vultures', taken from their phenomenally successful self titled album released in 2017 via Sumerian Records which also spawned massive hits 'Alone In A Room' (#7) and 'Into The Fire' (#13).
Asking Alexandria In Numbers

Over 290 million combined YouTube views

Over 10 million combined social media followers

528 million total streams on Spotify

1.6 million monthly listeners on Spotify

1.1 million followers on Spotify

8 consecutive Top 20 (or higher) hits at US radio
BLAST Pro Series is a global CS:GO tournament circuit. Their mission is simple – to become the Formula 1 of esports and bring the exhilarating world of live CS:GO to the masses. Combining world-class CS:GO competition from the best teams in the world with an arena rock show production, they create an incredible atmosphere and fan experience similar to any other major traditional sporting event. This year they announced a brand new tournament format – one global series with 7 of the best teams in the world, 7 live tournaments in 7 international venues and one spectacular Global Final to end the year!with a total prize pool of $2.25 million.
The tournament, teams and players share more than 40 million followers across all social media platforms and the tournament is watched by millions across all ages and cultures. 5-10 million viewers will watch the Los Angeles tournament on stream and on top of this, tv viewers in more than 130 countries will be able to tune in.
A projected 428 million will watch esports this year with Counter Strike:Global Offensive being the 2nd most popular esport in the world and the most active professional players of any esport. It has over 9 million followers on Twitch and close to 50,000 Twitch streamers as well as boasting some of the most lucrative tournaments in all of esports, with total prize funds exceeding $42 million. The USA has more players of CS:GO than any other country, with just over 5 million active players.
| | |
| --- | --- |
| WATCH: BLAST Pro Series Explained | WATCH: BLAST Pro Series Miami After Movie |