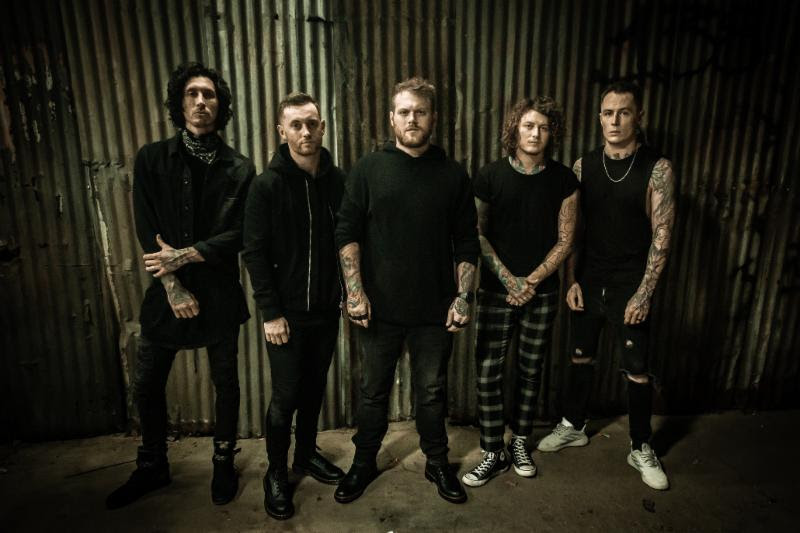 Monday December 2nd 2019 – 'The Violence', the latest anthem from British metal outfit, Asking Alexandria has been given the remix treatment by one of EDM's hottest producers – Polish beatsmith Sikdope. Stream the track
here
and watch the accompanying visualizer below.
Sikdope has built a reputation as a chameleon in the studio — from vicious bass-house to radio-ready progressive cuts and futuristic trap sensibilities — with an uncanny knack for keeping everyone guessing. His brand of merciless festival ammunition eventually caught the ears, and co-sign, of Calvin Harris on his breakout hit, "Snakes," essentially lighting a fuse that continues to burn with 760k monthly listeners on Spotify and a combined social following of 750k.

Now the 27 year old producer is steering the direction of electronic music's most exciting new sounds. When he's not canvasing clubs and festivals across the world – from Creamfields China to EDC Orlando's Main Stage – Sikdope is buried under headphones in the lab, tampering with dangerous new sonics.
Speaking on his bombastic remix of Asking Alexandria's latest arena-filling anthem, Sikdope says:
"I've been a fan of Asking Alexandria for as long as I can remember. They're also great friends of mine, so of course I was thrilled when they asked me to remix "The Violence" (also one of my favorite tracks this year). I sang in a rock band as a teenager so remixing this track felt like second nature to me; I got to go back to my roots but also showcase the evolution of my sound. This remix feels like such an accomplishment for me because when I was in a band as a kid, my dream was to have a release on Sumerian… now I'm on it as a DJ."
Adding to this, Asking Alexandria guitarist, Ben Bruce says
"I'm a firm believer that the best collaborations come from when artists come together through a true and real connection. A great collaboration can't be forced, they are born from a mutual respect and passion. In this case Sikdope and myself had been friends and mutual fans of each other's work for many years prior to this collaboration. We went out for dinner one night and decided, spur of the moment, to collaborate! I'm so excited that we finally got to work together and through combined efforts have created such a MONSTER of a tune!"
Since launch back in July, the original version of 'The Violence' has clocked up over 8 million Spotify streams and 2 million YouTube views. The track has stayed firmly on the SiriusXM Octane's Big Uns Countdown since it's debut 4 months ago.
Asking Alexandria are currently in the studio working on their sixth studio album, the follow up to 2017's Self-Titled release which spawned massive radio hits 'Alone In A Room', 'Vultures' and 'Into The Fire' and to date has amassed over 130 million Spotify streams. More on their new album to come in 2020.
Asking Alexandria By Numbers
3 Top 10 Billboard Album Debuts
1.3 Million Albums Sold Worldwide
257 Million Music Video Views
510 Million Spotify Streams
2.2 Million Spotify Monthly Listeners
1.2 Million Instagram Followers
5 Million Facebook Likes
8 Consecutive Top 20 (Or Higher) Charting Singles At Rock Radio
4 Top 10 Singles, 1 peaking Top 5
120,000 Spins To Date
200 Million Audience Reach
Asking Alexandria are (L-R):
Cameron Liddel (guitar), Sam Bettley (bass), Danny Worsnop (vocals), Ben Bruce (guitar) and James Cassells (drums)