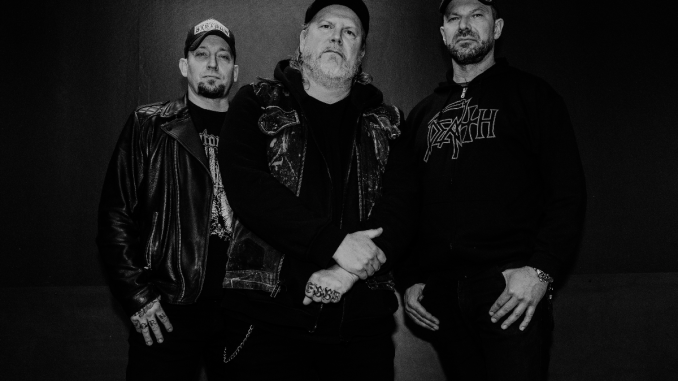 BAND FEATURES VOLBEAT'S MICHAEL POULSEN, MARC GREWE (INSIDIOUS DISEASE, EX-MORGOTH), + MORTEN TOFT HANSEN (RAUNCHY)

DEBUT ALBUM IMPII HORA OUT SEPTEMBER 29 VIA METAL BLADE RECORDS
For more than 20 years, vocalist/guitarist
Michael Poulsen
has been spearheading Danish rock and roll machine Volbeat, releasing eight full-lengths, selling millions of albums, and filling stadiums worldwide. Before fronting Volbeat, however, Poulsen formed death metal band Dominus, which recorded four fast, brutal albums in the mid '90s. When Poulsen was putting together songs for Volbeat's 2021 album,
Servant of the Mind
, he wrote a bunch of death metal riffs and saved them on his phone. Then, when he was done with the Volbeat record, he reopened the rusty gates to Armageddon and started putting together songs for his new death metal band
Asinhell
, whose debut album
Impii Hora
(Latin for Ungodly Hour), is a tribute to Poulsen's favorite old-school groups. The songs are rooted in crushing riffs yet injected with strong guitar hooks and shout-along refrains.
Impii Hora will be released September 29 via Metal Blade. Pre-order it here.
Today, the band has shared the official video for "Fall of the Loyal Warrior," which was hailed by Consequence as a return to Poulsen's roots!
Watch it here.
"The song is kind of a tribute to bands I love, like Bolt Thrower, Entombed, Autopsy, Grave, and Darkthrone," Poulsen said previously. "They're the reason why we can do this in the first place, and we're proud to wear our influences on our sleeve. The album was inspired by late '80s and early '90s old school death metal, and one of our brightest points of inspiration was the mighty Death, fronted by the legendary Chuck Schuldiner. There's a lot of Death in there. Schuldiner is one of my favorite death metal vocalists, the other being our vocalist Marc [Grewe]. So to me, this song is the combination of two of my favorites. 'Let the metal flow,' as Chuck would have said!"
Poulsen has rekindled the death metal fire that fueled his first band Dominus. He began jamming on riffs with longtime friend and neighbor, drummer Morten Toft Hansen (Raunchy). The two started playing in Morten's tiny garage: no mics, no P.A. — just a drum kit and a combo amp turned all the way up like they used when they were teenagers. Soon, the pair were completing a new song every time they got together. When it came time to add vocals, Poulsen turned to his good friend, who also happened to be one of his all-time favorite death metal growlers: Marc Grewe (Insidious Disease, ex-Morgoth).
"I had known Michael quite a long time and he always mentioned that we should do a death metal project one day, but I never took him too seriously because he was so busy with Volbeat," Grewe says. "Then he called for real and said, 'Yeah, I want to do it now. Are you up for it?' Immediately, I was like, 'Yes, of course!'"
With Asinhell fully formed, the three convened with Volbeat producer Jacob Hansen to produce, mix, and play bass on their debut album. When it was time to add lead guitar to the album, Michael looked no further than friend and The Arcane Order axeman Flemming C. Lund.
The album will be available in the following formats:
*Jewel case CD
*180g Black Vinyl (Europe excl.)
*Crimson Red Marbled Vinyl (Europe excl.)
*White Vinyl (Europe excl., ltd. 1000)
*Gold/Black Dust (EMP excl., ltd.300)
*Clear w/ Red/White Splatter Vinyl (Europe Band store excl., ltd. 500)
*Silver Vinyl (US excl.)
*Silver w/ Red Splatter Vinyl (US. excl.)
*Black & White Melt Vinyl (US excl.)
*Red/Black Splatter Vinyl (US Band store excl., ltd. 500)
IMPII HORA TRACK LISTING:
"Fall of the Loyal Warrior"
"Inner Sancticide"
"Island of Dead Men"
"Trophies"
"The Ultimate Sin"
"Wolfpack Laws"
"Desert of Doom"
"Pyromantic Scryer"
"Impii Hora"
"Foj for Helvede"
ASINHELL ARE:
Michael Poulsen — Guitar
Marc Grewe — Vocals
Morten Toft Hansen — Drums