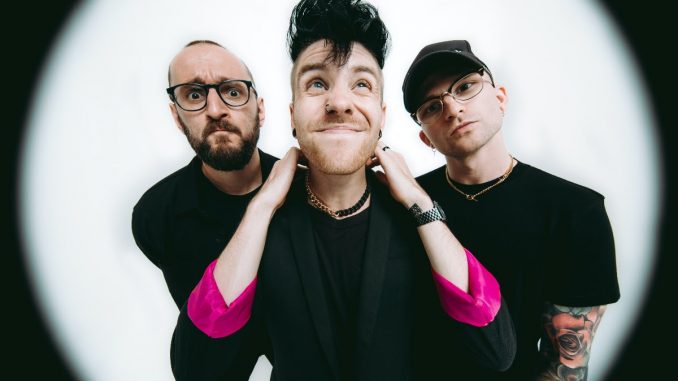 ALBUM ARRIVES FEBRUARY 4 ON FEARLESS RECORDS

BAND SHARES VIDEO FOR NEW SONG "I MISS 2003" — WATCH
They went to hell — and they are back, armed with a killer new album!
International pop-rock band As It Is — Patty Walters, Ronald Ish, and Alistair Testo — have announced their brand new album I WENT TO HELL AND BACK. It will arrive on February 4 via Fearless Records. Pre-order it here.
To celebrate the announcement, the band has shared the video for "I MISS 2003." Watch the clip, which will instantly transport you to the musical and cultural glory days of the early aughts, here.
"This was the last song written for the album, written and tracked in the last two days of recording," the band shares. "Thematically, there was little left unsaid on the album, which is always a liberating feeling because no risk is off limits anymore. Why not write a love song about the bands that sparked a fire inside you? Why not decorate all the lyrics with band names and song titles? It was a true joy to write, and in its own weird way, it felt like we were writing this in the 2000s. So if you were there, we hope this song takes you back. And if you missed out, we hope this song makes you feel like you lived through it all with us."
As It Is have been sharing new music over the past few months and during the lockdown period, steadily dropping videos for several fan-loved singles. The band is excited to present its latest body of work to its core of diehard fans and beyond.
I WENT TO HELL AND BACK TRACK LISTING:
"IDGAF"
"I LIE TO ME"
"ILY, HOW ARE YOU?"
"IDC, I CAN'T TAKE IT"
"I'D RATHER DIE"
"I MISS 2003"
"I'M SICK AND TIRED"
"I WANT TO SEE GOD"
"IN THREES"
"I HATE ME TOO"
"I'M GONE"
"I DIE 1000X"
"I CAN'T FEEL A THING"
"I WENT TO HELL AND BACK"
I Went to Hell and Back is As It Is' fourth studio album. The band burst into the scene and dropped Never Happy, Ever After in 2015 and followed with 2017's okay. In 2018, they returned with the critically lauded studio album The Great Depression. The band boldly and ambitiously reimagined the entire album and released the songs as a series of four EPs in 2019. Having perfected their blend of pop, punk, and rock over time, As It Is have truly found their groove with I Went to Hell and Back.