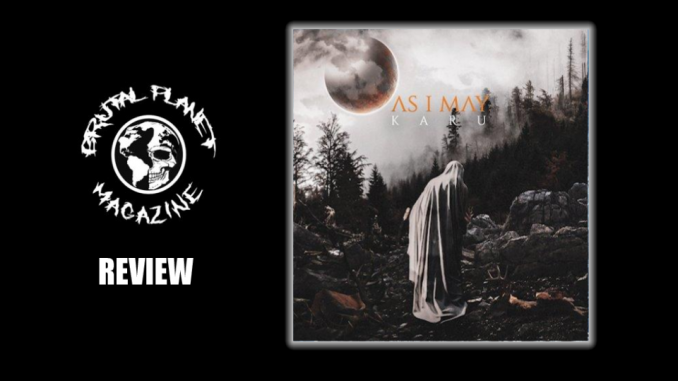 The incredibly talented metal band, As I May, (Lasse Hiltunen- vocals/guitars, Tipi Nokelainen- vocals/bass, Jani Valhola- guitar/vocals, Leevi Räsänen- drums) will be releasing their third full-length album, "Karu," on March 4th through UPRISING! Records. This Finnish quartet has grown in popularity since their debut album, "Speak No Evil" came out in 2017 and harvested an even larger fanbase after their 2019 release, "My Own Creations." This extremely hard-working band knows what they are doing and it is evident they won't be slowing down. Every album they release is better than its predecessor.
Karu starts out with "Charged," and in the band's true fashion, they blend heavy riffs and beautiful melodies. The verses are combative, the choruses are memorable, and the bridge is super aggressive. I have liked this band for a few years now, but unfortunately, never see much spoken of them. "Charged" was released as the album's second single last fall. The next track on the album, "Breaking Myself Away," was the band's first single and was released late last summer. It produces staccato-like riffs and drum beats throughout the song, and the vocal delivery switches between melody and screaming.
Another single is "High Octane"." It was released November 4 and has elements of 2000's nu-metal with some of its rap-like vocal deliveries and guitar tones.  The band's latest single is "Devil Rides With Me."  The official music video was released on December 17 and features a video of the band performing live.  This song might be more melodic than some of their other songs, but it is still heavy in its own right and is one of my favorites on the album. The viewing count for all of the band's latest music videos is disappointing considering how great I think the songs are.  I am hoping more and more metal fans will check this band out and give them the credit they deserve.

As is with many album releases, the singles are great, but some of the deep tracks are sometimes the real gems. The third track, "Rotten," features a catchy chorus and riffs that feel like punches to the face. I reached out to songwriter, Lasse Hiltunen, and he mentioned that the idea for "Rotten" came from "rotten companies" that take advantage of people's health and only focus on making money for themselves. "Under the Gun" is a drum-heavy song with a catchy chorus, "Black Ink" features a great bridge. Lasse also mentioned to me that "Choke Me" of the hardest songs to write. After countless takes, they had to forget about it for a while and come back to it to get it right. "Choke Me" is the album's closing song- it hits hard and fades out as if you are being choked and fade out of consciousness.
This is a solid album and the only disappointment I have is that it is too short. There are only nine songs and only one of them is longer than three and a half minutes. I simply want more! It really seems as if the band matured even more since their last release and I doubt many metal fans would not enjoy Karu. Check out the band's merch here and if you're in Europe, look for them on tour in 2022.