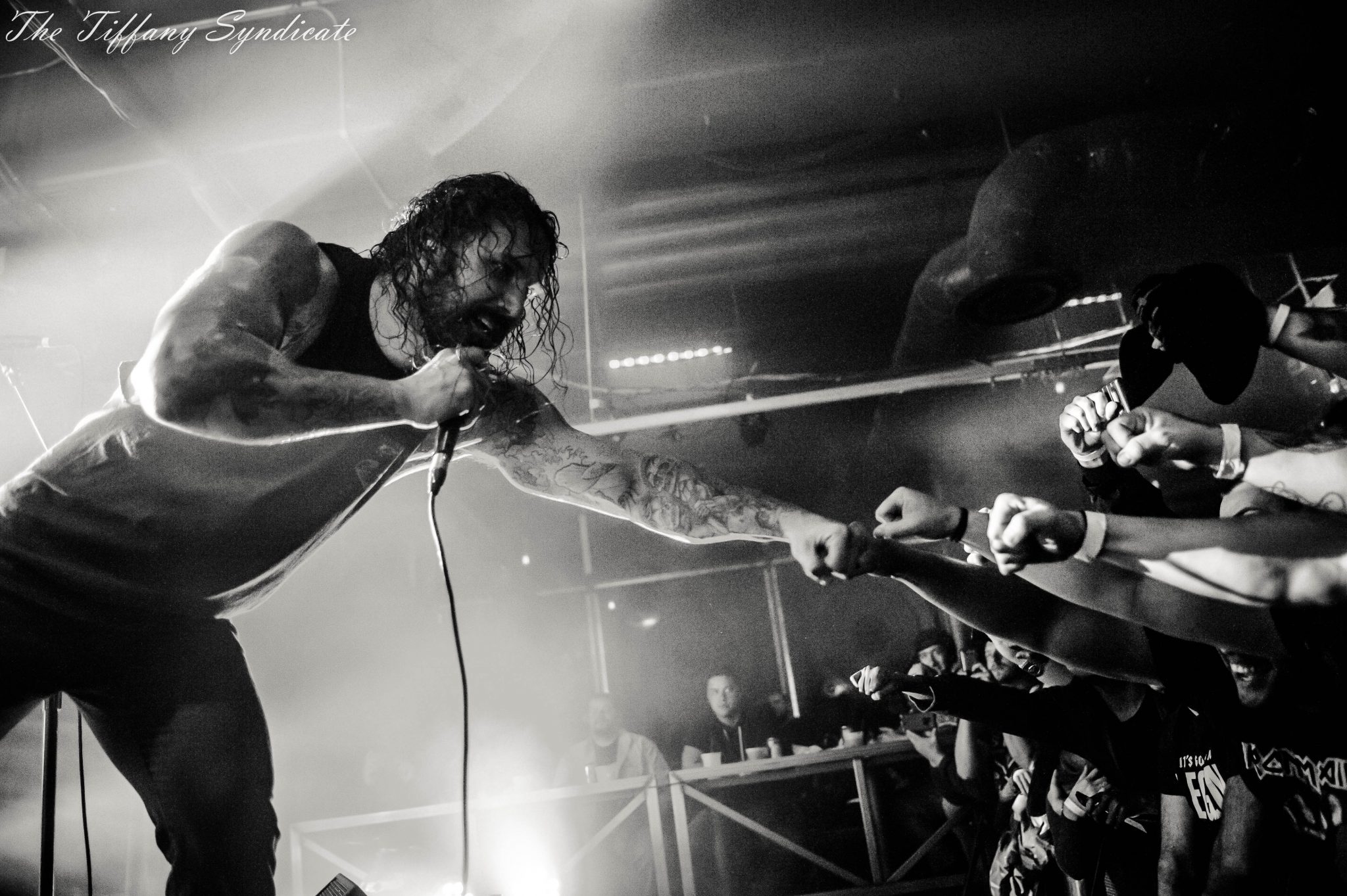 As I Lay Dying Sells Out Baltimore Soundstage.
Baltimore Soundstage in Baltimore, Md had a packed house last Monday night.
Metalcore favorites As I Lay Dying headlined a sold out show with Phinehas, Currents and Texas natives, Frost Koffin
. This long awaited tour began in St. Louis, MO on March 15th and will go city to city, to finish out right back in Missouri on April 6th, 2019. As I Lay Dying's popularity amongst their genre has brought them
to Charm City six albums deep and a massive fanbase to boot. Fans and supporters were ready celebrate AILD's return and what
better place to witness this excitement but at Baltimore Soundstage.
It hasn't been an easy of a road to travel for AILD.
In 2014, frontman Tim Lambesis
was sentenced
to six years in prison for solicitating the murder of his wife
. Resulting in incarceration, the band was forced to take a four year haitus. In 2016, Lambesis
was released
and placed on probation.
Shortly after, he reached out to repair relationships with his former band mates Nick Hipa, Phil Sgrosso, Jordan Mancino and Josh Gilbert who had gone on to form the band Wovenwar
. After making amends to his mates, family, friends and fans, AILD finally reunited in 2018.
It wasn't long before they were back in the studio to work on new music. And in June, came out with the single "My Own Grave."
Not long after, a tour announcement
was made
, but it hasn't been an easy road to travel for AILD by far. "My Own Grave" got many great reviews, but there were still fans and industry professionals not ready to forgive and forget what Lambesis had done even after the public apology and his time served.
 folks raised their horns and voices
Some tour dates were cancelled due to the public outcry from non-supporters of As I Lay Dying coming to their town. But last Monday night, they landed in our backyard and straight up owned the stage like they never left it.
AILD
deliciously
delivered a stacked setlist of crowd pleasing, fan favorites like "Meaning In Tragedy," "An Ocean Between Us, and "Through Struggle
." From the first moment of the first song, not a single body remained still or silent. It was like turning back the hands of time.
Nostalgia kicked in and took over as AILD took us on a journey through the best of their best songs such as "Sound of Truth," "The Darkest Nights" and "A Greater Foundation
." From the front doors to the bar stools, folks raised their horns and voices as they sang along to every word. This show took on a life of its own as the houses center raged with pit-goers.
Crowdsurfers traveled overhead in droves right down to As I Lay Dying's last two songs, "94 Hours," and "Confined
."
As I Lay Dying, destroyed.
I'm sure I can speak for the majority in attendance, that it was impossible knowing what to expect going in. Expectations or not, no one could have
been prepared
for
just
how sick this night would turn out.
Phinehas and Currents shook the shingles loose as always, and Frost Koffin made a new fan out of me
.
But As I Lay Dying, destroyed.
That's the best word I can think of. I hope you had a chance to catch this tour in your area. If you did, then you can relate to my review for sure, if not, just make sure you do next time around. Because there will be a next time around. The fans insist.
Check out some more live shots of As I Lay Dying @ Baltimore Soundstage
Photos By: Tiffany Mitchell
Follow and get all the latest news on As I Lay Dying Right Here:
Follow and get all the latest news on Phinehas:
Follow and get all the latest news on Currents:
Follow and get all the latest news on Frost Koffin: