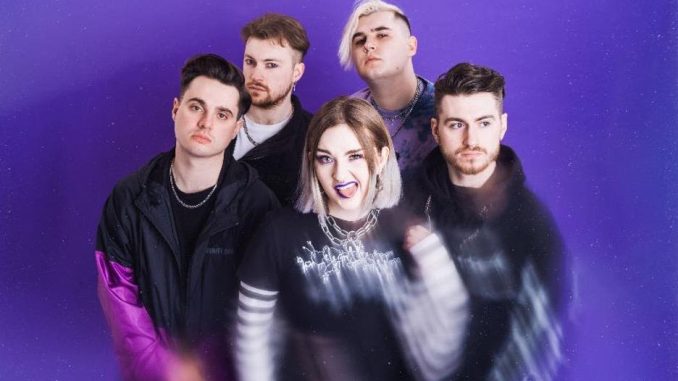 New Album, 'Ultraviolet,' Due out April 21
via Long Branch Records!
Stream or Pre-Order the Album HERE
"One of the most exciting bands on the UK circuit right now" – Kerrang!
"Huge riffs and even bigger hooks" – Metal Hammer
"Immense depth and devastation" – Rock Sound
Breakthrough UK act AS EVERYTHING UNFOLDS have released their new single "Slow Down", along with a visualizer. It's the final single before their new album, Ultraviolet, is being released on April 21.

AS EVERYTHING UNFOLDS have just completed their UK tour as special guest for Enter Shikari and were recently nominated as "Best Breakthrough Live Artist" for a 2023 Heavy Music Award. Heading to mainland Europe next, the band will be performing on the Impericon Festival tour and playing a few select headline shows before heading into the summer festival season.

Watch the Visualizer for "Slow Down" HERE
Singer Charlie Rolfe comments:

"Ever feel like you're being pulled down? Like someone is your biggest supporter yet your biggest critic, it's a confusing and conflicting feeling. 'You're letting me shout out, while you're telling me to slow down?' Sometimes people will try to manipulate you into thinking they're your biggest supporter, but jealousy can lead those same people to drag you down leaving you confused, when charged with platform or responsibility, that weight can carry difficult tasks and burdens, push through it and be the best version of you that you can be."
With their 2021 breakthrough debut album, 'Within Each Lies The Other', British metal act AS EVERYTHING UNFOLDS garnered over 25 million streams, international media acclaim and legions of fans alike. Just two years later, the band marks their return with the release of their upcoming sophomore full-length, entitled 'Ultraviolet', out April 21 via Long Branch Records.

With the release of their new album and many more tours and festivals in the pipeline, 2023 promises to be a huge year for AS EVERYTHING UNFOLDS.
'Ultraviolet' Track List:
4 Saint Or Rogue
5 Blossom
6 Infrared
8 Twilight
9 Rose Bouquets
10 Daylight
11 All I've Ever Known
"The new album, 'Ultraviolet,' is an open work on the thoughts and feelings surrounding us at the time,' comments singer Charlie Rolfe. "The anger, the frustration, the progress, everything on show, nothing to hide. Darkroom practice is something that has been a large part of my creative path, finding links between the emotion in music, putting everything on display for all to listen and exposing a colour photograph, putting it on display for all to see. Only when you are exposed to Ultraviolet light can you see life in full colour."
AS EVERYTHING UNFOLDS Live:
07.04.23 AT, Vienna – Arena / Impericon Festival
08.04.23 DE, Leipzig – Halle Eins / Impericon Festival
09.04.23 CZ, Prague – Futurum Music Bar /w Dragged Under
12.04.23 IT, Bologna – Freakout Club
13.04.23 IT, Milan – Legend Club
14.04.23 CH, Zurich – Komplex 457 / Impericon Festival
15.04.23 DE, Oberhausen – Turbinenhalle / Impericon Festival
16.04.23 DE, Munich – Backstage / Impericon Festival
30.04.23 UK, Corby – Mayday Mayhem
04.05.23 DE, Nürnberg – Hirsch /w Callejon
05.05.23 DE, Stuttgart – Im Wizemann /w Callejon
06.05.23 DE, Weißenfels – Kulturhaus /w Callejon
09.05.23 DE, Berlin – Privatclub
10.05.23 DE, Hannover – Lux
11.05.23 DE, Trier – Mergener Hof /w Callejon
12.05.23 DE, Augsburg – Kantine /w Callejon
14.05.23 DE, Kassel – Franz Ulrich
17.05.23 DE, Mainz – KUZ / Lehrsaal
18.05.23 DE, Münster – Sputnikhalle /w Callejon
19.05.23 DE, Dresden – Reithalle /w Callejon
20.05.23 DE, Karlsruhe – Substage /w Callejon
21.05.23 DE, Frankfurt – Batschkapp /w Callejon
28.06.23 ES, Galicia – Resurrection Fest
08.07.23 UK, Cheltenham – 2000trees Festival
09.08.23 DE, Eschwege – Open Flair Festival
10.08.23 DE, Rothenburg ob der Tauber – Taubertal Festival
09.09.23 UK, Torquay – Burn It Down Festival
12.09.23 UK, Manchester – Academy 3
13.09.23 UK, London – O2 Islington Academy
AS EVERYTHING UNFOLDS are:

Charlie Rolfe – Vocals

Adam Kerr – Guitar

George Hunt – Bass

Jon Cassidy – Synth

Jamie Gowers – Drums
FOLLOW AS EVERYTHING UNFOLDS: