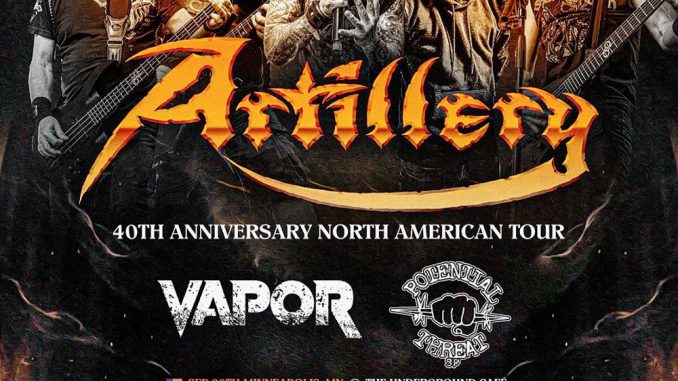 Tickets On Sale Now!
Danish thrash metal icons ARTILLERY are celebrating their 40th anniversary with a North American headlining tour! The journey, which begins on September 29th in Minneapolis, Minnesota and closes on October 14th in Brooklyn, New York, includes a performance at the Blades Of Steel Festival in Madison, Wisconsin. Support will be provided by Vapor and Potential Threat.
Tickets are on sale now. See all confirmed dates below.
ARTILLERY w/ Vapor, Potential Threat:
9/29/2023 The Underground Café – Minneapolis, MN
9/30/2023 Blades Of Steel Festival @ The Crucible – Madison, WI
10/01/2023 Legend's – Cincinnati, OH
10/02/2023 No Class – Cleveland, OH
10/03/2023 The King of Clubs – Columbus, OH
10/04/2023 The Sanctuary – Detroit, MI
10/05/2023 Hard Luck – Toronto, ON
10/06/2023 Dominion Tavern – Ottawa, ON
10/07/2023 Piranha Bar – Montreal, QC
10/08/2023 Rock Café Le Stage – Trois Rivieres, QC
10/09/2023 L'Anti Bar and Spectacles – Quebec City, QC
10/10/2023 Sherman Showcase – Stroudsburg, PA
10/11/2023 Funhouse at Mr. Smalls – Millvale, PA
10/12/2023 Another Round – Richmond, VA
10/13/2023 Alchemy – Providence, RI
10/14/2023 Saint Vitus Bar – New York, NY
In the mid-1980s, Denmark's ARTILLERY established themselves as being at the cutting edge of the thrash movement. Four decades later, they continue to destroy. The band's most recent studio offering – the aptly titled, X — was released in 2021 via Metal Blade Records. X was tracked in Medley Studio in Copenhagen, Denmark with producer Søren Andersen, who the band have worked with on every record since 2009's When Death Comes. Wrote Blabbermouth upon its release, "Nearly 40 years after their story began, this band is still a unique and exhilarating proposition." Distorted Sound noted, "This is crisp and accessible, there are no unintelligible vocals and they know how to write a beefed-up metal song. This should please the pit and the guys at the back who prefer to sing along in equal measure. If you like the faster side of metal you owe it to yourself to check this out." Added Ghost Cult, "Bursting with razor-sharp riffs, frantic shredding, and more hooks than a fisherman's tackle box, X is another outstanding example of classic Danish thrash." Preview and purchase X at: metalblade.com/artillery
http://www.artillery.dk
https://www.facebook.com/ARTILLERY.DK
https://twitter.com/artillerymetal