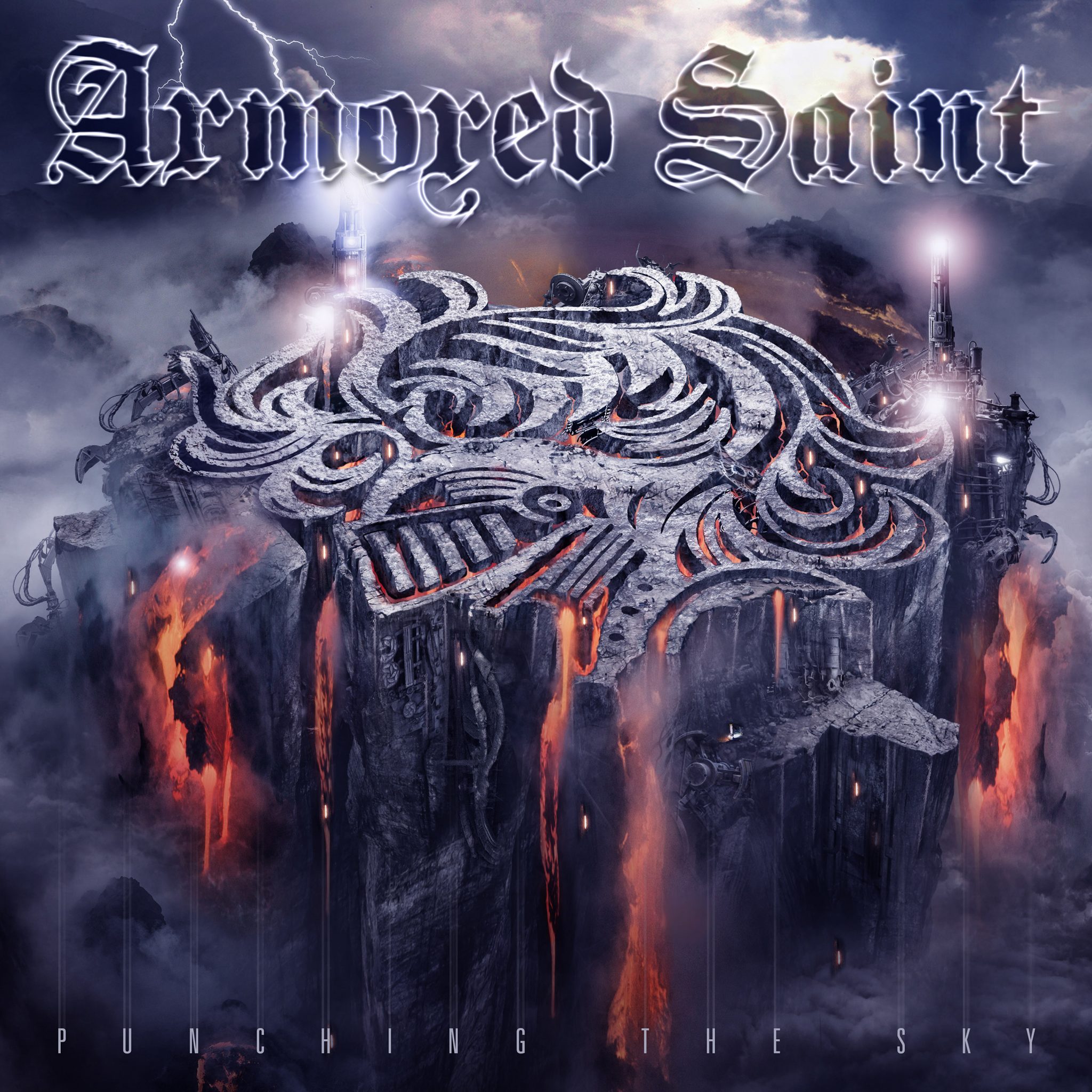 It has been five years since Armored Saint released a full-length album in all its majesty. Enough time to ponder what it will sound like and what direction the band will take. Well, the wait is over, and I could not be happier. In a year that has seen the world brought to a standstill, Armored Saint is still charging forward. From the band's inception, two things have remained synonymous when describing their music; first, it is full of heavy riffs, and second the unique, hard-hitting vocals of John Bush.
Punching the Sky starts with "Standing on the Shoulders of Giants." The song intros with a Middle Eastern vibe but then quickly transforms into a beat-heavy work of art. Led by a catchy chorus, it is a perfect way to soothe your need for new Armored Saint. The almost seven-minute song includes a great guitar solo with the twin axe attack from Jeff Duncan and Phil Sandoval. Next is the "End of the Attention Span." The song is a statement on the world's current addiction to phones and social media. The song begins with an ominous introduction that continues with catchy lyrics:
"Foot apart
Must be contagious
Oh so close but something divides us
That's us
We're lost within our screens."
"Bubble" continues the catchy lyrics and great guitars. "My Jurisdiction" starts with an Alice in Chains like baseline that quickly amplifies into a song with a bit of a Rage Against the Machine guitar riff. As the song continues, it reverts back to the classic Armored Saint sound you expect. "Do Wrong to None" has some of the best guitar work paired with great drumbeats. If you are looking for a go-to song, this is it. "Do Wrong to None is easily a favorite of mine. "Lone Wolf" has a tremendous rhythmic beat provided by Gonzo Sandoval on drums and great bass by the master Joey Vera.
"Missile to Gun" is classic Armored Saint. The song has a fast beat and will definitely be on a live setlist whenever we can finally do that again. Things slow down with a more melodic sound in "Fly in the Ointment." John's vocals peak on this track, making it one of his best performances on the album, making it another favorite track. I love the style that they created with this song. Thing speed back up for "Bark, No Bite" but slow right back down for "Unfair." A great eerie sounding song with dark lyrics. "Never You Fret" wraps up Punching the Sky. The song has a heavy fast beat that only leaves you wanting more.
Armored Saint has over four decades of material that has influenced bands and shaped the history of metal to what we know today. With a signature sound, they have not reinvented the wheel with Punching the Sky but instead perfected it. It is important to remember that they have nothing to prove at this point in their careers because they have already proved it. Punching the Sky will be released on October 23rd via Metal Blade Records. You can hear our interview with John Bush below, where we talk about the new album.