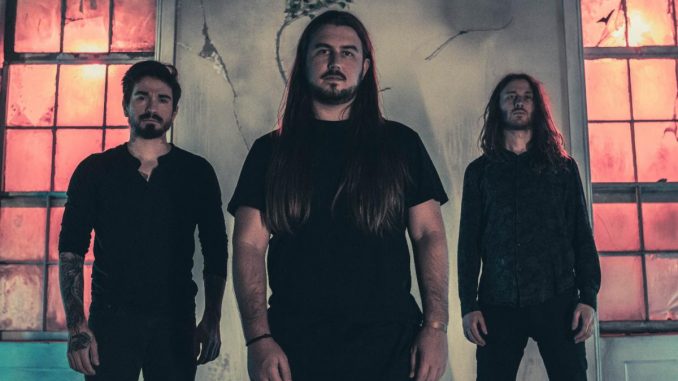 New LP 'Labyrinth of Hungry Ghosts' out March 11th
ARKAIK – "Labyrinth of Hungry Ghosts" (Official Lyric Video)
Progressive death metal heavy-hitters ARKAIK have dropped a ferocious lyric video for their new single "Labyrinth of Hungry Ghosts". The new song is the third single and title track for the band's upcoming album, which will see a March 11th, 2022 release via The Artisan Era.
The first single off 'Labyrinth of Hungry Ghosts', titled
"Wayward Opulence"
, dropped earlier this year; with the music video premiering via
Metal Insider
.
About ARKAIK:
Arkaik is a progressive death metal band hailing from Northern California. Formed in 2004 by Jared Christianson and Chance Strickland, Arkaik was born within the blossoming Bay Area Tech-Death scene that would soon influence many of today's popular bands. Through elaborate story-telling and their unique musical style, Arkaik imparts bits of esoteric wisdom through an ongoing lyrical narrative that continues to bring each listener on an epic hero's journey.
Arkaik has been joined by many all-star members who have each left their mark in the band and contributed greatly – some of which still do behind the scenes. In 2017 Nathan Bigelow (Singularity AZ, Ex-Alterbeast) joined as the band's full-time drummer. Alex Haddad (Dessiderium, Nullingroots) joined the band in 2018 during The Devastation On The Nation Tour, taking on guitar duties. Jared, Alex, and Nathan now comprise the core unit of Arkaik that will mark a new and exciting chapter for the band – creating a more focused and recognizable sound than ever before.
Having toured the bulk of The United States and Canada with popular acts such as Cannibal Corpse, The Black Dahlia Murder, Psycroptic, Fallujah, Exhumed, and many more, Arkaik has made a name for themselves both on and off stage.
In 2019, after several years with Unique Leader, Arkaik joined forces with The Artisan Era to produce a single entitled "Supernal Flame". Under this new record label, the band will unleash their fifth full-length album, 'Labyrinth of Hungry Ghosts' on March 11th, 2022.
Watch the music video for the last single "The Orphion Descent" here
ARKAIK Lineup:
Jared Christianson
Alex Haddad (Dessiderium)
Nathan Bigelow (Singularity, Ex-Alterbeast)
ARKAIK Online: