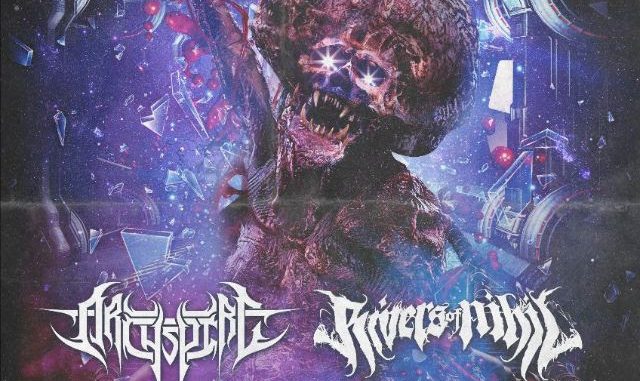 Canadian tech death masters
ARCHSPIRE
have announced new European tour dates for November/December 2021. The band will be blasting through 12 cities at 350 bpm and a full list of confirmed shows can be viewed below.
The band comments on the tour:
"EUROPE!!! We're coming back!!!
"Our last Euro tour was such an amazing success, we decided you guys want more TECH! So we're bringing you the FACES OF DEATH TOUR 2021!!!
"We just can't wait to get back across the Atlantic to visit our favorite places, and hangout with you wonderful people! Europe is Oliver's favorite country, so he's especially excited!
"Stay Tech!"
The band will be supporting 2017's JUNO-nominated 'Relentless Mutation!' Listen/stream/download HERE.
ARCHSPIRE European Tour Dates 2021:
11/12/2021 Matrix, Bochum (DE)
11/13/2021 Backstage Halle, Munich (DE)
11/14/2021 Slaughter Club, Milan (IT)
11/15/2021 KiFF, Aarau (CH)
11/16/2021 Die Stadtmitte, Karlsruhe (DE)
11/17/2021 Viper Room, Vienna (AT)
11/18/2021 Dürer Kert, Budapest (HU)
11/19/2021 Puschkin, Dresden (DE)
11/20/2021 Nova Chmelnice, Prague (CZ)
11/21/2021 U Bazyla Poznan (PL)
11/22/2021 Béi Chéz Heinz Hannover (DE)
11/23/2021 Hole44 Berlin (DE)
11/24/2021 Stengade Copenhagen (DK)
11/25/2021 Logo Hamburg (DE)
11/26/2021 De Klinker Club Aarschot (BE)
11/27/2021 O2 Academy Islington London (UK)
11/28/2021 Mama Roux's Birmingham (UK)
11/29/2021 Cathouse Glasgow (UK)
11/30/2021 Thekla Bristol (UK)
12/01/2021 Rebellion Manchester (UK)
12/02/2021 The Loft Southampton (UK)
12/03/2021 Gibus Paris (FR)
12/04/2021 Doornroosje Nijmegen (NL)
Last year, ARCHSPIRE made headlines for appearing on Apple TV's series "See," starring Jason Momoa ('Aquaman,' 'Game of Thrones,' etc.), which featured ARCHSPIRE vocalist Oli Peters and drummer Spencer Prewett on the pilot episode! Peters showcases his signature gunfire vocals in a scene in which Momoa hand-selected the band to appear. The episode can be seen at THIS LOCATION.

This isn't the first time that ARCHSPIRE has broken new ground. The JUNO- Award (Canadian Grammy) nominated technical death metal band, who are currently headliners on four different continents, made both national and international headlines earlier this year for being the perfect musical template for the creation of Artificially Intelligent death metal. Dadabots is special artificial intelligent (AI) software that creates music. The software, developed by Berkley College of Music graduates Zack Zukowski and CJ Carr, is built upon a "recurrent neural network" that receives data and then uses it to interpret musical sequences on its own. Simply stated, the software teaches itself how to compose music based on the work of an existing band as its data-set.

After several failed attempts at creating stable, listenable death metal, the creators turned to the music of ARCHSPIRE, which ended up being the perfect template to generating metal tunes via artificial intelligence. More on the project can be read in a document the researchers' produced in 2017 at THIS LOCATION.

Line-up
Dean Lamb: guitar
Spencer Prewett: drums
Oliver Rae Aleron: vocals
Tobi Morelli: guitar
Jared Smith: bass

Recording, Mix, and Mastering
Dave Otero at Flatline Audio

Style: Technical Death Metal

Cover art: Eliran Kantor

Press-kit: https://presskit.season-of-mist.com/Archspire
Username : presskit
Password : Presskitofmist

Shop: http://smarturl.it/ArchspireRelentless

Available formats
CD
Gatefold LP in various colours