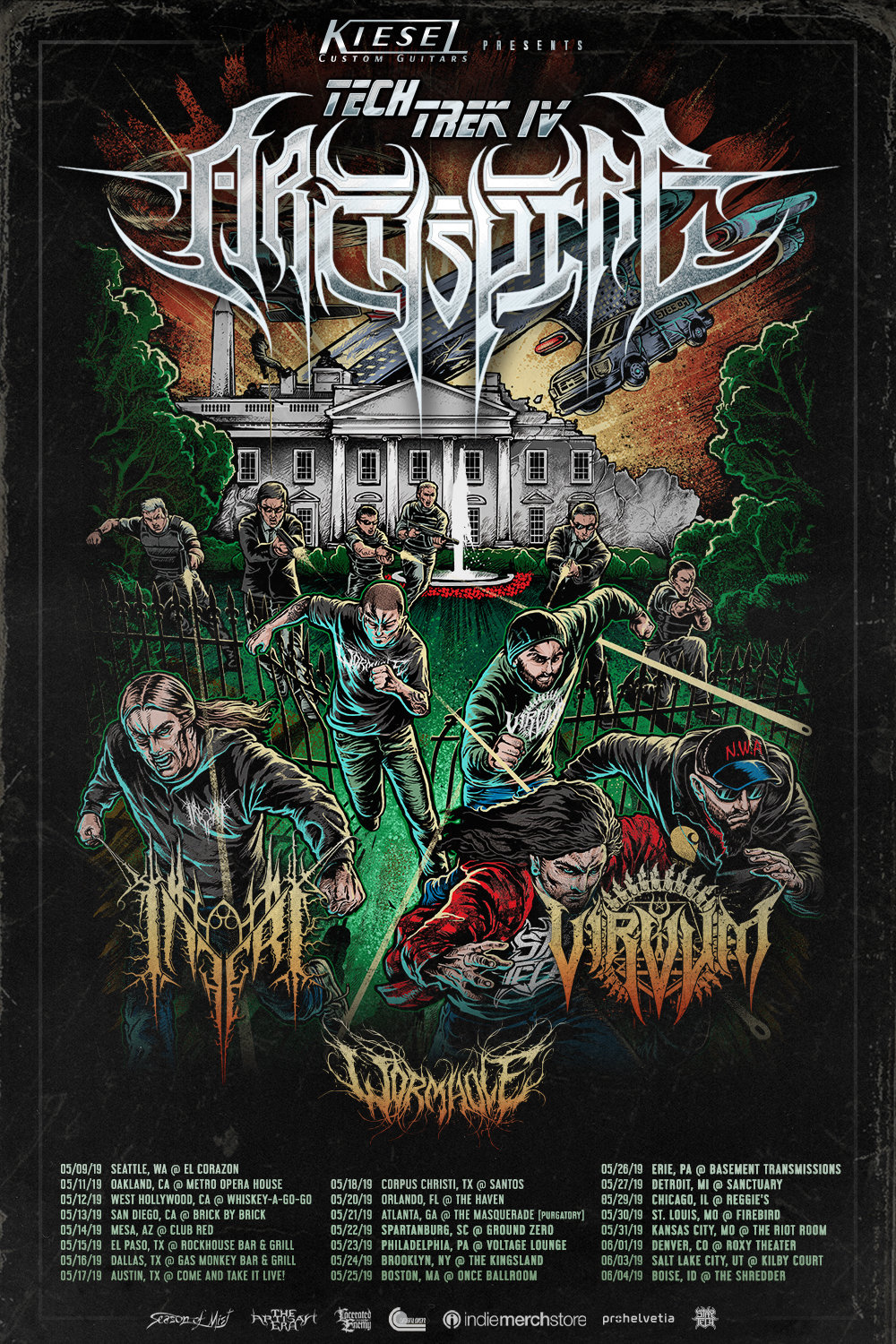 ARCHSPIRE Announce U.S.A. Headlining Tour Dates for 'Tech Trek IV,' Presented by Keisel Guitars
Canadian tech-death metal masters
ARCHSPIRE
have announced a full North American tour in which they will be supported by label-mates
VIRVUM
as well as INFERI and WORMHOLE. 'Tech Trek IV,' which is presented by Kiesel Guitars, will kick off on May 9 in Seattle, WA and will conclude on June 4 in Boise, ID. The full itinerary can be found below.
Speaking about the run, ARCHSPIRE commented: "We'll be heading across the U.S.A. with 'Tech Trek IV,' presented by Kiesel Guitars. You can expect a crazy set from us and we'll be joined by some insane bands – WORMHOLE is some intense slamming brutal death metal from Baltimore, the extreme progressive death metal of VIRVUM, and our good pals in INFERI who shred like no one else! We'll also be announcing additional dates and some giveaways in the coming weeks, so stay tuned and Stay Tech!"
For interviews and guest list opportunities, contact Katy Irizarry at Katy@Season-of-mist.com.
Kiesal Guitars Presents
TECH TREK IV
ARCHSPIRE w/ support from INFERI, VIRVUM, + WORMHOLE:
05/09: Seattle, WA @ El Corazon
05/11: Oakland, CA @ Metro Opera House
05/12: West Hollywood, CA @ Whiskey-A-Go-Go
05/13: San Diego, CA @ Brick By Brick
05/14: Mesa, AZ @ Club Red
05/15: El Paso, TX @ Rockhouse Bar & Grill
05/16: Dallas, TX @ Gas Monkey Bar & Grill
05/17: Austin, TX @ Come And Take It Live!
05/18: Corpus Christi, TX @ Boozers Rock Bar
05/20: Orlando, FL @ The Haven
05/21: Atlanta, GA @ The Masquerade (Purgatory)
05/22: Spartanburg, SC @ Ground Zero
05/23: Philadelphia, PA @ Voltage Lounge
05/24: Brooklyn, NY @ The Kingsland
05/25: Boston, MA @ Once Ballroom
05/26: Erie, PA @ Basement Transmissions
05/27: Detroit, MI @ Sanctuary
05/28: Louiseville, KY @ The Tiger Room
05/29: Chicago, IL @ Reggie's
05/30: St,Louis, MO @ Firebird
05/31: Kansas City, MO @ The Riot Room
06/01: Denver, CO @ Roxy Theater
06/03: Salt Lake City, UT @ Kilby Court
06/04: Boise, ID @ The Shredder
In addition to 'Tech trek IV,'
ARCHSPIRE
will be performing two local dates in British Columbia this March, in which they will be supported by THE HALLOWED CATHARSIS and BLACKWATER BURIAL.
The dates are as follows:
03/08: Victoria, BC @ Upstairs Cabaret (
TICKETS
//
EVENT PAGE
)
03/09: Nanaimo, BC @ The Cambie (TICKETS //
EVENT PAGE
)
Also, ICYMI, ARCHSPIRE have recently premiered a series of videos on "Nail The Mix" via YouTube. The tech masters give fans an inside look at the intricacies that went into developing their latest release, 'Relentless Mutation,' which was mixed and mastered by Dave Otero.
To watch the unboxing for the raw-multi tracks of "Remote Tomb Seeker," visit THIS LOCTION.
To watch the vocal effect focus clip, which features Dave Otero, visit THIS LOCATION.
To hear ARCHSPIRE guitarist Dean Lamb and Dave Otero's joint URM podcast interview, visit THIS LOCATION.
Welcome to first class technical death metal madness. Machine gun vocals rattle remorselessly over a furious flurry of arpeggios, scales, and everything else that the two string wizards of ARCHSPIRE can pick at break-finger speed out their guitars. If this sounds hardly human at the level of technical execution, the Gatling-style hyper-drumming pushing these monstrous compositions forward is adding to the alien impression. It cannot even be a question that the Canadians have outdone themselves with their third full-length, 'Relentless Mutation'.
This album is simply insane in a most excellent way. The level of musicianship that ARCHSPIRE offer, will leave even tech death fans drooling. Yet the outfit from Vancouver in British Columbia is bringing an important extra to the table, the rare ability to write great songs. 'Relentless Mutation' is not just another compilation of outstanding musicianship, but the songs come with recognisable patterns that make sense in the greater conceptual framework of the album. And a clever use of contrasts leaves moments of clarity for the listener to take a breath and get ready for the next assault.
ARCHSPIRE exploded onto the scene in the year 2009 – after an earlier prelude under the moniker DEFENESTRATED. The band grew out of the rich Canadian scene for technical extremes that includes illustrious names such as GORGUTS or BEYOND CREATION. Yet ARCHSPIRE set out to take the sound to the next level from the start as their debut album 'All Shall Align' (2011) made clear, which immediately received critical comparison with the scene's spearheads like OBSCURA.
The band developed a lyrical concept revolving around a dystopian science fiction universe, which was expanded on their sophomore full-length, 'The Lucid Collective' (2014) that witnessed ARCHSPIRE gaining widespread international recognition as one of the hottest names within the tech death community and beyond.
With 'Relentless Mutation', the Canadians are pushing the limits of their genre even further than before on all levels. ARCHSPIRE come crushing like a whirlwind to free ears and minds from pre-conceived notions about technical death metal. Time to leave your shelter and face the tempest. This is the future.
The cover of 'Relentless Mutation' has been painted by renowned artist Eliran Kantor already well-known in the metal world for his works for TESTAMENT, ATHEIST, and HATE ETERNAL among others.