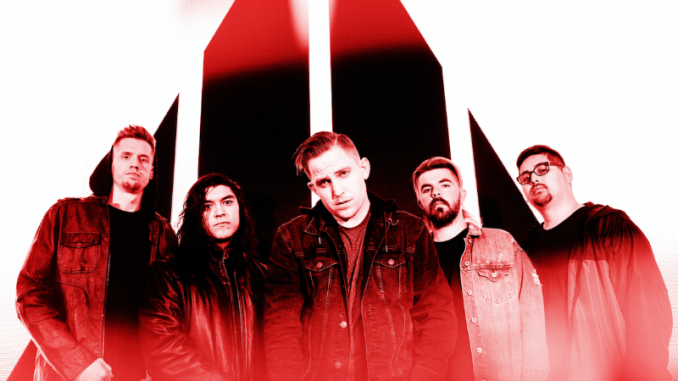 BAND TOURING WITH WE CAME AS ROMANS THIS FALL
SELF-TITLED DEBUT ALBUM OUT NOW VIA FEARLESS RECORDS
Arizona upstarts ARCHETYPES COLLIDE — Kyle Pastor (vocals), Brandon Baker and Jared Knister (guitars), Ky Sanders (bass), and Tyler Flamm (drums) — quickly established themselves as a band unafraid to blur the lines between safety and innovation in heavy music. Soaring vocals, melodies, and heavy grooves swirl with passion and precision. The band dropped its self-titled debut on March 31 via Fearless Records. Get it here.
Fresh off a tour with Beartooth and Trivium in the spring, the band is returning to the road this fall with We Came as Romans, Emmure, and Bodysnatcher. All dates are below.
Archetypes Collide have also shared the video for "Fade Away." Watch the performance-driven video, which offers a taste of what to expect when the band hits the road, here.
"Life can leave you feeling like the only way to succeed is to continually grind until you drive yourself into the ground," Pastor shares. "'Fade Away' is for those that feel like they're burning at both ends just to make it to tomorrow."
Pastor continues, "'Fade Away' is all about capturing that day-to-day (more often 'night-to-night,' if Im being honest) vibes of the touring life. Sleepless nights, blurring days, the grind of traveling, and being away from family and loved ones to pursue the dream. It's a crazy balancing act that can slowly start to wear on you if you're not careful to keep your priorities straight."
ARCHETYPES COLLIDE ON TOUR:
WITH WE CAME AS ROMANS, EMMURE, + BODYSNATCHER:
10/10 — Indianapolis, IN — Deluxe at Old National Centre
10/11 — Milwaukee, WI — The Rave
10/13 — Grand Rapids, MI — The Intersection
10/14 — Cleveland, OH — House of Blues
10/15 — Joliet, IL — The Forge
10/17 — Buffalo, NY — Town Ballroom
10/18 — Toronto, ON — Danforth Music Hall
10/20 — Sayreville, NJ — Starland Ballroom
10/21 — Hartford, CT — The Webster
10/22 — Providence, RI — Fete Music Hall
10/24 — Albany, NY — Empire Live
10/25 — Harrisburg, PA — HMAC
10/27 — Norfolk, VA — The NorVa
10/28 — Carrboro, NC — Cat's Cradle
10/29 — Columbia, SC — The Senate
10/31 — Fort Lauderdale, FL — Revolution
11/1 — St. Petersburg, FL — Jannus Live
11/3 — New Orleans, LA — House of Blues
11/4 — Dallas, TX — House of Blues
11/5 — San Antonio, TX — Vibes Event Center
11/7 — Tuscon, AZ — Encore
11/8 — San Diego, CA — House of Blues
11/10 — Pomona, CA — Fox Theater
11/11 — Las Vegas, NV — Brooklyn Bowl
11/12 — Salt Lake City, UT — The Complex
11/14 — Denver, CO — Ogden Theatre
11/15 — Omaha, NE — The Admiral
11/17 — St. Louis, MO — Red Flag
11/18 — Cincinnati, OH — Bogart's
ABOUT ARCHETYPES COLLIDE:
ARCHETYPES COLLIDE demand repeated listening, mixing everything from Linkin Park and Bring Me The Horizon to The Chainsmokers, and Stranger Things-style retro synths, into a unique musical identity. A collection of singles and EPs drew a devoted fanbase and the attention of Oshie Bichar, bassist for Beartooth. Bichar enlisted his management, and the pair took Archetypes Collide under their wing. Soon after, SiriusXM's Octane got behind songs like "Your Misery," "Becoming What I Hate," and "Above It All." The band appeared on major festivals like Aftershock, Louder Than Life, and Welcome To Rockville, toured with genre giants The Amity Affliction, and crafted an ambitious self-titled debut album for Fearless Records. Archetypes Collide spent several weeks in the first part of 2022 making their inaugural full-length, with a super team surrounding them to execute their vision. Bichar produced alongside Nick Ingram (Dayseeker, Convictions, Hawthorne Heights) at Capital House Studio in Ohio. Additional production came from Jon Eberhard (Skillet, I Prevail, Until I Wake); The Plot In You frontman Landon Tewers lent a creative hand as well. The resulting album, mixed by Jeff Dunne (Ice Nine Kills, Wage War, Make Them Suffer), captures the vibrant spirit of the 2010s-era Warped Tour with a postmodern edge. It's a diverse but singular mission statement, brimming with authenticity and hope. ARCHETYPES COLLIDE aren't bound by preconceived notions or limitations. As single Kyle Pastor explains simply: "Why not take every shot, in every direction, under the umbrella of hard rock and metal?"
ARCHETYPES COLLIDE ONLINE: