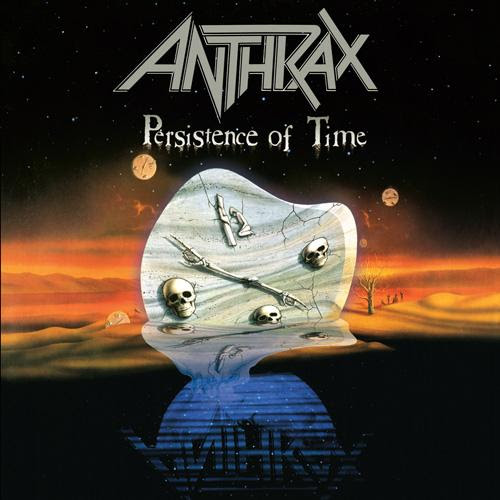 ANTHRAX WRAPS UP ITS SIX-EPISODE VIDEO SERIES
FOR PERSISTENCE OF TIME
WITH THE STORY BEHIND "GOT THE TIME"
"I think it totally made that record, as a whole, what it is today.
'Got The Time'…'Persistence of Time'…it was meant to be." -Charlie Benante
LOS ANGELES, CA – Thursday, August 20, 2020 – Thirty years ago tomorrow, August 21 1990,
Persistence of Time.
Anthrax's fifth studio album was released. To commemorate that release, the band's special deluxe edition of the fully remastered album, a slew of bonus tracks, and revised cover art will hit stores tomorrow as a four-disc vinyl collection, and a CD/DVD package. To wrap up the six-episode video series of the stories behind the making of
Persistence of Time
, here is Episode Six, the final clip,
"Got The Time."
On this, Anthrax's Charlie Benante reveals how the then-new
Persistence of Time
album was the result of everything the band had learned up to that point, incorporating elements of
Spreading the Disease,Among The Living
and
State of Euphoria.
He also points out Scott Ian's evolution as a lyricist, that on
Persistence of Time,
Ian became more outspoken on subjects like racism and politics. Go
HERE
to get your copy of "Persistence of Time 30th Anniversary Deluxe Edition."
| | |
| --- | --- |
| | |
| | From Left: Charlie Benante, Dan Spitz, Scott Ian, Frank Bello, Joey BelladonnaPhoto Credit: William Hames |
The Gold-certified Persistence of Time included two cover songs, "AntiSocial" and Joe Jackson's "Got The Time," a big personal favorite of Benante's who rallied the band to do a cover of it. "People love that song," said Benante, "and to this day, we enjoy playing it. We speed it up – like Joe Jackson does live – Joe Jackson plays that song at 'elfin' light speed, faster than we ever played it."
In tandem with the release of the "Persistence of Time Deluxe Anniversary Edition," Anthrax is unveiling a brand new collection of
Persistence of Time
merchandise – t-shirts, hoodies, face masks, hats, board shorts, and more – available beginning tomorrow, 8/21/20, exclusively at
https://shop.anthrax.com
# # #
ABOUT ANTHRAX:
In 2021, Anthrax will celebrate its 40th anniversary, four decades during which time the band has released 11 studio albums, been awarded multiple Gold and Platinum certifications, received six Grammy nominations and a host of other accolades from the media, the music industry and fans. In 1991 the band helped break down race and genre barriers when they collaborated with Public Enemy on the track "Bring The Noise," and was the first metal band to have its music heard on Mars when NASA played " Got The Time" to wake up the Mars Rover in 2012. Along with Metallica, Slayer and Megadeth, Anthrax is a card-carrying member of The Big Four, the four bands that defined the speed/thrash/metal genre. Taking advantage of COVID-19's prohibition of concert touring, the band is already hard at work writing the next Anthrax album.
# # #
Persistence of Time/Deluxe 30th Anniversary Edition Vinyl Track Listing:
Side A
Time (Remastered)
Blood (Remastered)
Keep It In The Family (Remastered)
Side B
In My World (Remastered)
Gridlock (Remastered)
Intro to Reality (Remastered
Belly of the Beast (Remastered)
Side C
Got The Time (Remastered)
H8 Red (Remastered)
One Man Stands (Remastered)
Discharge (Remastered)
Side D
I'm The Man (The Illest Version Ever)
Time (Live at The Palace of Auburn Hills)
Got The Time (Pre Production)
Side E
In My World (Pre Production – Scott Guide Vocal)
H8 Red (Rehearsal Room/Charlie's, Riff Tape/Pre-Production)
Discharge (Charlie's Riff Tape/Rehearsal Room/Pre-Production)
Side F
Keep In In The Family (Rehearsal Room/Scott Guide Vocal)
Blood (Rehearsal Room/Pre-Production)
Side G
Intro to Reality (Pre-Production)
Belly Of The Beast (Tracking)
Gridlock (Tracking)
Side H
One Man Stands (Pre-Production)
Time (Pre-Production, Scott Guide Vocal)