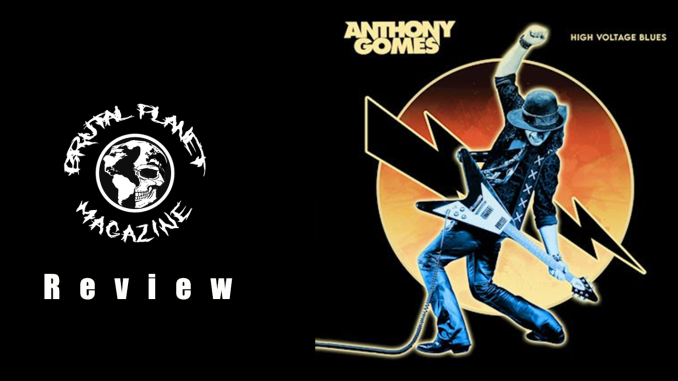 Review by Emily Tipping
Anthony Gomes is releasing his 13thalbum, High Voltage Blues, with Rat Pak Records, available September 23rd. This Canadian-born blues-infused rockin' guitar player pulled together an album that includes three brand new songs along with a variety of older cuts. He brings in heavy-weights like legendary bassist Billy Sheehan, known for his 'lead bass' playing style and Korn's drummer Ray Luzier. It's easy to imagine the high energy of songs that stem from these collaborations from 2009 to the present. The sound is still dusty and dirty, keeping the grit that's so notable with Gomes work, while the album still manages to feel seamless.
The great western-themed, "Painted Horses" kicks off the album off to its smokin' hot cruising altitude with fiery guitar licks and a boot-scoottin' beat. It's a song that can easily be a soundtrack in the next Yellowstone TV series. "Fur Covered Handcuffs", a new cut that has enticing lyrics and rocking hook. Followed by another newer song "Blues-A-Fied", the name tells it well, this is a blues number that anyone who's been knocked off their feet by a lover can relate to. The compilation goes back to a couple older tracks, "Born To Die" and "Peace, Love & Loud Guitars" both killer songs that deserve the praise they've received. "I Believe" is the other new offering, that reminds us to keep believing in peace on this planet and in the love between one another. More fan favorites follow, with "Red Handed Blues", Turn It Up!", both from 2015 and "Blues In The First Degree", from 2018. The catchy chords continue with "Hell and Half of Georgia", "Darkest Before The Dawn" and "Blues Child". This trio mix of rockin' blues would already be a great finish, but the album includes three bonus tracks including "White Trash Princess", "Rebel Highway" and an extended version of "Darkest Before The Dawn".
Anthony has been earning praise since he started his music journey in 1998. He was voted one of the "30 best guitarists in the world today" by Guitar Magazine. Anthony, who has opened for B.B. King, Buddy Guy, Robert Plant, Heart, Jonny Lang and many more, is also known for putting on unforgettable live performance. He plays a beautiful black and white flying V that seems perfectly comfortable in his hands too. Anthony has also started his own foundation, 'Music Is The Medicine', that teaches the healing power of music. Since its inception it has helped children with cancer, young adults with autism and war veterans with PTSD. Gomes will be touring with his band this fall. Make sure to check the dates for venues near you to catch him live, and to pick up a copy of High Voltage Blues, available September 23rd.