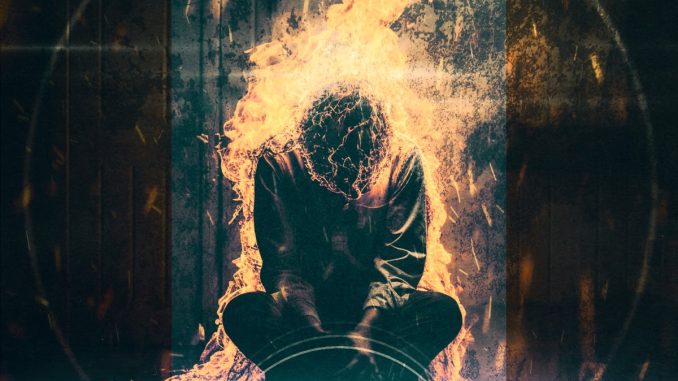 ALBUM ARRIVES OCTOBER 6 VIA CENTURY MEDIA

BAND SHARES "HESITATE" VIDEO — WATCH

TOUR WITH ATREYU + MEMPHIS MAY FIRE KICKS OFF NEXT WEEK
Pennsylvania band Another Day Dawns — singer Dakota Sean, guitarist Tyler Ritter, bassist Jerome Betz, and drummer Nick McGeehan — have announced their new album Finding Peace Through All the Noise. It arrives October 6 via Century Media. Pre-save it here.
Today, the band has shared the video for new single "Hesitate." Watch it here.
"'Hesitate' is about the internal struggle we all deal with about coming to terms with the reality of your life and your relationships, rather than following the little devil on your shoulder," says Dakota Sean. "It's about not taking the easy way out and taking control of your life."
"Hesitate" is a not-so-subtle reminder why the Lehighton, PA based four-piece is one of the most buzzed about new rock bands hitting stages and winning over crowds at every stop. The track expands on ADD's blueprint of driving hooks, unforgettable vocals, and tuneful dissonance. Produced by Steve Sopchak (Ice Nine Kills, Motionless In White) and mixed by Jeff Dunne (Brand of Sacrifice, Ice Nine Kills), it's a hint of the shape of ADD's rock-to-come.

Since inking with Century Media Records in 2022, ADD have found themselves in cramped rehearsal rooms, studios, and ultimately, on stages of every conceivable size. "Having taken off so much time to get this album done, we thought we'd do some smaller shows to get things rolling again, but somehow we came back with our first arena tour and the biggest opportunity we've ever had as a band!" Hitting the road for a North American jaunt with Breaking Benjamin and Bush, ADD won over crowds every night. "We definitely felt nerves and anxiety while we entered what felt like a new world to us," says Ritter. "Pretty quickly that turned to ambition and drive."

ANOTHER DAY DAWNS began making a racket of their own as high school-aged friends in 2010. Countless electric and acoustic shows later, opening for the likes of Sevendust, Starset, and Atreyu as well as rock festivals including Aftershock, Blue Ridge and Louder Than Life, they've honed themselves into a force to be reckoned with in the Northeast and Mid-Atlantic region. The independent release of their 2018 EP A Different Life landed the band a charting spot on the Billboard rock charts, which solidified their foundation in the active rock market. Meanwhile, 2020's single release, "Taste of Heaven" has racked up over two million Spotify streams while 2021's release "Look at You" has garnered nearly 200K YouTube plays.

FINDING PEACE THROUGH ALL THE NOISE TRACK LISTING:
"Intro"
"Bitter"
"On And On"
"No Way Out"
"Hesitate"
"Pull Me Under"
"Pain"
"On Our Own"
"Look At You"
"Luminous Bloom"
"Brand New"
ANOTHER DAY DAWNS ON TOUR:
WITH ATREYU, MEMPHIS MAY FIRE, + CATCH YOUR BREATH:
8/27 — Ventura, CA — Ventura Theater
8/28 — Las Vegas, NV — House of Blues
8/30 — Albuquerque, NM — Revel
8/31 — Amarillo, TX — Ocho Segundos
9/2 — Lawrence, KS — Bottleneck*
9/3 — St. Louis, MO — Red Flag*
9/5 — Pittsburgh, PA — Mr. Smalls Theatre*
9/7 — Asbury Park, NJ — House of Independents*
9/8 — Reading, PA — Reverb*
9/10 — New Haven, CT — Toad's Place*
9/12 — Montreal, QC — Theatre Beanfield
9/13 — Toronto, ON — Danforth Music Hall
9/15 — Columbus, OH — Newport Music Hall
9/16 — Ft Wayne, IN — The Clyde Theatre
9/17 — Grand Rapids, MI — The Intersection
9/19 — Bloomington, IL — The Castle Theatre
9/21 — Maplewood, MN — Myth Live
9/22 — Milwaukee, WI — The Rave/Eagles Club
9/23 — Louisville, KY — Louder Than Life**
*No Atreyu
**Festival Play
ANOTHER DAY DAWNS ONLINE: