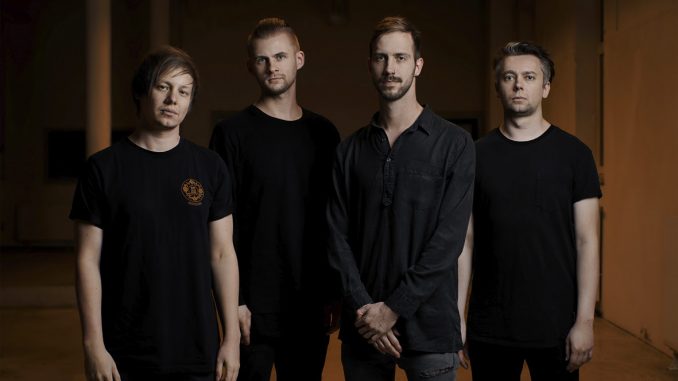 Metalcore powerhouse
ANNISOKAY
, led by vocalist and producer
Chris Wieczorek
(Sawdust Recording), are pleased to present the special edition of their successful and critically acclaimed album
Aurora
, originally released in 2021. The new version is out now.
Aurora (Special Edition) is available on CD and as a limited colored vinyl option, holding three absolute classics remastered: "Coma Blue," "Good Stories," and the Japanese bonus track "Parallel Universe," which has never been released worldwide. These additional songs are released together with a full live set featuring the new lineup, namely frontman Rudi Schwarzer.
"Good Stories" (2022) is the second remastered track to be released from the special edition.
Listen here.
This new special edition can be purchased here.
AURORA SPECIAL EDITION TRACKLISTING:
"Like a Parasite"
"STFU"
"The Tragedy"
"Face the Facts"
"Overload"
"Bonfire of the Millennials"
"The Cocaines Got Your Tongue"
"Under Your Tattoos"
"The Blame Game"
"I Saw What You Did"
"Standing Still"
"Friend or Enemy"
"Terminal Velocity"
"Coma Blue" (2022)
"Good Stories" (2022)
"Parallel Universe" (2022)
"Like A Parasite" (Live)
"Bonfire Of The Millennials" (Live)
"Good Stories" (Live)
"Unaware" (Live)
"Under Your Tattoos" (Live)
"Fully Automatic" (Live)
"Sea of Trees" (Live)
"Face the Facts" (Live)
"Coma Blue" (Live)
"STFU" (Live)
ABOUT ANNISOKAY:
ANNISOKAY, the German rock x metal band, released their fifth studio album Aurora in 2021. The record entered the official German album charts on #18 and found the band reinvented. As usual, guitarist and singer Christoph Wieczorek was in charge of the production. But old braids were literally cut off and a new frontman was brought on board. The musical foundation, however, remained, with heavy guitar riffs, driving drum rhythms, and a mix of melodic singing and aggressive shouts. Rudi Schwarzer is now responsible for the latter. The new singer convinced fans upon performing live, as Annisokay played the X-Mas Bash Tour together with the EMIL BULLS in winter 2019.
ANNISOKAY were founded in 2007. The band has already played successful tours in Europe, Great Britain, Japan, and the USA. With several headline shows in Russia, Belarus, and the Ukraine, the band gained a loyal global fanbase. The highlights were support shows for Parkway Drive in sold-out halls in Moscow and St. Petersburg. The established independent record label SPV signed the band in 2014 and three studio albums were released, all of which made it into the top 100 of the official German album charts. In 2018, ANNISOKAY switched from SPV to Arising Empire. That same year, the fourth studio album Arms was released.
ANNISOKAY ARE:
Rudi Schwarzer | Vocals
Christoph Wieczorek | Vocals/Guitar
Norbert Kayo | Bass
Nico Vaeen | Drums