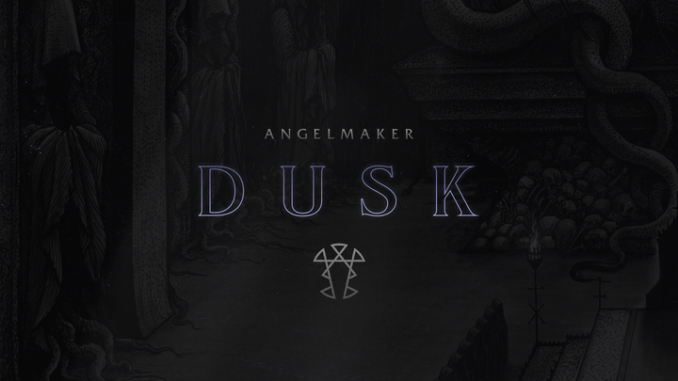 Wednesday, November 10th, 2021 – Northern Vancouver deathcore sextet, ANGELMAKER have released the latest in a series of two-track EPs, today, titled 'Dusk'. Highlighting the new release is a brand new track and video "What I Would Give". Watch the video HERE or by clicking the image below. B-side track, "Lazarus" was also released today find both tracks that make up the 'Dusk' EP on streaming platforms HERE.

Speaking on the release of "What I Would Give", vocalist Mike Greenwood shares, "In our lifetime everyone experiences loss in some way or another, the weight of death and grief can weigh heavy and leave an impression that lasts forever. What I Would Give" is about just that. It is one of our most emotionally driven songs to date. It speaks about the loss of loved ones and the idea that we would do anything to have them back in our lives. The song is sad but beautiful and is an homage to the ones we have lost." 
The two tracks on 'Dusk' follow previous two-track EP releases 'Twilight' and 'Dawn' which spawned lead singles & videos "Vengeance" and "Creator's Conscience" and featuring B-side tracks "Eating The Body Of God" and "The Great Grey Flame". Between them, the two releases have clocked up 586,510 cross-platform streams and 166,000 YouTube views since release. They have covered Spotify's Deathcore playlist and been featured on several major playlists including Spotify's 'New Metal Tracks', Apple Music's 'Breaking Metal', Tidal's 'Extreme Metal Music' and Deezer's 'Deathcore'. Revolver included "Creator's Conscience" on their '7 Best New Songs Right Now' list the week it was released, calling the track "a triumphant detonation that utilizes both of their vocalists and all three of their guitarists to unleash a mine-field-like assault on the listener." 

ANGELMAKER levels listeners with a furious, focused, diverse, and violent extremity, creating deathcore of the highest order, injected with blackened thrash, a smattering of power violence, and the urgent ferocity of underground hardcore. ANGELMAKER summon the most brutal elements of Floridian death metal and combine it with the coldest permafrost of Scandinavian black metal, without the theatricality sometimes clouding the genres.

The brand new music unleashed by ANGELMAKER in 2021, crafted in recent months with producer Tim Creviston (Spiritbox, Misery Signals, Vultures) and mixed and mastered by Will Putney (Thy Art Is Murder, Knocked Loose, Every Time I Die), is the band's most confident and destructive yet.

Ten years strong as an independent, do-it-yourself force, ANGELMAKER triumphantly stands tall. Keep it locked for more coming from ANGELMAKER soon.