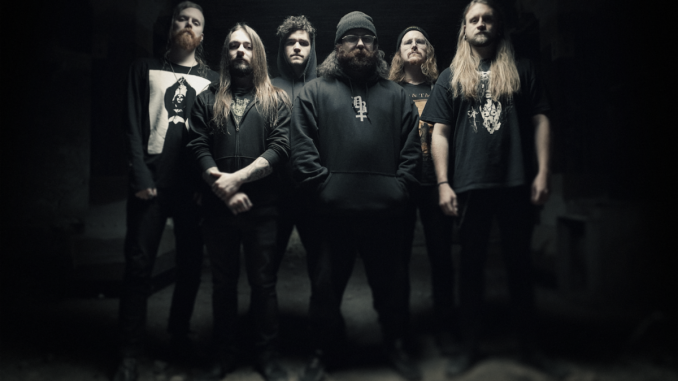 Wednesday, December 8th, 2021 – One of modern deathcore's most prevalent and consistent forces, Northern Vancouver six-piece ANGELMAKER have released their fourth two-track EP today, titled 'Eclipse'. As a mysterious pattern seems to be emerging, much like its three 2-track predecessors – 'Dawn', 'Twilight' and 'Dusk' – the arrival of the 'Eclipse' EP is heralded by a cinematic music video for lead single "Exit Signs" and brand new b-side track, "The Weight". Watch the video
HERE
or by clicking the image below. Find the 'Eclipse' EP on streaming platforms
HERE
.
Speaking on today's release, vocalist Mike Greenwood shares
"It's easy to get lost in the moment. Sometimes we don't notice all the warning signs of a situation until a lot later. "Exit Signs" explores the idea that we all experience subtle warnings that we should take heed of, but often let our emotions drive us deeper down the path. The song has a bit of everything, an epic chorus, some heavy breaks, and the melancholy we love to bring to our songs."
To date, the releases have clocked up over 1 million cross-platform streams and 278k YouTube views and seen ANGELMAKER placed as cover stars of Spotify's Deathcore playlist twice and been featured on several major playlists including Spotify's 'New Metal Tracks', Apple Music's 'Breaking Metal', Tidal's 'Extreme Metal Music' and Deezer's 'Deathcore'.
Revolver Magazine included "Creator's Conscience" on their '
7 Best New Songs Right Now
' list the week it was released, calling the track "a triumphant detonation that utilizes both of their vocalists and all three of their guitarists to unleash a mine-field-like assault on the listener." and Loudwire recently included "Creator's Conscience" on their
2021's Best Metal Songs
playlist.
ANGELMAKER levels listeners with a furious, focused, diverse, and violent extremity, creating deathcore of the highest order, injected with blackened thrash, a smattering of power violence, and the urgent ferocity of underground hardcore. ANGELMAKER summon the most brutal elements of Floridian death metal and combine it with the coldest permafrost of Scandinavian black metal, without the theatricality sometimes clouding the genres.
The brand new music unleashed by ANGELMAKER in 2021, crafted in recent months with producer Tim Creviston (Spiritbox, Misery Signals, Vultures) and mixed and mastered by Will Putney (Thy Art Is Murder, Knocked Loose, Every Time I Die), is the band's most confident and destructive yet.
Ten years strong as an independent, do-it-yourself force, ANGELMAKER triumphantly stands tall. Keep it locked for more coming from ANGELMAKER soon.
ABOUT ANGELMAKER
The members of ANGELMAKER were all teenagers when the band formed (half of them even went to the same high school together) and began a decade long streak of independence that continues to this day. 2012's Decay EP put them on the deathcore map. A three-way split EP with Lament and Isolations arrived the following year.
ANGELMAKER's full-length debut, 2015's Dissentient, was a massive standout, demonstrated by ferocious songs like "Godless", "A Dark Omen," and "Leech," the latter of which accumulated 1.7 million views on YouTube and 3.7 million Spotify streams. One Bandcamp commenter likened the album's sound to "cutting your heart out with a rusty spoon." Portland, Oregon-based producer Stephan Hawkes (Chelsea Grin, Attila, Red Fang) produced and mixed it. The album was included in Revolver Magazine's '
15 Essential Deathcore Album
s
' list, calling it "a landmark album from deathcore's second wave." stating that the band "manage to sew a litany of melodic elements into their sound — clean guitar passages, hardcore gang-chants and genuinely gorgeous leads — without losing any ground in the ongoing war for breakdown supremacy."
The Unholy Alliance split with A Night In Texas arrived in 2016, less than a year before ANGELMAKER beat more than a dozen bands for a fan-voted spot on 2017's Summer Slaughter Tour, featuring The Black Dahlia Murder, Dying Fetus, The Faceless, Oceano, Slaughter To Prevail, Origin, Rings Of Saturn, Betraying The Martyrs, and Lorna Shore, among others. That momentum continued across Canada, with ANGELMAKER selected as the only opening act for The Faceless on a short trek.
The deathcore subreddit lit up in search of footage from ANGELMAKER's spectacular performance at the Brutal Assault festival in 2018 in an 18th-century army fortress in Czechia. MetalSucks presented the fall's Bloodletting North America tour, putting ANGELMAKER alongside Virginia's Arsis; California's Decrepit Birth; Slovenia's Within Destruction; and New York's Internal Bleeding and Pyrexia.
ANGELMAKER's self-titled sophomore album emerged in 2019, punctuated by unrelenting tracks like "Hollow Heart," "BLOODTHIRSTER" and "Requiem." They supported the record with shows and tours alongside Despised Icon, Kublai Khan, and Ingested.
The band's dual-vocal and triple-guitar composition allows for new and diverse explorations of extremity, setting AngelMaker both inside and apart from the traditions of the deathcore subgenre. Now, as the British Columbian ensemble's first new material in roughly two years seeps out from the underground in 2021, ANGELMAKER are back and ready to once again assert their place at the very forefront of the deathcore scene.
ANGELMAKER Are
Casey Tyson-Pearce – Vocals
Mike Greenwood – Vocals
Colton Bennett – Guitar
Matt Perrin – Guitar
Johnny Ciardullo – Guitar
Cole Rideout – Bass
Find ANGELMAKER Online