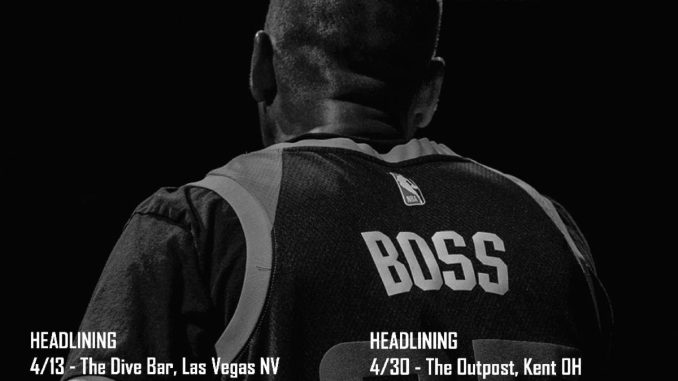 Drop "Take On The World" Featuring Benji Webbe from Skindred
From The Upcoming Strength Album
Andrew W. Boss says "Don't miss a good ole Boss Crew party
when we come through your hood."
Watch "Take On The World"
featuring Benji Webbe from Skindred here:
"Take On The World" from the upcoming Strength album
Filmed By Andrew W. Boss and Rober Eddowes.
Edited by David Parada.
"Take On The World" was inspired by negative comments towards our music, negativity from other artists hoping for our downfall, being salty about us touring and releasing music, says Andrew W Boss.
Written together with Benji Webbe (Skindred), and produced and engineered by Pablo Viveros, (Chelsea Grin), and Jim Fogarty, (Killswitch Engage, All That Remain), "Take On The World" is sure to be an energetic anthem for many this year.
Strength Album Drops August 25th
About ANDREW W. BOSS:

Andrew W. Boss is a Rock Rap Metal band from Utah, formed in 2016, and named after the singer and front man. The band was created with his Andrew's older brothers, Adam (aka Hypeman 5000) and Jon (aka Flip) after Andrew had a falling out with his previous band, but still had shows booked that year with Tech N9ne, and Sevendust.

Now, with Andrew at the helm, they have linked up with producers Pablo Viveros and Jim Fogarty and the band has released a bunch of music and have toured all over the country with Twiztid, Hed PE, Saliva, and more. Staying true to themselves in song, in person and on stage, the Utah boys continue to impress everyone with their kindness and hard work ethic and have garnered the nick name "The Boss Crew" by their fans. New songs and tours will always be on the way, so don't miss a good ole Boss Crew party when they come through your hood.

Andrew W. Boss – Vocals

Adam Boss – Hypeman

Flip Boss – Guitar

Sir Bugaboo – Bass

Rob Whittle – Drums

ANDREW W. BOSS online:

Website: https://andrewwboss.com

YouTube: https://www.youtube.com/andrewwboss

Instagram: https://www.instagram.com/andrew.w.boss/

Facebook: https://www.facebook.com/andrewwbossmusic/

Apple: https://music.apple.com/us/artist/andrew-w-boss/1224261563

Spotify: https://open.spotify.com/artist/79fpGDXpoCs7KUrKKdy2zY
Catch Andrew W Boss On Tour
Headlining
4/13 – The Dive Bar, Las Vegas NV
4/14- Pub Rock Live, Scottsdale AZ
With Twiztid
4/16- Whisky A Go Go, Hollywood CA
4/19- Juggernaut, Gallup NM
4/20- Marquee Theatre, Tempe AZ
4/22- Vibes Underground, San Antonio TX
4/23- Warehouse Studio, Houston, TX
4/25-Trees, Dallas TX
4/27- Exit / In, Nashville TN
4/28- Castle Theater, Bloomington IL
4/29- Pierres, Ft Wayne IN
Headlining
4/30 – The Outpost, Kent OH
5/12 – Cafe Acoustic, St Joseph MO
5/13 – Twisted Spoke Saloon, Pekin IL
With Ill Nino
5/17 Apollo Theater, Belvidere IL
5/18 The Waiting Room, Omaha NE
5/19 Bigs Bar, Sioux Falls SD
5/20 Pub Station, Billings MT
5/21 The Newberry, Great Falls MT