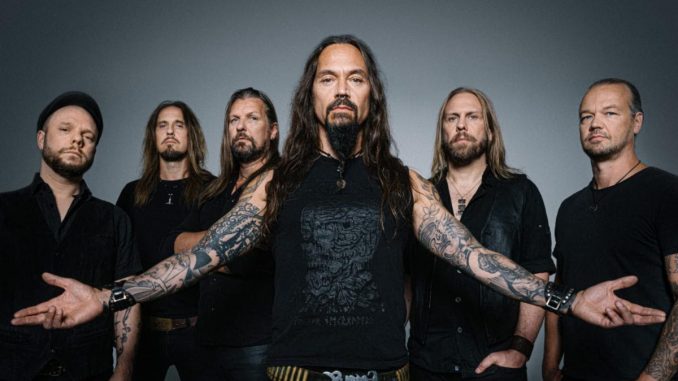 In less than a month, Halo, the new chef d'oeuvre from Finland's melancholic progressive metal masters AMORPHIS, will finally be available via Atomic Fire, and in a few days, the band will reveal another single. Today however, the band provides another look behind the scenes of the recording with Jens Bogren and how the guitar and bass tracks were produced.
Guitarist Esa Holopainen comments, "First I thought it would be a pretty natural continuation to Queen Of Time, but now as we heard the album, it definitely has a different touch in there. If I listen to the songs now, I think it's slightly heavier in some parts – much heavier! – but it still has all those AMORPHIS elements in there. But I guess it will surprise people."
Halo — which features artwork by Valnoir (Alcest, Paradise Lost) — was recorded, produced, and mixed by Jens Bogren (Fascination Street Studios) while mastering duties were handled by Tony Lindgren.
Halo Track Listing:
1. Northwards
2. On The Dark Waters
3. The Moon
4. Windmane
5. A New Land
6. When The Gods Came
7. Seven Roads Come Together
8. War
9. Halo
10. The Wolf
11. My Name Is Night
Live In Europe 2018-2019 Track Listing (box set exclusive):
1. Death Of A King
2. Sacrifice
3. Amongst Stars [feat. Anneke van Giersbergen]
4. Sky Is Mine
5. Message In The Amber
6. Her Alone [feat. Anneke van Giersbergen]
7. The Castaway
AMORPHIS will tour North America in support of Halo this Spring! The tour begins on April 13th in New York City and will make its way through nearly two dozen cities, coming to a close on May 12th in Baltimore, Maryland. Support will be provided by Sylvaine and Hoaxed. See all confirmed dates below.
AMORPHIS w/ Sylvaine, Hoaxed:
4/13/2022 Gramercy Theatre – New York, NY *
4/14/2022 The Palladium – Worcester, MA *
4/15/2022 Club Soda – Montreal, QC *
4/16/2022 The Opera House – Toronto, ON *
4/18/2022 Mr. Smalls Theatre – Millvale, PA
4/19/2022 The Forge – Joliet, IL
4/20/2022 Skyway Theatre – Minneapolis, MN
4/22/2022 The Oriental Theater – Denver, CO
4/23/2022 Soundwell – Salt Lake City, UT
4/25/2022 Hawthorne Theatre – Portland, OR
4/26/2022 The Imperial – Vancouver, BC
4/27/2022 El Corazon – Seattle, WA
4/29/2022 The UC Theatre – Berkeley, CA
4/30/2022 El Rey Theatre – Los Angeles, CA
5/01/2022 The Nile Theater – Mesa, AZ
5/03/2022 Come And Take It Live – Austin, TX
5/04/2022 Amplified Live – Dallas, TX
5/06/2022 Center Stage (The Loft) – Atlanta, GA
5/07/2022 The Orpheum -Tampa, FL
5/08/2022 The Abbey – Orlando, FL
5/10/2022 Neighborhood Theatre – Charlotte, NC
5/11/2022 The Broadberry – Richmond, VA
5/12/2022 Baltimore Soundstage – Baltimore, MD
* Hoaxed only
AMORPHIS:
Tomi Joutsen – vocals
Esa Holopainen – guitars
Tomi Koivusaari – guitars
Santeri Kallio – keyboards
Olli-Pekka Laine – bass
Jan Rechberger – drums