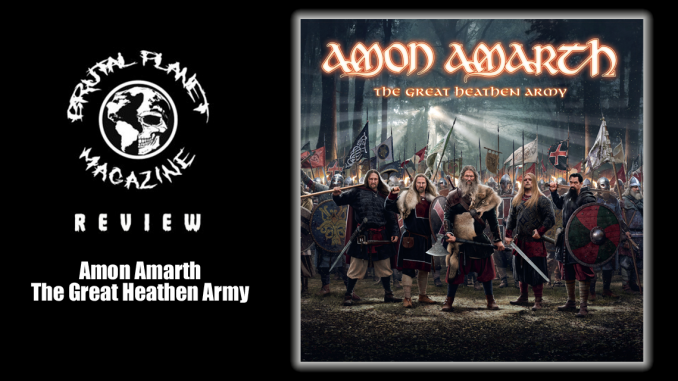 Since the release of their underground debut "Once Sent From The Golden Hall" in 1998, Amon Amarth have been an unstoppable force in metal. The band have become world renowned for their ageless anthems and explosive, theatrical live shows. These Swedes have been consistent standard bearers for their own brand of "Viking Metal" and have a very specific style and sound that they bring to the table. Their latest offering "The Great Heathen Army" doesn't stray far from this formula, but it delivers for the fans on every level.
Amon Amarth are firmly dedicated to aiming high when they hit the studio. Recorded with esteemed studio guru Andy Sneap at the controls, The Great Heathen Army represents another bold leap forward for the band, as their trademark sound undergoes yet another skillful, evolutionary overhaul, both lyrically and musically. This album encapsulates the essence of this legendary band, while still allowing acres of space for new ideas.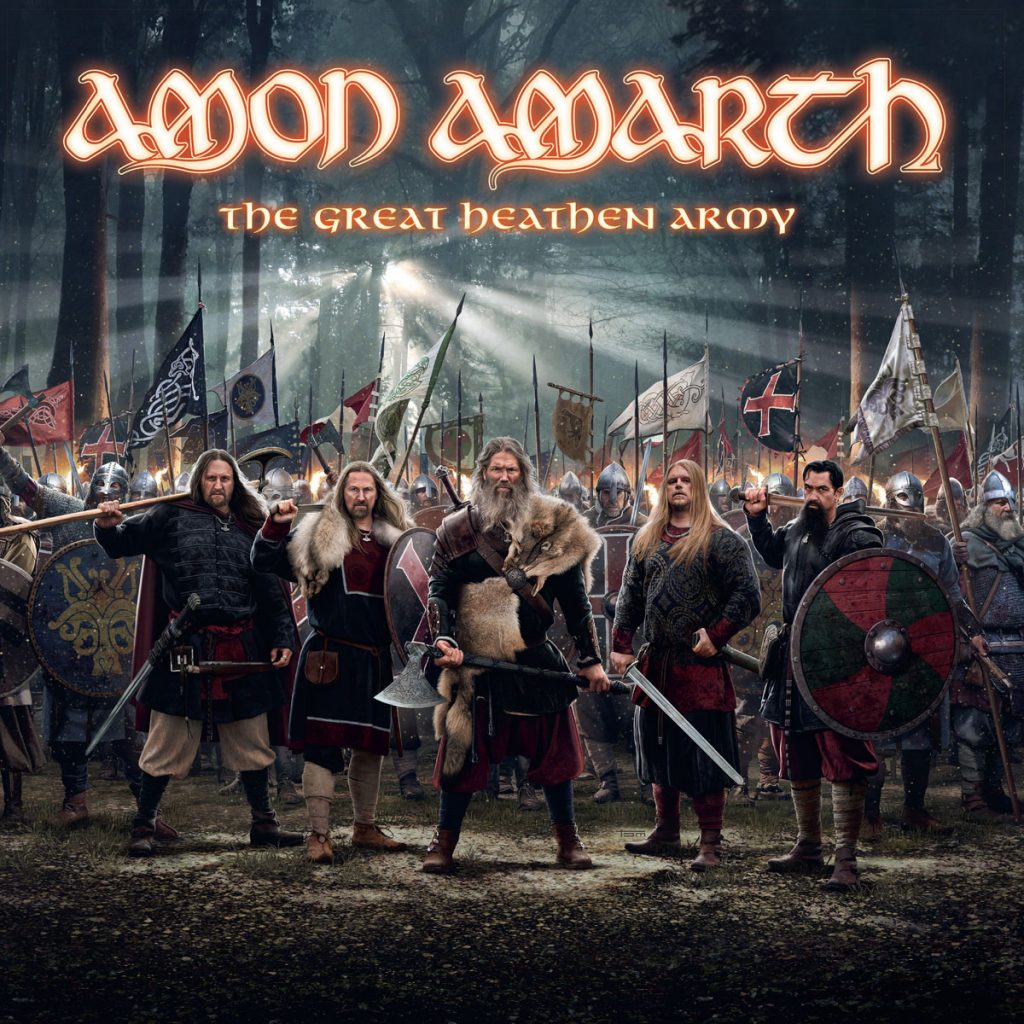 "Again, The Great Heathen Army is not a concept album like Jomsviking, but I'm taking inspiration from some of the same historical elements," says vocalist Johan Hegg. "There were also some really cool and different ideas I wanted to explore, and they came very much from my wife, Maria, who has been tapping into the more esoteric aspects of Viking lifestyle and culture. Musically, I would say there are a couple of surprises on there, a little bit of uncharted territory for Amon Amarth. Overall it's one of the heavier albums we've made. There are some dark and heavy songs that are really powerful and in-your-face, but we obviously have some trademark Amon Amarth songs on there as well, and a few surprises. It's a really well-balanced album. It sounds great. Andy Sneap is awesome. It was great to be able to work with him again."
The opening track "Get in the Ring", is unfortunately NOT a Guns N' Roses cover but it sets the tone of the album right out of the gate. The track has all of the heavy viking style bravado and riffing we have come to love Amon Amarth for.
The title track "The Great Heathen Army" is the 2nd song on the album and in listening to it, you can tell that the band has evolved quite a bit. The riffing is clean and precise and the drumming is incredibly accurate and heavier than ever. The kick hits like a viking boot to the head and the song as a whole pounds as hard as any viking war anthem would be expected to.
"Heidrun" has a groove that is almost reminiscent of a German beer drinking song. It's the kind of celebratory piece you would expect to hear at a viking banquet, celebrating a conquering or the acquisition of a new country after a thorough pillaging. The song even ends with a military style chant "Heidrun, Heidrun!!"
The next track "Odin Owns You All" has arguably one of the best titles for any metal track to come along in recent years. The flurry of drums at the beginning that burst into a galloping whirlwind and the melodic breaks and precision riffing make this one of the stand-out tracks on the album for me. On a casual listen this is the track that's going on my playlists.
"Find a Way or Make One" has a title that sounds like it belongs on a Hatebreed record. Definitely a very positive hardcore vibe, while the song itself continues Amon Amarth's Viking-style bludgeoning of their listener's skulls. The song features a slower, heavy-melodic groove with gigantic guitar and drum sounds. "You might be facing obstacles, whether it's the pandemic or something else, and there are no ways around it, so you have to make a way. That's what the Vikings did. You can't stop fighting just because there is something in your way. I often use mythology and history as a backdrop for other things I want to discuss." Hegg notes.
"Dawn of Norsemen" is another raging track and the evocative fury of "Saxons and Vikings" also features a guest vocal that makes it a stand-out on the album. The tracks "Skagul Rides with Me" and "The Serpent's Trail" round out the album.
Released on August 5th, 2022 – The Great Heathen Army is all killer and no filler. "We've always had the mindset to outdo ourselves and write a stronger album than the previous one," Hegg concludes. "We always try to do something special with each album, too. Song by song, I think this might be one of the strongest albums we've ever made. It was really difficult to agree on the singles for the videos, because everyone had such different opinions. I think that's a good sign!"