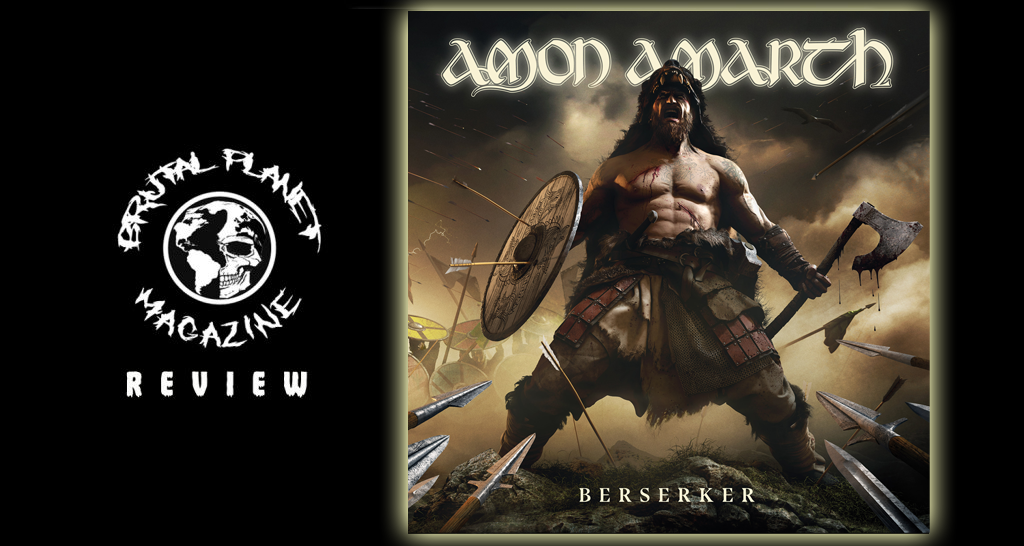 From the opening notes of Amon Amarth's new album "Berserker" you know you're about to experience some incredible heavy metal. "Fafner's Gold" starts with the gentle sullen acoustic guitar being plucked before it dives headfirst into a huge melodic groove backed by the gallop of double bass kick drum. The song has all the epic bluster and brute force you would expect from the band.
Amon Amarth is a metal band that embodies the Dungeons & Dragons aesthetic most classic metal bands always seem to have. From Maiden & Priest to Manowar and King Diamond – the themes of warriors and magic, occult and demons run deep in metal. Amon Amarth is a band that waves that flag – boldly and proudly. "Thor let your hammer fly – let the lightning crack the blackened skies" vocalist Johan Hegg proclaims mightily during the chorus of track 2 "Crack the Sky" – The very Maidenesque break in this song completes what is one of the most 'METAL' songs I've heard to date in 2019.
Formed in 1992, Amon Amarth became modern metal greats the hard way. Ruthlessly dedicated to creating new music and taking it out on the road, these Swedes steadily built a formidable reputation as a ferocious live band and, as the years passed, built up a huge and dedicated following. Since the dawn of the millennium, the band has been unstoppable. Breakthrough releases like 2006's With Oden On Our Side and its now legendary follow-up, 2008's Twilight Of The Thunder God, further cemented their popularity in the metal world. Simultaneously, the band's stage show evolved with each successive tour, transforming them into one of modern metal's most intense live acts.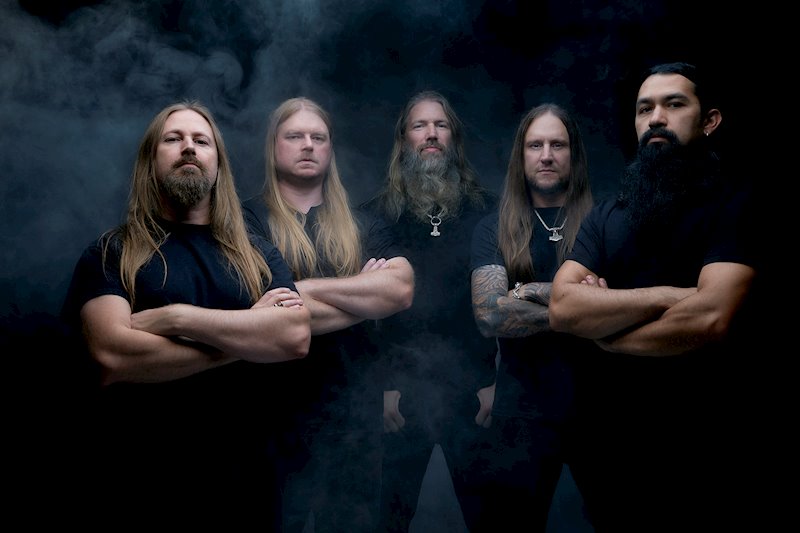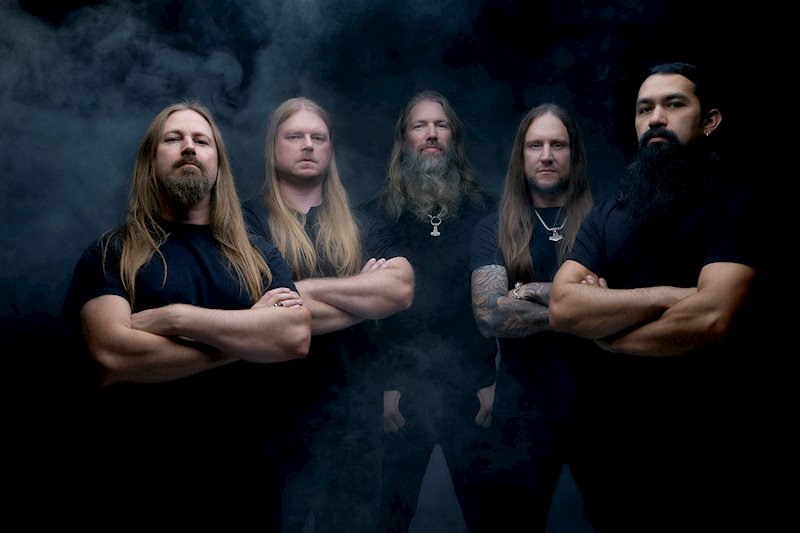 Their 11th studio album "Berserker" does not disappoint. "The previous album (Jomsviking) was a concept album but we didn't want to get into a situation where every album has to be a concept record, so this is different," says vocalist Johan Hegg. "We wanted to step away from that and look at being a little bit more diverse, with the lyrics and everything else. I got ideas from lots of different things, from history stuff and mythological sources. Sometimes you just get something in your head and there doesn't have to be a bigger meaning behind it – sometimes it's just a great metal lyric that fits with a great metal song. And these are fucking great metal songs!"
"For me, this is Amon Amarth 2.0," Hegg continues. "I think what we've done here is give ourselves the space to explore other parts of our musicality and who we are as a band. If you're content with where you're at, what's the point of continuing? We always want to come up with new ideas and find new ways of doing things and to create bigger and better shows and really try to improve every aspect of what the band is. We want to try to keep growing and to do this for as long as we have the possibility to do so, because this is the best fucking job in the world."
That vibe definitely comes through in every track on the record. Songs like "Shield Wall" and "Valkyria" are to the point at 3 – 5 minutes but don't lack any of the energy or brutality fans of the band have grown to love. The lead single "Raven's Flight" is no exception either. You can watch the video here:
Then there is the pseudo-title-track "The Berserker at Stamford Bridge." a visceral but vivid historical tale, recounting the Vikings last stand against the English army in 1066 and the mind-bending heroics of one axe-wielding warrior.
"The Vikings were cut off from their supply ships, so they had to retreat over Stamford Bridge, with the whole English army hard on their heels," Johan notes. "The Vikings sent just one man out on the bridge to hold the whole English army back, about 15,000 men. So this guy, equipped with a Dane Axe, I think he killed between 40 and 70 people before they got him. And the only way they could get him was to send four guys onto the river on a raft, and they got him from beneath with spears! So it's the perfect story for a great metal song."
"When Once Again We Can Set Our Sails" has the type of fist shaking energy you could imagine a group of Vikings chanting on their ships as they venture off into the sunset to conquer and pillage. It has the same rhythm as German and Irish beer drinking songs. Jolly and upbeat while fierce and aggressive.
The overall quality of the sound and production on this album seems to be at peak level for the band on this outing. That's also largely a part of where they are in their career. Everything seems pitch perfect here. The songs don't drone on unnecessarily for 8 minutes. They are short and concise and all the more powerful as a result. The clean production only helps to sharpen their overall sound – give it clarity and edge.
Berserker was recorded in Los Angeles with renowned studio guru Jay Ruston (Anthrax / Stone Sour / Steel Panther) manning the controls. After recording several rounds of professional demos for the new songs (initially with fellow Swedish metal icon Peter Tägtgren and then later with Ruston himself) the band crossed the Atlantic to make final recordings in Los Angeles. They were eager to take a fresh approach to the album-making process.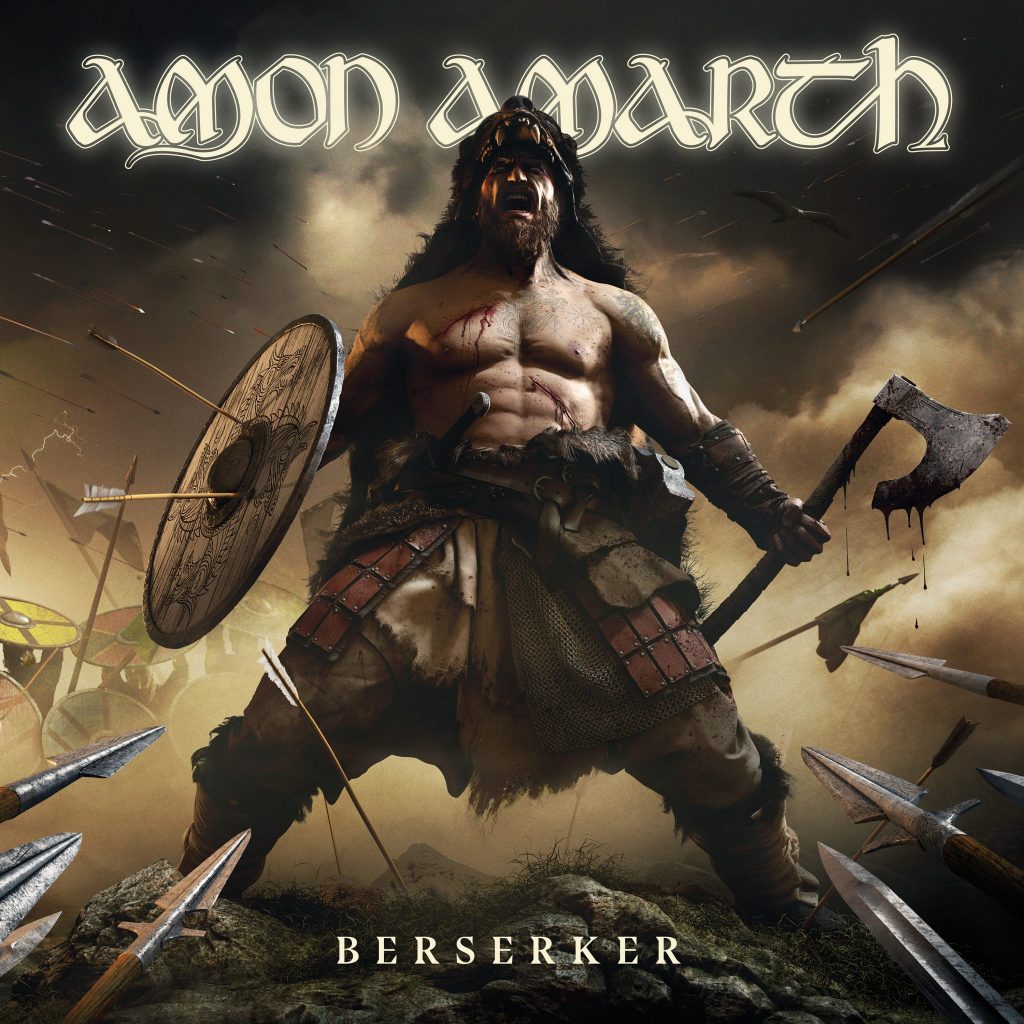 "Working with Jay was great," Johan recalls. "The studio was amazing, and Jay's methodology was new to us – he suggested that we record one song at a time, so that you can go back and change things and then it's easy because everything is already set up. It was interesting, and we had a great time."
Tracks like "Ironside," "Skoll and Hati," and "The Wings of Eagles" are barn burners. These songs rip into high speed right out of the gate and are easily some of my favorite tracks on the album. Amon Amarth brings a fresh, almost punk rock energy to their metal mix that none of their earlier tracks can touch. The aggression is palpable but the instrumentation stays technical and heavy without losing any clarity.
The album closes out with what clocks in as the longest track on the album at over 6 minutes: "Into the Dark." This song has a much more melodic and emotional tone than the other tracks and works great as a closer. By the time the album is finished I'm ready to start it again. The way the songs hit you one after another – building in intensity without dragging on… leaves the listener wanting more.
For fans of epic yet brutal, thrash and death type metal this album delivers on just about every level. I have long been a fan of Amon Amarth myself and feel that this is one of their best albums to date. A must hear for any fan of the band and of metal in general.
A FANTASTIC ALBUM from beginning to end – "Berserker" by Amon Amarth is available everywhere on May 3rd 2019 through Metal Blade Records.