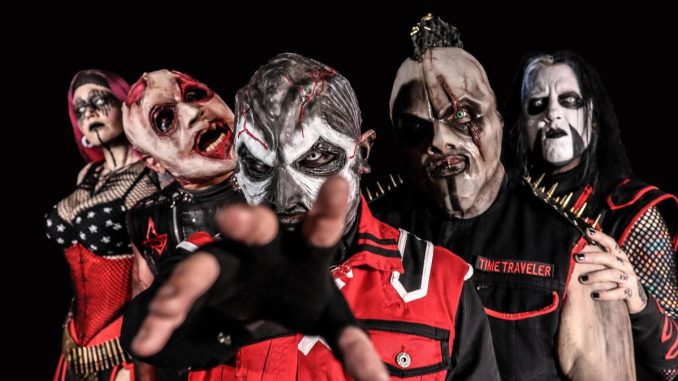 Returning with a vengeance with the first new music to be released since 2017, Amerakin Overdose premieres a new single and video "Agastopia" today!
Amerakin Overdose's frontman Cody Perez shares, "'Agastopia' is an audible representation of America's obsessive fascination in fetishizing physical appearance and seducing the masses via social media with nostalgic overdose."
"The band's first release since 2017 dissects how posturing on social media has really effed up reality. The energized track embraces the band's industrial sensibilities and deranged aesthetic to begin a new chapter marked by their newfound resurgence." – Ramon Gonzales, Knotfest
Amerakin Overdose is a high energy Industrial Metal act from Portland, Oregon, established in
2010 by Cody Perez, the outspoken lead singer, and main inspirational source. Over the last decade, they have released two full-length albums, Amerakin Overdose (released in 2012 and reprinted in 2015 with a new cover and added bonus track) and The Great Amerakin Dream (released in 2016), and five music videos. Amerakin Overdose toured the United States, as well as opened for hundreds of touring nationals in the Pacific Northwest including Korn, Powerman 5000,
Five Finger Death Punch, Static X, All That Remains, and many more.
2022 will bring new music and videos from the band as well as a return to the 2015 lineup featuring Cody Perez on lead vocals, Pito Perez on backing vocals, Brick on drums, Starbie 66 on bass, and Bishop Freeman Manfree on guitar.
Amerakin Overdose online:
Website: www.amerakinoverdoseband.com
facebook: https://www.facebook.com/amerakinoverdose
Instagram: https://www.instagram.com/amerakinoverdose/?hl=en
Twitter: https://twitter.com/amerakin_od
Bandcamp: amerakinoverdose.bandcamp.com
Spotify: https://open.spotify.com/artist/3uPe12fxvWYISA0jvjPlMF?si=xR5Jt1yVTXWUEkMTxnYtBg