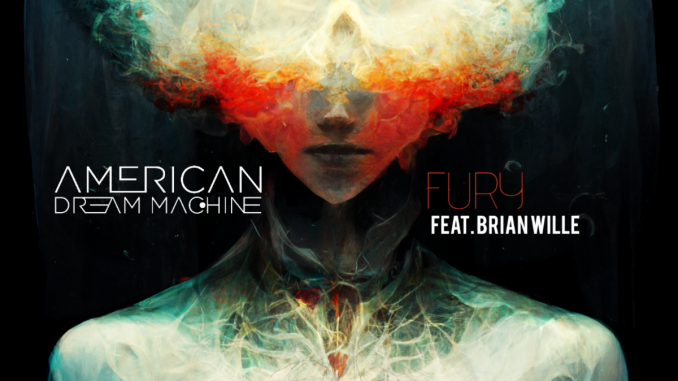 Featuring Special Guest Brian Wille of CURRENTS
at REVOLVER
I WON'T
Die from the salt that you pour in my wounds
I WON'T
Pay for the change that you promise to prove
I'M DONE
Placing what's left of my trust into you
I WON'T DIE HERE
Inside your fury
AMERICAN DREAM MACHINE premieres "Fury" at Revolver today. This is the fourth single from the upcoming second full length record titled I Hate It Here.
"'Fury' is the heaviest song we have written so far, and Mitch had the bright idea to ask Brian if he would do a guest spot on it. He agreed, sent over his part and it blew us away. We couldn't be happier with how it turned out." – Shawn Adams
"I worked on a project with Brian Wille after my time in Currents and before he joined the band. It's been a while, so it was super refreshing to work with him again. I knew I could count on Brian to take the track up a notch" – Mitch Lobuglio
"Happy to be part of this new American Dream Machine track! I've known the guys for a long time and I'm looking forward to seeing what's in store for them. The video was a lot of fun too – catch me as the angry sleep-deprived downstairs neighbor who's sick of hearing them jam all night." – Brian Wille
See "Fury" at Revolver:
https://www.revolvermag.com/music/currents-american-dream-machines-new-song-fury
Director/Videographer: Eric DiCarlo
About AMERICAN DREAM MACHINE:
AMERICAN DREAM MACHINE is an alternative hard-rock band that blends styles of emo, pop-punk, electronic, and post-hardcore. Hailing from Northern Virginia, the trio is Shawn Adams (vocals), Mitch Lobuglio (strings) and Evan Milowic (percussion).
In December of 2020, AMERICAN DREAM MACHINE released their debut album Deadhearts, featuring the singles "Bad News", "Trapped Under You", and "Dead". Coupled with an electric live performance that will take concert-goers on a dynamic roller-coaster of energy, Deadhearts is filled with catchy hooks, punchy riffs, and driving, heartfelt vocals that are sure to keep you coming back for more.
Last fall AMERICAN DREAM MACHINE collaborated with Alt Rock/Emo Band LOVELESS
and released the single "Dopamine" which premiered at Outburn. Check it out here:
https://outburn.com/all-features/american-dream-machine-dopamine/
In November of 2022, the band released the single "Letting Go." View the video here: https://www.youtube.com/watch?v=BfSCWdRzPS4
The band's second album, I Hate It Here, is tentatively scheduled for release in December 2023. In the meantime, AMERICAN DREAM MACHINE will continue to drop a single a month.
American Dream Machine is:
Shawn Adams – Vocals/Guitar
Mitch LoBuglio – Guitar
Evan Milowic – Drums