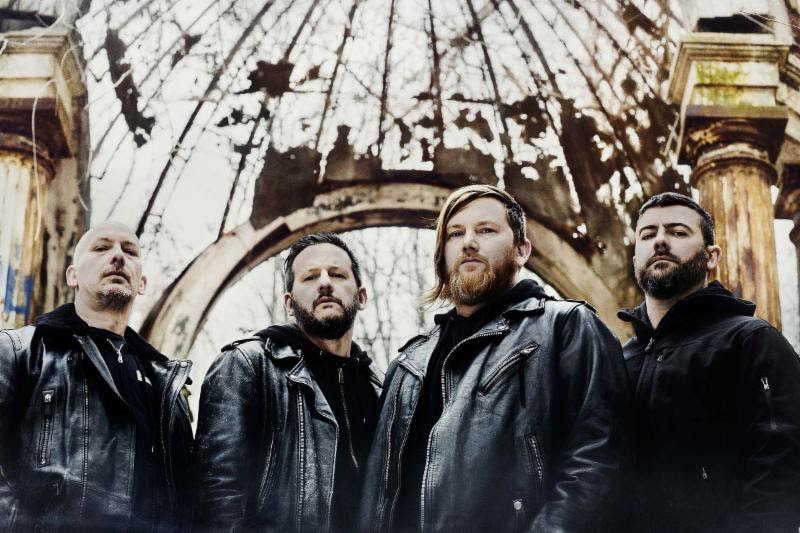 The album sees the powerhouse quartet unleash a barrage of ferocious death metal as violent as it is savvy. Their vicious vocals spit venom, laying bare the ills of a dystopian society gone mad. As rampaging new tracks like the incredible "New Salem," the title track, and "I Disavow" so brashly prove, Rituals Of Power is world-class modern extremity and MISERY INDEX only grows more powerful with time. 
"Rituals Of Power is a disavowal and warning against the consequences of our so-called 'post-truth' age," issues the band. "Each of the nine songs revolves loosely around this theme, yet each track also stands very much on its own. As an album however, they are all brought to life as one 'reanimated' monster; it's roughly thirty-five minutes of unhinged, yet cohesive, riff-driven aural ballistics. We were pissed off and on fire during both the writing and recording, and we think it shows in spades. We set out to write the best album we could, based on what we would want to hear first as fans of this music, and we could not be happier." 
View the band's previously-released videos for "The Choir Invisible,""New Salem," and the record's title track as well as a drum play-through for the title track at THIS LOCATION. 
MISERY INDEX's Rituals Of Power will be released on March 8th in several formats including standard jewel case CD, limited LP, limited cassette, and limited deluxe digibox which includes bonus cover tracks — Nailbomb's "Wasting Away" and M.O.D.'s "Man Of Your Dreams" — as well as a carabiner with key strap and bottle opener, a patch, and three vinyl stickers, and digitally. For preorder options go to: shopusa.season-of-mist.com/list/rituals-of-power.
With their sixth full-length, Rituals Of Power, MISERY INDEX brutality displays the strength of maturity grown out of the experience gained as a relentless touring machine. The general trend of their continuous evolution to incorporate less core elements and move towards classic death metal finds a new high-water mark. 
When their debut EP Overthrow was recorded in 2001 by vocalist and bassist Jason Netherton (ex-Dying Fetus), MISERY INDEX immediately charted a course to explore and push the limits of death metal and grindcore, drawing influence from bands like Morbid Angel, Napalm Death, Terrorizer, Bolt Thrower, and Entombed. By 2003, MISERY INDEX released their debut full-length Retaliate to exceptional reviews followed by numerous support tours and festivals through North America and Europe. After several lineup changes, second album Discordia was released in 2006 with even more touring in its wake. Their third full-length Traitors (2008) reaped raving reactions from both critics and fans and saw the band on the road again until 2009. MISERY INDEX dropped 2010's Heirs To Thievery like a bomb on the death metal masses, shattering all expectations. The album was both a commercial and critical success, elevating the band to headlining slots. During that year, guitarist Darin Morris joined the fold. A string of shows and festivals around the globe followed and on the Munich date of the Full Of Hate Tour alongside Cannibal Corpse and Behemoth, the band recorded their first live album. Released early 2013, Live In Munich perfectly epitomized the rawness and ferocity that MISERY INDEX elevated onto a whole new level with their fifth full-length The Killing Gods in 2014. 
Now with Rituals Of Power, revolving around the concept of "truth," MISERY INDEX are back with nine crushing tracks which tackle how 'truth' has been constructed and molded throughout history as a means to uphold power, regimes and ideologies. Brace yourself, hold tight and run for cover, the wrath of MISERY INDEX is upon us and they are more furious than ever before. 

MISERY INDEX Recording Lineup:
Jason Netherton – bass, vocals
Mark Kloeppel – guitar, vocals
Adam Jarvis – drums
Darin Morris – lead guitar 

"…a high-speed chunk of ripping death metal that simultaneously grooves and grinds, showcasingMISERY INDEX at their finest." – Decibel on "Rituals Of Power"
"…a neck-snapping journey through tight grooves, crunching riffs, and the undeniable urge to put your fist through a couple layers of sheetrock." – Loudwire"…one in a long line of painfully underrated releases from this band who only know how to fire on all cylinders all of the time." – Metal Insider"Rituals Of Power is an album that delves into the spirit of death metal and re-emerges with its still beating heart." – Two Guys Metal Reviews
http://www.miseryindex.com
http://www.facebook.com/MiseryIndex/
http://twitter.com/miseryindex
http://www.instagram.com/miseryindex_official/
http://www.youtube.com/channel/UCfk697jZnYGEfowTI3si6bw
http://www.season-of-mist.com
http://www.facebook.com/seasonofmistofficial  
http://twitter.com/SeasonofMist
http://www.instagram.com/seasonofmistofficial