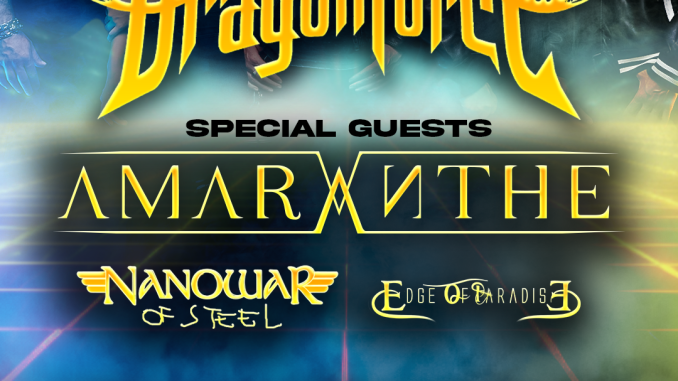 Swedish six-piece AMARANTHE announced the release of their upcoming album The Catalyst live on stage after their bedazzling performance last week on Wacken's main stage. The Catalyst will see the light of day on February 23rd, 2024, via Nuclear Blast Records.

Today, the band announced they will be heading across North America this Fall as direct support for GRAMMY-nominated power metal legends, DRAGONFORCE. The 24-date trek will embark on October 20th in Mesa, Arizona and will make stops in Atlanta, Montreal, and Chicago before concluding in Los Angeles on November 19th! Opening each night will be NANOWAR OF STEEL and EDGE OF PARADISE.

General admission tickets for the tour go on sale this Friday, August 11 at 10 A.M. local time.

Purchase tickets here:https://www.amaranthe.se/tour

AMARANTHE's Olof Mörck comments, "So this has been a LONG time coming, in many ways! A DRAGONFORCE + AMARANTHE tour is a no-brainer since we have been friends forever, and share an affinity for catchy choruses and all-out entertainment on stage! Secondly, it has been WAY too long since we have properly toured North America! We know you guys have been waiting THREE long years since we had to cancel our tour due to the pandemic. But the wait is almost over, and we can very barely contain our excitement for this beast of a tour. See all of you wonderful North American fans this fall!"

DRAGONFORCE's Herman Li states, "We're really looking forward to touring in the US and Canada again. We've prepared a new setlist with some brand-new songs that we'll be releasing before the tour begins. Alongside these, we'll also be playing some older songs that haven't been in our setlist for long time, as well as some classic favorites that are a must. It's shaping up to be a fantastic tour!"
Confirmed dates for AMARANTHE as direct support for DRAGONFORCE on their North American 2023 tour with NANOWAR OF STEEL and EDGE OF PARADISE are:

10.20. U.S. Mesa, AZ – Nile Theater*
10.21. U.S. Albuquerque, NM – Revel*
10.23. U.S. Austin, TX – Empire Garage
10.24. U.S. Dallas, TX – The Granada
10.25. U.S. Houston, TX – House Of Blues
10.27. U.S. Orlando, FL – House Of Blues
10.28. U.S. Ft. Lauderdale, FL – Culture Room
10.30. U.S. Atlanta, GA – Masquerade Heaven
10.31. U.S. Charlotte, NC – The Underground
11.01. U.S. Baltimore, MD – Baltimore Sound
11.03. U.S. New York, NY – Palladium Time Square
11.04. U.S. Worcester, MA – The Palladium
11.05. C.A. Montreal, QC – Mtelius
11.06. C.A. Toronto, ON – Danforth Music Hall
11.08. U.S. Cleveland, OH – Agora Theater
11.09. U.S. Detroit, MI – The Majestic
11.10. U.S. Chicago, IL – House Of Blues
11.11. U.S. Minneapolis, MN – First Avenue
11.12. U.S. Lawrence, KS – Granada Theater
11.14. U.S. Denver, CO – Summit Music Hall
11.15. U.S. Salt Lake City, UT – The Depot
11.16. U.S. Boise, ID – Knitting Factory
11.18. U.S. Berkeley, CA – UC Theater
11.19. U.S. Los Angeles, CA – The Wiltern
* – No NANOWAR OF STEEL

WORLDWIDE DATES:
08.10 ES Villena – Leyendas Del Rock
08.17-19. CZ Moravský Krumloch – Rock Castle
09.20 – 24. DE Berlin – Full Metal Cruise
12.01. FI Jyväskyla – John Smith Rock Frozen
12.02. FI Joensuu, Unholy Winter Fest
The Catalyst will be available digitally and in different physical formats including CD, Vinyl, and a 2CD Special Edition.

The Catalyst is the most conceptually coherent piece of work in AMARANTHE's storied history. Dedicated to notions of transformation and revelation, it delves deeper than any previous album, as Olof Mörck explains.

"We've done these things before, but we've never been as theatrical as we have this time," Mörck grins. "In fact, we all questioned whether we went too far this time, but I also figured that this band was always this way. Literally, the first seconds of our first video was a big explosion! But yes, The Catalyst is more theatrical than ever. We've never really been symphonic or orchestral before, but this time we just thought why not? Because we can! The key to this album is that we let go of the boundaries and decided to do something even more adventurous."

The Catalyst represents the culmination of 15 years of hard work and the breathless pursuit of a wholly original musical vision. Change is inevitable. Victory is assured.

–

Formed in 2008, AMARANTHE walked their own unique path from the start. With a sound that combined the sharpest, cutting edges of melodic metal, electronic rock, and razor-sharp pop, their impact was immediate and undeniable. Kicking off with their self-titled debut in 2011, the Swedes blazed a trail through the European metal scene and beyond, swiftly establishing themselves as a dazzling one-off, not least due to the unprecedented triple vocal attack that paired clean tones with exquisite melodic sensibilities and feral growls. Over the next few years, the sextet steadily grew in stature, releasing a series of praised studio records that jabbed persistently at the boundaries of modern metal.
AMARANTHE is:
Elize Ryd | vocals
Mikael Sehlin I growls
Olof Mörck | guitars, keyboards
Johan Andreassen | bass
Morten Løwe Sørensen | drums
Nils Molin | vocals