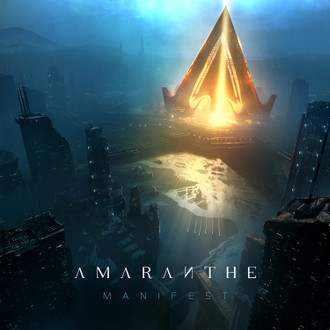 Amaranthe fans need to wait no longer. The band's highly anticipated album, Manifest, is releasing October 2, 2020. This is the Swedish band's sixth album and first since signing to Nuclear Blast Records in 2019. Manifest is possibly the strongest record in their 12-year existence. For those unfamiliar with this sextet, Amaranthe masters the perfect blend of heavy metal and electronica and uniquely intertwines three lead vocalists (Elize Ryd- clean female vocals, Nils Molin- clean male vocals, and Henrik Wilhelmsson- harsh male vocals.)
Manifest starts strong with the fast-tempo song, "Fearless" , a perfect song to show the incredible musicianship of the band. Johan Andreassen's bass can be felt in the song's transitions. Olof Mörck, the band's only guitarist, not only brings heavy riffs but showcases his talent on the fretboard with a short, yet impressive solo during the bridge. What is most impressive, however, is Morten Løwe Sørensen's drumming. It is amazing how consistent he is at keeping an off-beat tempo on the hi-hat while producing flawless fills on the toms.
The first single to be released, which is a cover of Sabaton's "82nd All the Way" can only be found as a bonus track. Hardcore Sabaton fans may not care for it, but Amaranthe put forth a decent effort in putting their own spin on a song by a band that is very hard to cover. The second single, "Do or Die" is the last track on the album and features Jeff Loomis on guitar. However, if you wanted the original release of the song, (which also features guest vocals by Angela Gossow ex Arch Enemy) you will need to seek the bonus version.
The third single to be released was "Viral". Strangely titled well before the world-wide pandemic, "Viral" isn't as prophetic as it may sound. The song is not about a biological virus, but rather the addiction we have to screens and online videos. The irony here is that if you are reading this review, or if you want to check out the official music video, you will be doing the very thing Amaranthe seems to speak out against.
The fourth single seems to be appropriately named, "Strong." This incredible track features guest vocals from Noora Louhimo, lead singer of Finnish power metal band, Battle Beast. Hearing these two incredible vocalists sing together is sure to send chills up your spine. The official music video was released on August 14th. While the tempo is a bit slower than many of the band's other songs, it is still heavy in its own right and provides a beautiful atmosphere for two of Scandinavia's strongest vocalists.
Every track on this album is above par. Songs like "Scream My Name" and "Archangel" encase the band's classic sound, the powerful ballad "Crystalline" features guest musicians, Perttu Kivilaakso (Apocalyptica) and Elias Holmlid (Dragonland), and "BOOM!" has an extremely catchy chorus. The latter song also features one of the fastest vocal deliveries by Henrik "GG" Wilhelmsson and a surprise appearance by Heidi Shepherd of the Butcher Babies.
The word "manifest" (as an adjective) means "clear or obvious to the eye or mind." Amaranthe's latest album makes it clear that Manifest is obviously their best work not only to the eye and mind but to the ear as well. If you are a fan of this genre, this is an album that will not disappoint.