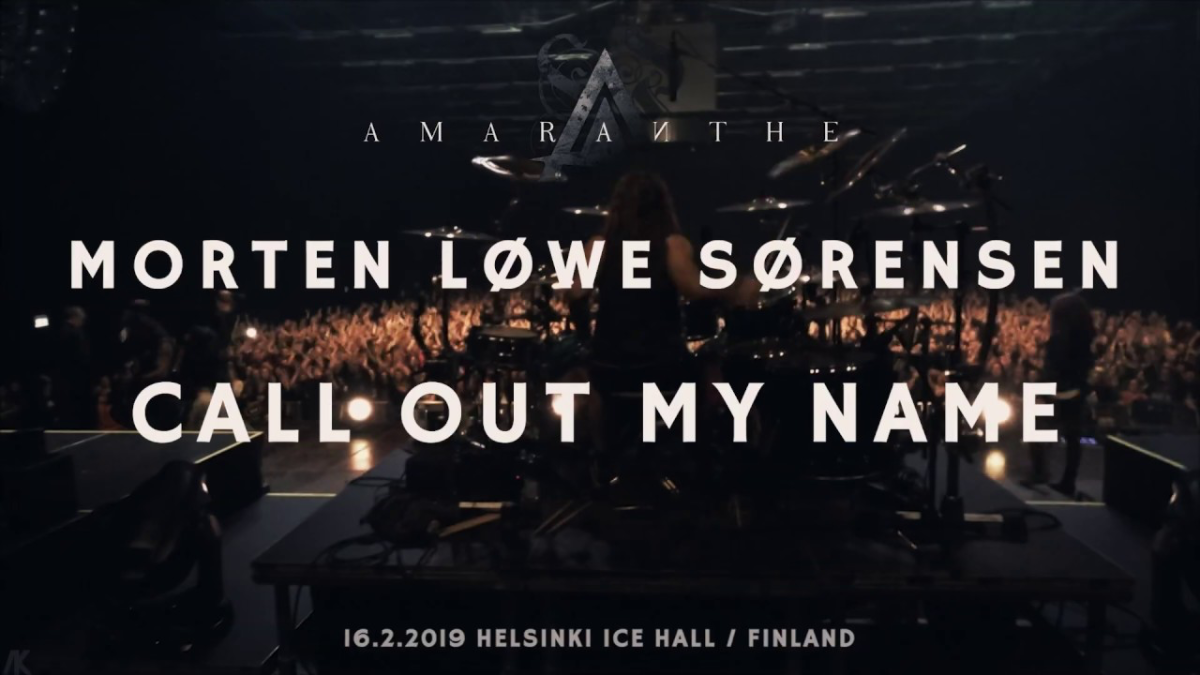 Launch "Call Out My Name" Drum Cam Video Ahead Of "Nordic Helix Tour 2019"!
Last month, Nuclear Blast announced the signing of modern metal outfit AMARANTHE. To break up the recording sessions for their upcoming, yet-untitled 2020 studio album, the Swedish/Danish group kick off their 8-date »Helix Nordic Tour 2019« next week. In anticipation of the tour and to give fans a taster of what they can expect at the shows, AMARANTHE have launched a drum cam video, in which Morten Løwe Sørensen can be seen performing the track "Call Out My Name" during their show at the Ice Hall in Helsinki on February 16, 2019. Watch the video by Antti Kangasaho now: https://www.youtube.com/watch?v=cwWcKnvu2hg

The band will be returning to North American shores in support of their new record in August 2020. Support on this run comes from their label mates, Finnish heavy metal sextet BATTLE BEAST, as well as US-based theatrical metallers SEVEN SPIRES. Tickets as well as ticket + new album bundles are now available from amaranthe.soundrink.com. All upcoming AMARANTHE dates can be found below!
AMARANTHE live:
Helix – Scandinavia Tour 2019
20.11. FIN Oulu – Club Teatria (w/ BEYOND THE BLACK, SMASH INTO PIECES)
21.11. FIN Seinäjoki – Rytmikorjaamo (w/ BEYOND THE BLACK, SMASH INTO PIECES)
22.11. FIN Turku – Turun Messukeskus (w/ BEYOND THE BLACK, SMASH INTO PIECES)
23.11. FIN Helsinki – Hartwall Arena (w/ SABATON, APOCALYPTICA)
26.11. N Bergen – USF Verftet (w/ SYNTHETIC GENTLEMEN)
27.11. N Stavanger – Folken (w/ SYNTHETIC GENTLEMEN)
29.11. S Borlänge – Liljan (w/ ART NATION)
30.11. S Jönköping – DreamHack Winter (w/ HALESTORM, NEW YEARS DAY)

The Great Tour« – Europe 2020
w/ SABATON, APOCALYPTICA
17.01. CH Zurich – Hallenstadion
18.01. D Stuttgart – Schleyer-Halle
19.01. D Munich – Olympiahalle
20.01. A Dornbirn – Conrad Sohm*
21.01. A Vienna – Gasometer
22.01. H Budapest – Arena
24.01. PL Warsaw – Arena COR Torwar
25.01. D Berlin – Max-Schmeling-Halle
26.01. CZ Prague- O2 Arena
27.01. A Linz – Posthof*
28.01. I Milan – Alcatraz
30.01. D Leipzig – Arena
31.01. D Frankfurt – Festhalle
01.02. D Oberhausen – König-Pilsener-ARENA
02.02. B Antwerp – Sportpaleis
03.02. CH Monthey – Pont Rouge*
04.02. E Barcelona – Palau Sant Jordi
05.02. E Madrid – Vistalegre
07.02. F Paris – Zénith
08.02. UK London – Wembley Arena
09.02. NL Amsterdam – AFAS Live
10.02. NL Eindhoven – Effenaar*
11.02. D Hamburg – Sporthalle
12.02. DK Copenhagen – Forum Black Box
13.02. S Karlstad – Nöjesfabriken*
14.02. S Gothenburg – Scandinavium
15.02. S Stockholm – Hovet
16.02. N Oslo – Spektrum
*AMARANTHE only (headline show w/ support)

13.06. SK Prešov – Dobry Festival

North American Tour 2020
with BATTLE BEAST and SEVEN SPIRE:
08/20/2020 Soundstage – Baltimore, MD
08/21/2020 The Palladium (MA) – Worcester, MA
08/22/2020 The Gramercy Theatre – New York, NY
08/23/2020 Theatre Of Living Arts – Philadelphia, PA
08/25/2020 Club Soda – Montreal, QC
08/26/2020 Imperial de Quebec – Quebec City, QC
08/27/2020 Mavericks – Ottawa, ON
08/28/2020 MOD Club – Toronto, ON
08/29/2020 The Eclectic Room – Angola, IN
08/30/2020 Token Lounge – Westland, MI
09/01/2020 Concord Music Hall – Chicago, IL
09/02/2020 Apollo Theater – Belvidere, IL
09/03/2020 Wooly's – Des Moines, IA
09/04/2020 The Cabooze – Minneapolis, MN
09/05/2020 Park Theatre – Winnipeg, MB
09/06/2020 The Exchange – Regina, SK
09/08/2020 The Starlite Room – Edmonton, AB
09/09/2020 Dickens – Calgary, AB
09/11/2020 The Venue – Vancouver, BC
09/12/2020 El Corazon – Seattle, WA
09/13/2020 Hawthorne Theatre – Portland, OR
09/14/2020 Holy Diver – Sacramento, CA
09/15/2020 Brick by Brick – San Diego, CA
09/16/2020 Whisky a Go Go – West Hollywood, CA
09/18/2020 Club Red – Tempe, AZ
09/19/2020 Backstage Bar and Billiards – Las Vegas, NV
09/20/2020 Liquid Joe's – Salt Lake City, UT
09/21/2020 Bluebird Theater – Denver, CO
09/23/2020 Trees – Dallas, TX
09/24/2020 Come and Take it Live – Austin, TX
09/25/2020. Scout Bar – Houston, TX
09/26/2020 House of Blues – New Orleans, LA
09/27/2020 House of Blues – Lake Buena Vista, FL
09/29/2020 Rt 20 – Racine, WI
09/30/2020 The Crafthouse – Pittsburgh, PA
10/01/2020 The Underground – Charlotte, NC
10/02/2020 Riverfront Live – Cincinnati, OH

—–

With their foundations tracing back to 2008, the group have released 5 albums since then (2011's Amaranthe, 2013's The Nexus, 2014's Massive Addictive, 2016's Maximalism, and 2018's »Helix«), consistently delivering hauntingly catchy tunes led by their unique three-part vocals. Within their arsenal of hit singles – with "Drop Dead Cynical" leading right at the front – a myriad tracks have been received very well via press and fans alike; having also gained countless plays on both radio stations around the globe and across streaming services (the group's songs have been streamed more than 100 million times on Spotify). A string of support tours have blazed AMARANTHE's trail in front of huge crowds as well as at their own headline concerts (the group impressively once performed in front of 10,000 fans at Liseberg, Gothenburg). They have kept working incredibly hard over the years, the latest product of which culminated in the form of Helix, which achieved them some of their highest chart positions in the band's history (Switzerland #21, Germany #29 etc.).

Be sure to follow the band on Spotify & YouTube to not miss any of their upcoming releases!

Check out AMARANTHE's videos from their latest album Helix:
"365" OFFICIAL MUSIC VIDEO: https://www.youtube.com/watch?v=UDVycjDLx4Y
"Countdown" OFFICIAL MUSIC VIDEO: https://www.youtube.com/watch?v=G2596YYB4Uk
"Inferno" OFFICIAL LYRIC VIDEO: https://www.youtube.com/watch?v=VZVz7cUDZtk
"Dream" OFFICIAL MUSIC VIDEO: https://www.youtube.com/watch?v=SefkaPqyidc
"Helix" OFFICIAL MUSIC VIDEO: https://www.youtube.com/watch?v=GT3ZwF5qNSA

AMARANTHE is:
Elize Ryd | vocals
Olof Mörck | guitars, keyboards
Henrik "GG6" Englund Wilhelmsson | vocals
Johan Andreassen | bass
Morten Løwe Sørensen | drums
Nils Molin | vocals