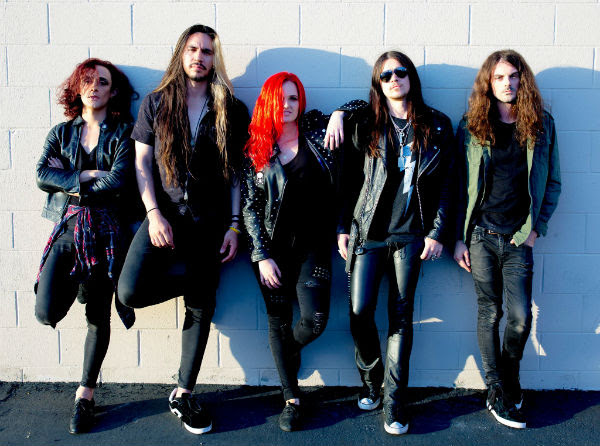 Blues Rock Track "The Fire" Is Featured On The Band's New EP,
"Our Time Is Now" With Writing Contributions From
Members Of Black Veil Brides, Atreyu And The SuperJesus,
And Hailed As " Immediately Entrapping" By The Rock Pit
Originally From Australia, Female-Fronted Band
Prepares For New Music, Tour Dates
Interviews, Review Music Available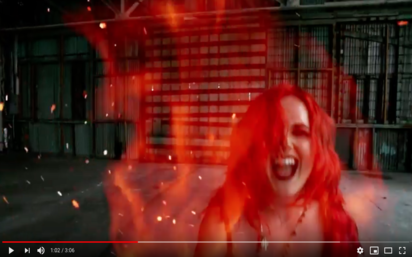 Music tastemakers Alternative Press today exclusively premiere the brand-new music video for "The Fire" from on-the-rise hard rock act Evol Walks. Originally from Australia, and now based in Los Angeles, the explosive five-piece is lead by frontwoman Leah Martin-Brown and features lead guitarist Dre DiMura, rhythm guitarist Logan Nikolic, bassist Eliot Lorango and drummer Jimmy Lee who are influenced by bands like AC/DC, Monster Magnet, The Pretty Reckless and Black Sabbath.
Of the catchy new track, Martin-Brown tells Alternative Press: "I had been listening to a lot of bluesy rock and I really wanted to write something in that vein. When coming up with the lyrics I decided to have a bit of fun with it and write from the perspective of the "evil" woman described in a lot of the classics. The one who will happily play with your emotions and watch you suffer. 'The Fire' is meant to be a modern response to tracks like 'Soul Stealer' by AC/DC or 'Sorrow' by David Bowie, 'Devil Woman' by Cliff Richard etc. I really wanted to write something from that perspective, kind of owning the character and showing that maybe it isn't such a terrible thing to be a bad girl."
Watch the exclusive premiere on the Alternative Press website here:
"The Fire" is featured on Evol Walks new EP, "Our Time Is Now," released on January 18th and produced by Erik Ron (Godsmack, Motionless in White, Sylar, New Years Day) and featuring writing contributions from Jake Pitts (Black Veil Brides), Dan Jacobs and Travis Miguel (Atreyu) and Tim Henwood (The Superjesus, Rogue Traders, Palace of the King).
Named by Triple M Australia as one of the Top 4 Best Up and Coming Rock Acts and managed by the same firm as Ghost, Mastodon and Slayer, expect more from this act very soon including new music and tour dates.