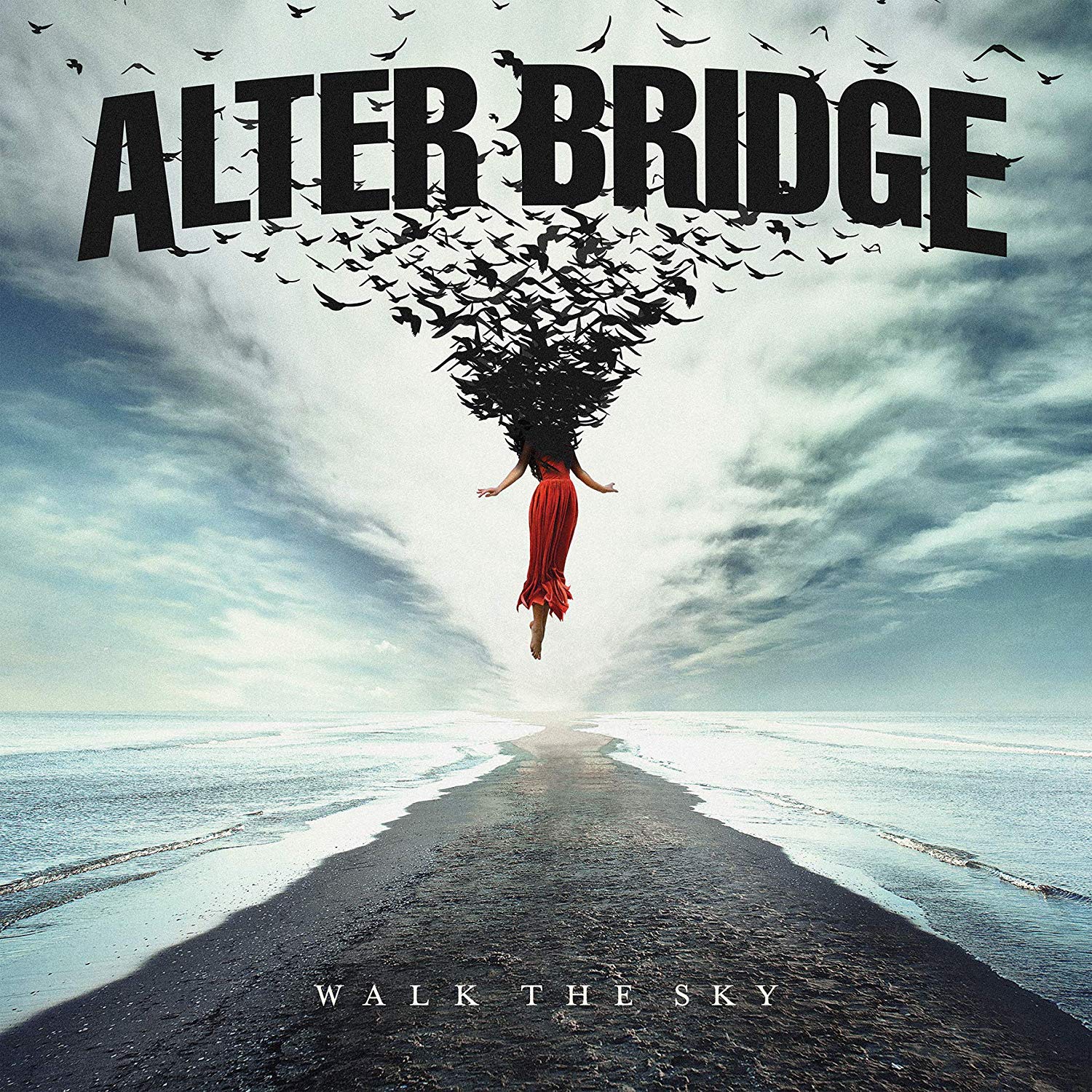 Review by:
Joey Reichhoff

Orlando based Alter Bridge will be releasing their highly anticipated sixth album Walk the Sky on October 18, 2019. The album was produced by Michael Baskette, who, along with producing every Alter Bridge album since their sophomore album "Blackbird," has also produced for bands such as Slash, Sevendust, and Trivium.
The album's cover art, which was designed by guitarist Mark Tremonti's brother, Dan Tremonti, features a woman in a red dress appearing to be lifted up to the sky by a flock of blackbirds- rising above the sandy path below her. The cover art to Walk the Sky seems to invoke the feeling that Alter Bridge will be taking the listener places they haven't been before.
The opening track, "One Life" is a haunting invitation to the album and in less than a minute and a half the listener will find themselves hearing the classic Alter Bridge sound with the band's first single, "Wouldn't You Rather." Although the album keeps the classic sound, long-time fans of the band may be surprised by the direction Myles Kennedy and Mark Tremonti took in writing this material.

Not many bands can make synthesizers complement hard rock quite the way Alter Bridge does. I was pleasantly surprised with the synth accompanying the guitars on several songs such as "Godspeed," "Clear Horizon," and the title track "Walking On the Sky." Although the synthesizers bring a lighter element, the album is chock full of heavy music fans are accustomed to and "Native Son," & "Pay No Mind" have some of the best riffs I've heard in this band's fifteen-year existence.
Several tracks seem to bring something totally unexpected. Lead guitarist Mark Tremonti, (who quite often sings background), takes the lead vocals in "Forever Falling" and it sounds like a sitar gets played for a few moments in "Indoctrination." Many times I found the music being taken in a direction I wasn't expecting to hear, but it felt right. Kennedy's tenor voice and Tremonti's guitar solos keep you wanting more, and the driving bass and drums created by Brian Marshall and Scott Phillips seem to bring a complete sound to another phenomenal Alter Bridge album. I have never been disappointed by this band's work, but Walk the Sky seems to rise above and proves this band has no limits.