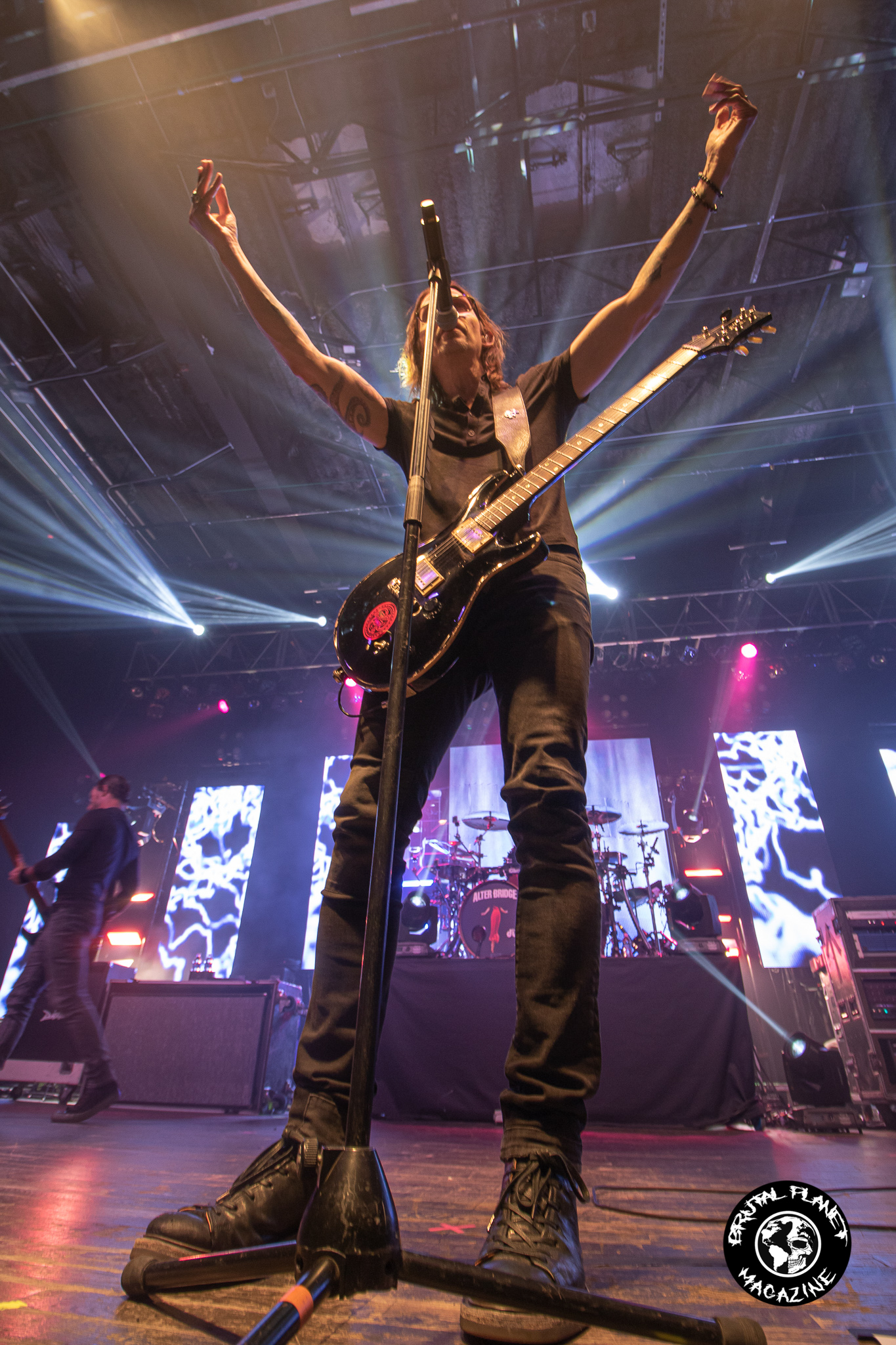 Story and Photos by:
Joey Reichoff
Rock fans from all over Minnesota gathered at The Myth in Maplewood on October 8th to see a few of their favorite bands perform. "The Victorious Sky Tour" is co-headlined by Alter Bridge and Skillet and is named after each band's newest release. Skillet released their tenth studio album, "Victorious" August 2nd and Alter Bridge will be releasing their sixth, "Walk the Sky" on October 18th.

The opening act was Dirty Honey, a Los Angeles based band who just made history by becoming the first unsigned band to top Billboard's mainstream rock chart with their hit song, "When I'm Gone."  Singer Marc Labelle continued to excite the crowd song after song with his incredible voice. After the groovy hit "Heartbreaker" was played, drummer Corey Coverstone broke out into a drum solo that had everyone cheering.  Dirty Honey may be an opening act performing a mere seven songs now, but based on the reaction of the crowd, we should probably expect this group to be headlining their own tour in the near future and in fact they will start one on November 4th.

Performing next was Alter Bridge. The crowd waited in anticipation as "One Life" was played over the speakers while the band took their places on stage. When the lights lifted, guitarist Mark Tremonti began playing the opening riff to "Wouldn't You Rather," their first single off the upcoming new album and the fans went wild. While the band's stage production wasn't extensive, the combination of lasers and some strobing light still made for a great visual show.

Alter Bridge was able to perform about a dozen songs in their hour long set. The only new songs they played (in addition to the opening song) were the previously released singles "Pay No Mind" and "Take the Crown." Unfortunately, for fans itching to hear more from the new album, they will have to wait until October 18.

In addition to the new singles, Kennedy and company performed many favorites from their extensive library. Brian Marshall's bass could be felt during "Cry of Achilles." The thundering of Scott Phillips drums filled the venue the entire setlist but really stood out during "Addicted to Pain" and "Metalingus." Myles Kennedy and Mark Tremonti can easily impress listeners with their guitar skills in "Isolation" and "My Champion," but the highlight was watching them each play their incredible solos in the nearly eight minute long "Blackbird."
To end the set, vocalist Myles Kennedy wooed the crowd with his tenor voice as he belted out "Open Your Eyes" from their 2004 debut.

Headlining the evening was Skillet. The energy could be felt as they opened with "Feel Invincible." It was evident frontman John Cooper is a veteren in entertainment. Accompanied by fog machines, he continued to jump around and get the crowd wild as he led playing hits like "Whispers in the Dark" and "Undefeated."

During Skillet's 2009 hit, "Hero," Jen Ledger left her seat behind the drums to join on lead vocals with John Cooper and during "Awake and Alive," guitarists Korey Cooper (who is John's wife) and Seth Morrison were lifted high above the stage on elevated platforms.

Skillet played four songs from their latest album including "Legendary" and "Save Me." Before they played the title track, "Victorious," Cooper shared that he had written the song with the late Linkin Park singer, Chester Bennington in mind. He encouraged everyone that no matter what they are going through, there is hope that leads to being victorious. John, an outspoken Christian, is not afraid to share where his hope is found and many in the crowd connected with his emotion.

To end the night, the Wisconsin based band played "Monster" and "The Resistance." Skillet has been in existence for 23 years, but this multi-platinum, twice Grammy-nominated band is showing no sign of slowing down.