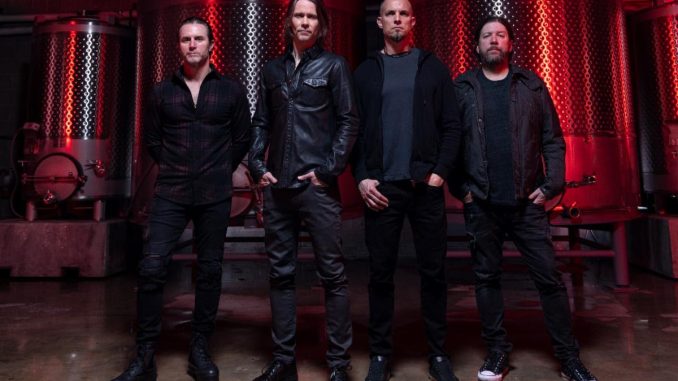 Tickets For The North American Run Of Their Pawns & Kings Tour Can Be Found Here:https://alterbridge.com/pages/tour(New York, NY) – With 2023 less than three weeks old, acclaimed rockers Alter Bridge are back with a new single and music video to launch the new year. The song "Holiday" has been a fan favorite since it was made public with the release of Pawns & Kings last October and is currently one of the most added songs at Active Rock radio. The "Holiday" video marks the return of longtime video collaborator  Dan Sturgess of Sturge Media – known for capturing the band's iconic performance with the Parallax Orchestra on Alter Bridge: Live At The Royal Albert Hall. 

Pawns & Kings – the band's seventh studio album – was released worldwide on October 14th via Napalm Records. From the opening riffs of "This Is War" to the title track album closer "Pawns & Kings," Alter Bridge returns with an album of intense tracks that were born after the cycle for their last album was cut short by the global pandemic. Songs like "Dead Among The Living," "Holiday"  and "Last Man Standing" showcase the signature songwriting the band is known for. The album offers numerous epic adventures, with three songs clocking in over six minutes each. The opus "Fable Of The Silent Son" clocks in at 8:29 and is the longest-recorded song in the band's catalog – a distinction held by "Blackbird" until now. Mark Tremonti steps out of his backing vocal role to take the lead on "Stay," an introspective ballad that is sure to become a fan favorite live.

The band has released lyric videos for the title track "Pawns & Kings,"  the now fan-favorite "Sin After Sin" and album opener "This Is War." These songs all found their way into the band's set list during their European tour. Known for its signature dual-guitar attack backed by a driving rhythm section, the album's debut single "Silver Tongue" shot up the charts around the globe and is currently still in the Top 25 in Canada. Its animated music video was created and directed by Ollie Jones of Better Feeling Films (Myles Kennedy, Prodigy, Psychedelic Porn Crumpets) and has garnered over 1.4 million views and counting. Pawns & Kings found its way on numerous 2022 year-end lists around the world and was produced by longtime collaborator Michael "Elvis" Baskette.  
The track listing for Pawns & Kings is:
1)   This Is War                                                             
2)   Dead Among The Living
3)   Silver Tongue
4)   Sin After Sin
5)   Stay
6)   Holiday
7)   Fable Of The Silent Son
8)   Season Of Promise
9)   Last Man Standing
10) Pawns & Kings
Alter Bridge's Pawns & Kings is now available for streaming via all digital service providers and for order in various physical configurations here: https://lnk.to/PawnsAndKings.  

Alter Bridge will continue to tour extensively in support of Pawns & Kings. The band wrapped a tour of Europe last month that had the band making 25 stops over the course of six weeks. The tour will continue throughout North America this year  – their first in the market in almost three years. The 30-city tour – split into two legs – kicks off on January 25th in Tampa, FL, and wraps up April 1st in Highland, CA, making stops in Nashville, TN (January 30th); Toronto, ON (February 11th); Kansas City, MO (March 11th) and Seattle, WA (March 23rd).

Mammoth WVH will join them as direct support on the entire tour, with rockers Red playing on the first leg of the tour and newcomers Pistols At Dawn playing on the second leg.

Tickets for all shows are now available and more information on tickets and VIP experiences can be found at https://alterbridge.com/pages/tour.