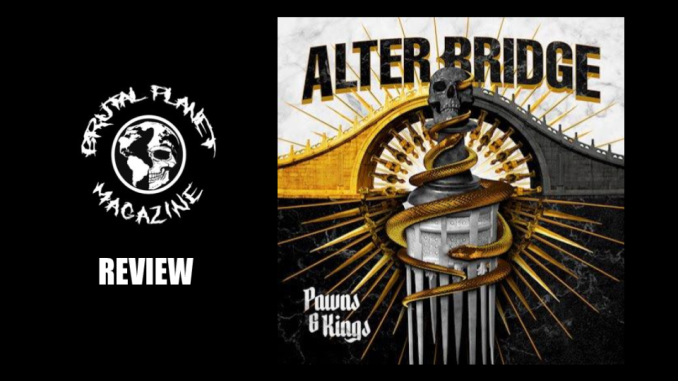 I have been listening to Alter Bridge for nearly twenty years now and they have yet to release an album I didn't love. Earlier this summer, when the band first announced that a new album would be on the horizon, I couldn't have been more excited and I did something most of you would think is crazy- I purposefully avoided listening to any of the singles until I could hear the album straight through in its entirety. Some of you might be wondering how I can be a true fan and not listen to the singles the day each of them was released. My answer would be that it's because I'm a true fan that I wanted to hear the band's latest work together in all of its glory. I want the package. I want to be brought back to the days when albums mattered. So here I am, sitting with the full album, "Pawns and Kings" just before its release.

The album opens up with the heavy-hitting "This Is War." This song was released as a single on October 4th and is chock full of Tremonti-style riffs and the soulful wails of Myles Kennedy. This song has "Fortress" album vibes to it and I'm loving it already. "Dead Among The Living" starts out with the thundering drums of Scott "Flip" Phillips and has a driving beat throughout the track. Lyrically, the chorus is memorable and I found myself singing along before the song's end. "Silver Tongue," which was released as the band's first official single, features a killer intro and pulsating riffs. I'm only three songs into this album, but this is my favorite track so far. (Now I'm kicking myself for not listening to the singles ahead of time- I could've been jamming this one for two months now. Ha ha).
One thing that amazes me about the boys in Alter Bridge is their ability to write really long songs without the listener realizing that they are listening to really long songs. We've heard it before with songs like "Blackbird" and "The Last Hero" as well as in their solo work, (Myles' "Ides of March" and Tremonti's "Marching In Time.") Here, "Sin After Sin" is another example. I listened to this song and thought, "Wow. This is a great song. Wow. I just realized that song was nearly seven minutes long!" In a day in age when we want everything fast and constantly changing, it's rare for a band to keep someone's interest for a five-minute song, let alone seven or eight. Yet, Alter Bridge has proved it can be done time and time again.
"Stay" takes listeners in a different direction- it's less aggressive and has an uplifting feel to it. It's also the first song on the album to feature Mark on lead vocals. Two-thirds of the way through, however, Myles becomes more prominent, harmonizing with Mark and carrying the song to a beautiful finale. "Holiday" is wild. I'm not even sure how to describe it. It's heavy but has a really groovy, swing-type thing to it. It's the shortest song on the album, but it's great and I repeated it before moving on to the next track.
"Fable Of The Silent Son" is quintessential Alter Bridge. This is the longest song the band has ever released and is in the same quality tier as "Blackbird" and "Broken Wings." This track will lead you on an aural journey through different tempos and rhythms. The solo is explosive and Myles' vocals are unequaled. "Season Of Promise" is another song that has a totally different sound from what I would expect from the band, but it's amazing and adds dynamic to the album as a whole. I particularly enjoy the bass lines in this one.
"Last Man Standing" features some really different rhythms and shows off the talent of the band- both in their songwriting and musicianship. Also, if you like songs with multiple Mark Tremonti solos, (I haven't met anyone who doesn't), this song is for you! The album closes with its title track, "Pawns and Kings." This song is a rebel yell to the underdogs- a call to arms to overcome life's biggest obstacles. It's the third song on the album that is over six minutes in length and will not disappoint. 

The number seven is often symbolic of perfection and completion. It seems fitting that "Pawns and Kings" is the band's seventh studio album. It is a perfect follow-up to "Walk the Sky" and is a complete representation of the band's eighteen-year career. You can tell they worked hard on this one, and that they had fun recording it. "Pawns and Kings" is dynamic and without equal. If the genre is a game of chess, Alter Bridge just said 'checkmate.'