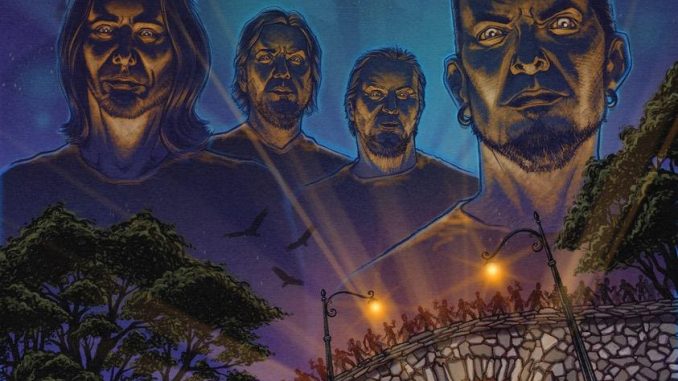 STRAIGHT FROM YOUR LIVING ROOM IN
ALTER BRIDGE: TOUR OF HORRORS!
Rock Heroes Unveil Their Graphic Novel Debut Packaged With
An Exclusive First-Time Vinyl Release of Their 2004 Album,
'One Day Remains' Available to Preorder
Now
!
NEW YORK, NY— Z2 Comics further cements their place as the leading publisher of music-inspired graphic novels across all genres with the announcement of this summer's Alter Bridge: Tour of Horror! In the grand tradition of comic horror anthologies like Tales Form the Crypt, Creepy, and Vault of Horror, Marvel Comics writer Emily Ryan Lerner and a cast of top artists take fans on a fun-filled ride of thrills and chills!
To celebrate their comics debut, the band will release a first-ever vinyl edition of their 2004 album, One Day Remains, available ONLY with the deluxe graphic novel package, exclusively through the Z2 website, and available for preorder
now
!
"After 17 years making music and touring the world, there aren't many opportunities for a rock band to do something they've never done before. After partnering with Josh and the whole Z2 staff to create Alter Bridge: Tour of Horrors, we can now check create a horror comic off our bucket list. We can't wait for people to read this original story we came up with. It is equally exciting we are finally getting to release One Day Remains on vinyl thanks to this incredible partnership," explains Alter Bridge.
When one of Alter Bridge's roadies goes missing, they find a GHOULISH replacement! And what better way to pass the time between gigs than with four terrifying tales that are sure to keep you up all night! Join Alter Bridge, writer Emily Ryan Lerner (Marvel, HBO) and more for a spine-tingling ride through the supernatural!!!
Publisher Josh Frankel says "Alter Bridge: Tour of Horrors is another testament to our commitment to the vision of the artist. While some of our releases are directly tied to the storylines of the albums themselves, our mission is simply to provide a home for these musicians to expose their fans to a whole new side of their artistic palette, uninhibited by their previous musical work or otherwise. This book is guaranteed to please both fans of the classic horror anthology and Alter Bridge fans seeking something new."
The Alter Bridge: Tour of Horrors graphic novel comes in at 120 pages and will be released in a standard hardcover edition in comic shops and bookstores alike in November 2021, as well special deluxe, super deluxe edition, and super-duper deluxe editions available for preorder now only through the Z2
website
, which will include a special exclusive first-time vinyl edition of the band's 2004 debut, One Day Remains, in a strictly limited edition of 3,000 copies across three premium editions!
About Alter Bridge:
Alter Bridge burst onto the music scene in 2004 with the release of their gold-selling debut, One Day Remains. In 2007, the band released Blackbird, the album that elevated the band's profile worldwide. The epic solo in the title track "Blackbird" was voted "Greatest Guitar Solo Of All Time" by Guitarist Magazine. ABIII was released in 2010 and the single "Isolation" gave the band their first #1 single. In 2013, the band reached an elevated creative and critical plateau with Fortress. It bowed at #12 on the Billboard Top 200, moving over 30,000 copies first-week and earning unanimous tastemaker praise. The record garnered perfect scores from Total Guitar and KERRANG! as well as acclaim from Billboard, The Guardian, Loudwire, Ultimate Guitar, and many more. In between sold out tours in Europe and North America, the guys appeared on VH1 and graced the cover of Classic Rock Magazine who labeled Fortress, "The best thing they've ever done," while Eddie Trunk called it, "A top 10 album of the last 10 years." 2016's The Last Hero gave the band their first Top 10 album since their debut. Alter Bridge has appeared on The Tonight Show and Jimmy Kimmel Live and their music has been used by the WWE, Major League Baseball and NASCAR to name a few. The band recently released the video and audio of their career highlight, Live At The Royal Albert Hall, featuringAlter Bridge backed by the 52-piece Parallax Orchestra led by conductor Simon Dobson. Alter Bridge released their latest album Walk The Sky (Napalm Records) to critical acclaim and career milestone chart success. The latest album brought the band their first ever #1 on Top Current Albums chart. The band's newest release found a home at #1 on over a dozen charts around the globe and in December 2019, Guitar World magazine voted Mark Tremonti the Guitarist of the Decade. Alter Bridge are showing no signs of slowing down.