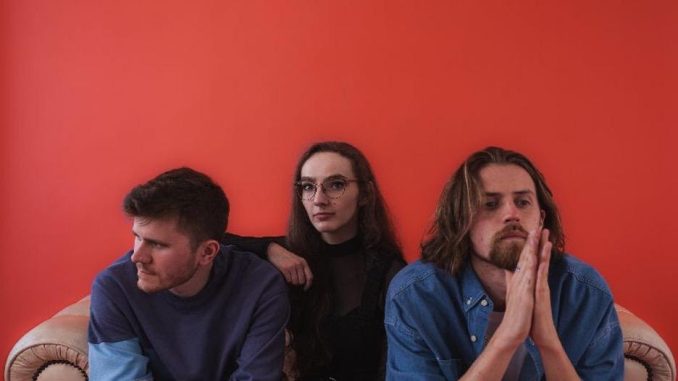 Acclaimed young alt-pop/prog trio Exploring Birdsong return with their new single & video "Ever The Optimist". This is their first new music in three years since 2019's stunning 'The Thing With Feathers' EP.

The band comments:

"This song certainly has the most interesting back story to any of the tracks we've written. When in university back in 2018, Lyns and Matt were given the opportunity to have a one on one songwriting session with Sir Paul McCartney. This is the song they took into the session and worked on with Sir Paul himself. It's by far the poppiest song on the record and was the catalyst for centring our songs around synths as well as sole piano parts."

Watch the Video for "Ever the Optimist" HERE
Rarely are new groups as exciting, talented or unique as Exploring Birdsong, the piano-led guitarless trio from Liverpool. Straddling pop, progressive rock and uncategorizable genre-blending beauty, the band are unplaceable for the most part, but bring to mind elements of Kate Bush, Sleep Token and Agent Fresco.

Rarely do you hear a voice as captivating as front woman Lynsey Ward's. Powerful, controlled, and spine-chillingly tender, Lynsey's vocals help mark Exploring Birdsong as a prospect to watch, already receiving acclaim from Kerrang!, Prog Magazine, Classic Rock Magazine, and many more.

Following the release of their debut EP 'The Thing With Feathers' (2019, Long Branch Records), the band finally return with their incredible new single "Ever The Optimist".

"Ever the Optimist", was originally penned when the band studied at LIPA, Sir Paul McCartney's prestigious performing arts institution in Liverpool. The band's songwriting talents earned them a one to one songwriting session with Sir Paul, with whom they crafted the skeleton of the single.

Described by the band as "a complete melting pot of all the influences that makes us sound like us", the single sees Exploring Birdsong steer closer to their pop influences than ever before, with one of the best choruses you'll hear this year.

The young group most recently made their European debut at Euroblast festival (Cologne, DE) – their first live performance since their five city inaugural headline tour across the UK in September 2021, including London, Manchester and Birmingham, and following successful support tours with the likes of Sleep Token and Thank You Scientist.

Whilst Exploring Birdsong refuse to be pigeon-holed to one genre, they evoke moments of Agent Fresco, Kate Bush, Everything Everything, Sleep Token and Karnivool.
Exploring Birdsong are:

Lynsey Ward – Vocals, piano

Jonny Knight – Bass guitar, synthesizer

Matt Harrison – Drums, percussion
FOLLOW EXPLORING BIRDSONG: