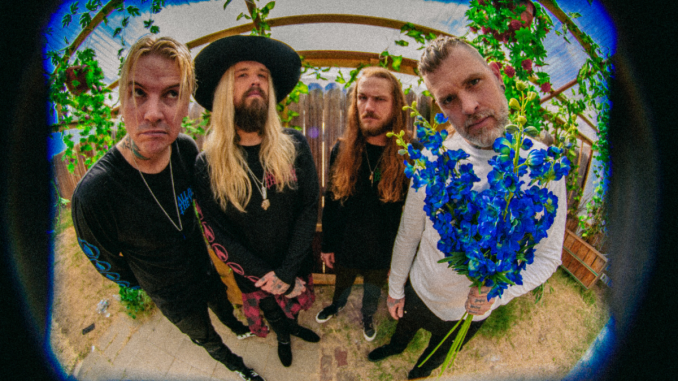 New EP Within the Hollow Earth Drops November 12 via Minus Head Records
"Headless Valley", the first single from ALL HAIL THE YETI's upcoming EP, Within the Hollow Earth, was released today on all streaming platforms. Says Connor Garrity, We very excited for the release of "Headless Valley" another campfire tale in the book of ALL HAIL THE YETI . The video was a blast to shoot and turned out exactly how we wanted. Brian Cox, Director, is a genius and totally nailed our vision! It's been a long time coming and we have finally arrived at the date to release Within the Hollow Earth. Like so many others, Covid took so much from us, and we have had to push the release back four times. But now, with this amazing tour with Jinjer and Suicide Silence, it's the perfect moment to unleash this demon on the listeners of the metal world. This is the perfect storm! Beware!" Watch the haunting video "Headless Valley" h
ere
Now!
Hardcore metal hybrid ALL HAIL THE YETI is currently on tour supporting Jinjer with special guests Suicide Silence, in support of their new EP, Within the Hollow Earth, due out November 12 via Minus Head Records. Within the Hollow Earth was recorded with Steve Evetts (Suicide Silence, DevilDriver) at the Omen Room in Orange County, CA. .
As the moniker cryptically suggests, the music of ALL HAIL THE YETI evokes a hair-raising mixture of superstitious ritual and trippy backwoods folklore. It's all drenched in the countercultural, mind-smashing, gut-punching bile of likeminded spiritual shamans like Acid Bath and Eyehategod, with the down-tuned sludge of stoner rock, and an electric injection from four-on-the-floor classic rock pioneers.
Heavy music adherents weaned on anything from Metallica and Pantera to metalcore, Southern groove, black metal or stoner grind will find a home among the ALL HAIL THE YETI faithful, as evidenced by stellar slabs Highway Crosses (2018), Screams from a Black Wilderness (2016), and their self-titled debut.
ALL HAIL THE YETI is:
Connor Garritty – vocals
Nicholas Diltz – bass and vocals
Ryan "Junior" Kittlitz – drums
Dave Vanderlinde – guitar
About ALL HAIL THE YETI:
A supernatural stew of superstition and sludge, ALL HAIL THE YETI's catalog brings together postmodern heavy metal thunder with groove-soaked visions of riff-driven power. Every song is drenched in mind-expanding, earthshaking authenticity. A smattering of hardcore angst, the passion of '90s rock radio, and the classic majesty '70s AOR; this is music that aligns with the heavy hooks of Pantera, the steady pulse of early Crowbar, and the stoner grind of Acid Bath.
ALL HAIL THE YETI online:
ALL HAIL THE YETI Upcoming Tour Dates with Jinjer and Suicide Silence:
11/9 – Cincinnati, OH – Bogart's
11/10 – Ft. Wayne, IN – The Clyde
11/11 – Milwaukee, WI – The Rave II
11/13 – Grand Rapids, MI – The Intersection
11/14 – Pittsburgh, PA – Roxian Theater
11/16 – Cleveland, OH – House of Blues
11/17 – Detroit, MI – St. Andrews Hall
11/18 – Rochester, NY – Anthology
11/19 – Harrisburg, PA – HMAC
11/20 – New Haven, CT – Toad's Place
11/21 – Boston, MA – Big Night Live
11/23 – Brooklyn, NY – Warsaw
11/24 – Philadelphia, PA – TLA
11/26 – Norfolk, VA – The Norva
11/27 – Baltimore, MD – Baltimore Soundstage
11/28 – Charlotte, NC – Underground
11/30 – Orlando, FL – House of Blues
12/1 – Tampa, FL – Jannus
12/2 – Pensacola, FL – Vinyl
12/3 – Atlanta, GA – Buckhead Theater
12/4 – Nashville, TN – Brooklyn Bowl
12/5 – New Orleans, LA – House of Blues
12/7 – Houston, TX – House of Blues
12/8 – San Antonio, TX – Aztec Theater
12/9 – Dallas, TX – House of Blues
12/11 – Albuquerque, NM – El Rey Theater
12/12 – Tempe, AZ – Marquee Theatre